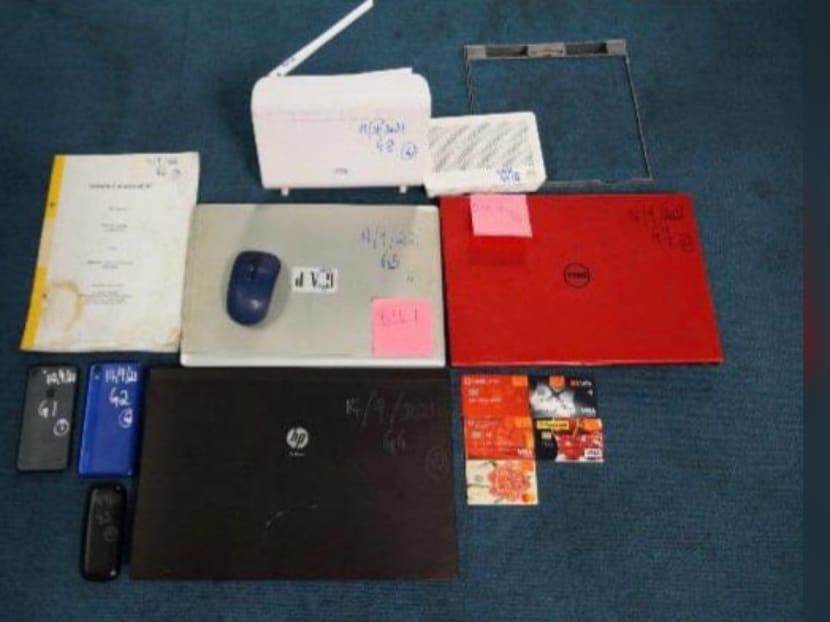 SINGAPORE: Singapore and Malaysian police have jointly crippled an Internet love scam syndicate that is believed to be responsible for more than S$100,000 in losses. 
In a media release on Thursday (Sep 16), the Singapore Police Force (SPF) said that a 41-year-old woman lodged a report in May after suffering a loss of about S$28,000.
She had befriended a man on Facebook in March and developed a relationship with him.
The man purportedly claimed to be running an oil rig project in Ukraine and promised to marry the victim in Singapore once the project was completed.
According to SPF, he later claimed that he was unable to access his bank account to buy the new machinery needed to continue with the project.
"Subsequently, he purportedly pleaded with the victim to extend a loan to him. The victim agreed and transferred a sum of S$12,000 to a Singapore bank account provided by the subject," said SPF.
The victim was cheated of another S$16,000 on a separate occasion when she told a stranger she had befriended on Facebook about the first incident. The person told her she had been scammed and promised to help her get the money back, said SPF.
The victim then transferred the money to another two Singapore bank accounts for the "fund recovery services", said the police.
MALAYSIAN POLICE CONDUCTED RAIDS IN SELANGOR
A Malaysia-based syndicate believed to be involved in the case was identified. 
On Sep 14, officers from Royal Malaysia Police raided an apartment in Selangor and arrested a 22-year-old Nigerian man.
Multiple laptops, mobile phones, Singapore ATM/debit cards and credit cards were seized.
In Singapore, a 66-year-old woman was arrested, while three other women, aged between 31 and 62, are being investigated for money laundering. Investigations against the four women are ongoing.
The syndicate is believed to be responsible for at least seven cases in Singapore involving about S$37,000 and a case in Malaysia involving about RM210,000 (S$67,837) in losses, said SPF.
"We will continue to work closely with CCID (Commercial Crime Investigation Department of the Royal Malaysia Police) to disrupt the activities of cross border Internet love scam syndicates," said Mr David Chew, director of Singapore's Commercial Affairs Department.
"These syndicates often make use of Singapore bank accounts to launder their illegal proceeds."
Anyone found guilty of acquiring or transferring criminal benefits under the Corruption, Drug Trafficking and Other Serious Offences (Confiscation of Benefits) Act can face up to 10 years of jail, a fine of up to S$500,000 or both.
For more information on scams, members of the public can visit scamalert.sg or call the anti-scam hotline at 1800-722-6688.
Anyone with information on such scams may call the police hotline at 1800-255 0000 or submit information online at www.police.gov.sg/iwitness.