Costs, difficulty connecting to other flights are why Jetstar refuses to move to Terminal 4, say analysts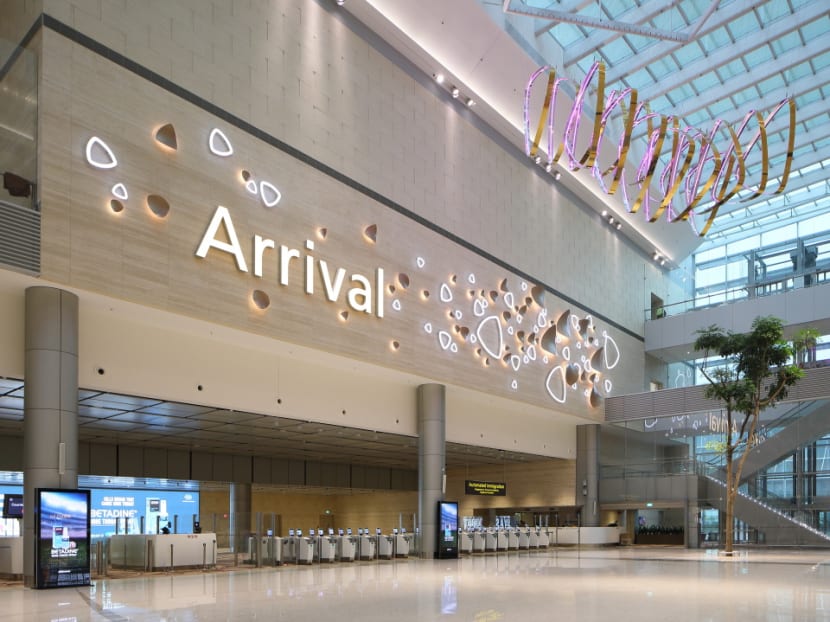 SINGAPORE: Jetstar Asia's refusal to move to Changi Airport's Terminal 4 is most likely due to its code-share arrangement with other airlines operating out of Terminal 1, experts told CNA.
Jetstar Group said last Friday (Jul 22) that it has "no intention of moving" to Terminal 4 after Changi Airport Group (CAG) announced that 16 airlines will relocate there by this year.
Currently, Jetstar Group mainly operates out of Terminal 1 at Changi Airport, with limited arrivals at Terminal 2.
CAG had said Changi Airport's Terminal 4 will resume operations on Sep 13 following a two-year hiatus due to the COVID-19 pandemic. Sixteen airlines are to move to Terminal 4, including full-service carriers like Cathay Pacific and Korean Air, as well as budget airlines such as AirAsia Group and Cebu Pacific.
CAG said Jetstar Group was slated to move on Oct 25.
About an hour after this announcement, Jetstar denied that it is moving, saying: "A joint study was only agreed to be undertaken last week and this announcement completely disregards that agreement and the impact a move would have on our customers, our people, and our operations."
The airline declined to provide more details on how its operations will be affected.
However, aviation analysts said that Jetstar operates differently from the other airlines in that it is code-sharing with airlines at Terminal 1, such Qantas and Emirates, and its passengers have connecting flights at Changi Airport.
Code-sharing is when airlines agree to sell seats on each other's flights; so while the ticket could be sold under one airline, the flight is being operated by another airline. This allows the airlines to fly to more destinations without having to invest in more planes.
And while the move may not affect airlines that fly just in and out of Singapore, landing at Terminal 4 could be inconvenient for passengers who have a connecting flight to catch.
DIFFICULTY CONNECTING TO OTHER FLIGHTS
Flight Global's Asia managing editor Greg Waldron cited an example of passengers from codeshare airlines landing at Changi Airport, and then transferring to regional routes operated by Jetstar. 
"When you have to change terminals, it adds complexity to that model," he said. "Whereas if you look at an airline, like Cathay Pacific or AirAsia, they fly into Terminal 4, and they're perfectly happy there because they're not really using it as a hub."
While Terminals 1, 2 and 3 are connected by skytrain, Terminal 4 sits on its own and there are only shuttle buses there.
Associate Professor Sameer Alam from the School of Mechanical and Aerospace Engineering at Nanyang Technological University (NTU) said that this adds to the transfer and turn-around time which is "critical to low-cost carriers".
"With relocation to Terminal 4, connecting passengers' walking distance/terminal transfer time will significantly increase, which may lead to missed connections and passenger dissatisfaction," he said. 
Responding to Jetstar's statement on Friday, CAG had said that this move was necessary as there was an urgency to "rebalance the airport's traffic across its terminals quickly" to meet the expected air traffic demand in the upcoming end-year holiday season. CAG declined to comment further when asked.
This comes as air travel continues to recover and the airport's Terminal 2 has yet to come fully online.
Mr Gary Ho, senior lecturer in Aviation Management at Temasek Polytechnic said that "rebalancing" is where an airport tries to make sure that no terminal is under- or over-used, so that passengers, staff and airlines have a pleasant experience in the terminal.
"In Changi's case, T4 has been mainly used by smaller aircrafts and usually budget carriers due to the design and simple passenger flow of the terminal," he said.
"With the reopening of T4, they are looking to move some airlines over to reduce the congestion at T1."
TERMINAL 1 "TIGHT" AT PEAK HOURS
Both Mr Ho and Mr Waldron noted that Jetstar has been operating out of Terminal 1 since inception, with Mr Ho adding that it is usually costly and troublesome for an airline to change terminals.
Besides the possible inconvenience for passengers with connecting flights, there are other operational considerations. 
"It also takes time for the airline staff to familiarise themselves with the new terminal and sometimes, they could be sharing the same ground handling staff with another partner airline in the terminal," he said.
"Thus, a move to a new terminal, could mean long and costly training and even hiring of new ground handling staff which adds to costs and complexity of moving."
The situation at Terminal 1 during peak hours is also "a bit tight", said Mr Ho.
"As most low cost carriers, with the exception of Air Asia, operate out of T1, during peak hours, T1 was getting a bit tight on gates as the majority of T1's gates were not designed for narrow bodied aircraft exclusively.
"Some of the gates in T1 were able to accommodate two narrowbodies instead of a widebody but not all gates have that flexibility. Thus, at peak hour, there was a bottleneck beginning to form," he said.
He also said that as countries open up, there is huge pent-up demand from travellers.
"With T2 still undergoing refurbishment, CAG is looking forward and anticipating that they would need to keep T1 for as many widebodies as possible so as to prevent a situation where T1 is overwhelmed by traffic while T4 remains relatively quiet," he said.
The experts said that discussions between Jetstar and CAG should eventually resolve the issue, and CNA understands that a joint study on the move is commencing.
Mr Waldron said that airports do face challenges as they gear up for a strong travel rebound.
"Even though airlines and airports complement each other so well, sometimes they can have an adversarial relationship as their interests don't always align," he said, pointing to other disputes such as that of AirAsia with the Kuala Lumpur International Airport. 
Said Mr Ho: "There are many other solutions to this issue as long as both parties are willing to talk to one another. Many airlines have moved from terminal to terminal without a hitch since the airport opened.
"Changi has continually been able to be one of the best airports in the world because all parties work closely to find a win-win solution for the travelling public at the airport. I hope this dispute is just a one-off situation."