Jewel Changi Airport tenants to include A&W, Pokemon, Shaw Theatres
The sprawling mixed-development located in front of Changi Airport's Terminal 1 will mark A&W's re-entry into Singapore, and be home to several brands that are setting up shop here for the first time.
SINGAPORE: The return of fast food chain A&W, an 11-screen cineplex, a Pokemon merchandise store and other new-to-Singapore brands will be what travellers and local consumers can expect when Changi Airport's mega retail and lifestyle development, Jewel, opens in the first half of next year.
A S$1.7 billion project, the 10-storey complex – consisting of five storeys above ground and five basement floors – will be home to more than 280 shops and food and beverage (F&B) outlets. 
Jewel Changi Airport Development said on Thursday (Oct 11) that nearly 90 per cent of the sprawling 53,800 sq m leasable space has been taken up thus far.
Among those unveiled at a media briefing include A&W, which is returning to Singapore after more than 10 years. Its menu will be "the first of its kind in Asia" combining best-selling items from its restaurants around the world, including coney dogs, curly fries and a cream cheese burger from Japan.
Fans of Pokemon can also look forward to the game franchise's only permanent retail store outside of Japan. Apart from merchandise sold in Japan, the Pokemon Center Singapore will also be stocked with exclusive toys, stationery, trading cards and video games created just for Jewel.
F&B brands that are setting up shop in Singapore, and the region, for the first time also include Swiss artisanal chocolatier Laderach, Norwegian casual seafood restaurant Pink Fish and American fast food chain Shake Shack. 
In addition, cinema-goers will be delighted as Shaw Theatres is set to open a cineplex with 11 screens, including a digital Imax theatre, Jewel Changi Airport Development's head of leasing, Tan Mui Neo, confirmed at the media briefing.
Jewel will also be home to a long list of homegrown brands, including design retailer Naiise, gallery store Supermama and Tiger Beer which will be launching a first-in-the-world Tiger Street Lab at level 5 offering exclusive seasonal brews.
Local chef Violet Oon will open her largest restaurant to date – more than 350 sq m – offering local delicacies, such as dry laksa.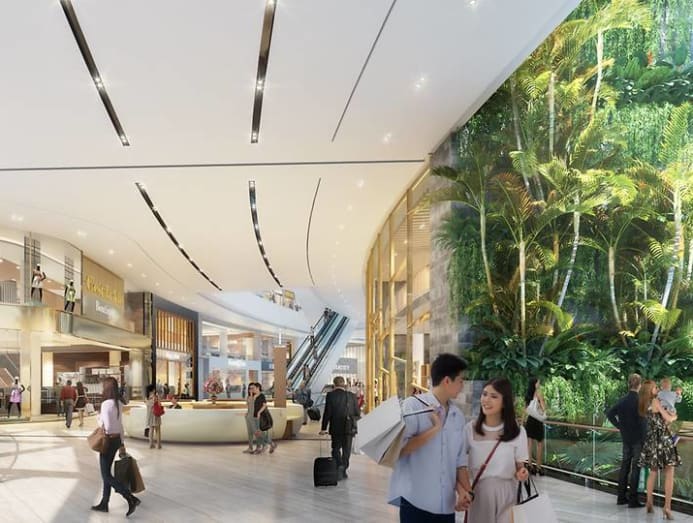 Meanwhile, Nike is planning its largest store in Southeast Asia spanning 1,000 sq m. The sporting giant will take up one of the 11 duplex, large-format stores in Jewel, together with Naiise and Shake Shack.
MULTI-DIMENSIONAL LIFESTYLE DESTINATION
To be sure, Jewel, which began construction more than three years ago, is positioning itself as more than just a mall with shopping and dining options.
Apart from a distinctive dome-shaped facade made of glass and steel, other highlights include a sprawling 14,000 sq m rooftop park featuring play attractions, gardens and walking trails. 
The mixed development, located in front of and directly connected to Changi Airport's Terminal 1, will also be home to Forest Valley, Singapore's largest indoor garden, and a 40m-tall indoor waterfall that will transform into a light and sound show at night.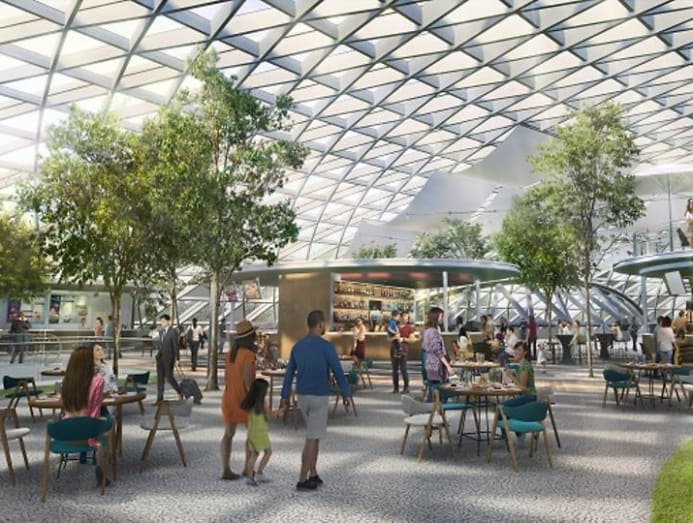 This aims to create a unique retail experience where shoppers can enjoy a seamless experience of nature and retail all under one roof, according to Jewel Changi Airport Development.
With travellers being more discerning about their destinations and their choice of airports for stopovers, there is a need to position Jewel as a "one-of-a-kind, multi-dimensional destination", said its chief executive Hung Jean.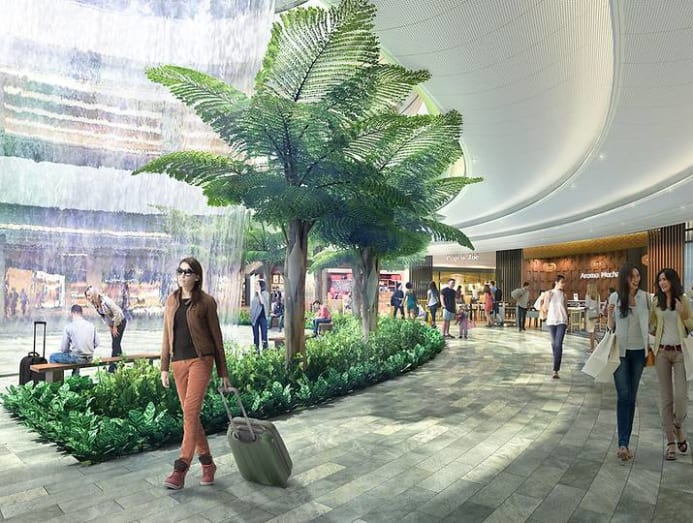 "We hope to showcase Singapore to the world, positioning it as the platform where local brands will be exposed to an international audience, while simultaneously bringing new and familiar global brands to Singapore."
Ms Hung said Jewel, which will also be linked to Terminal 2 and 3 via air-conditioned pedestrian bridges, aims to welcome 40 to 50 million visitors a year. Of which, 60 per cent will likely be locals, and the rest made up of tourists.