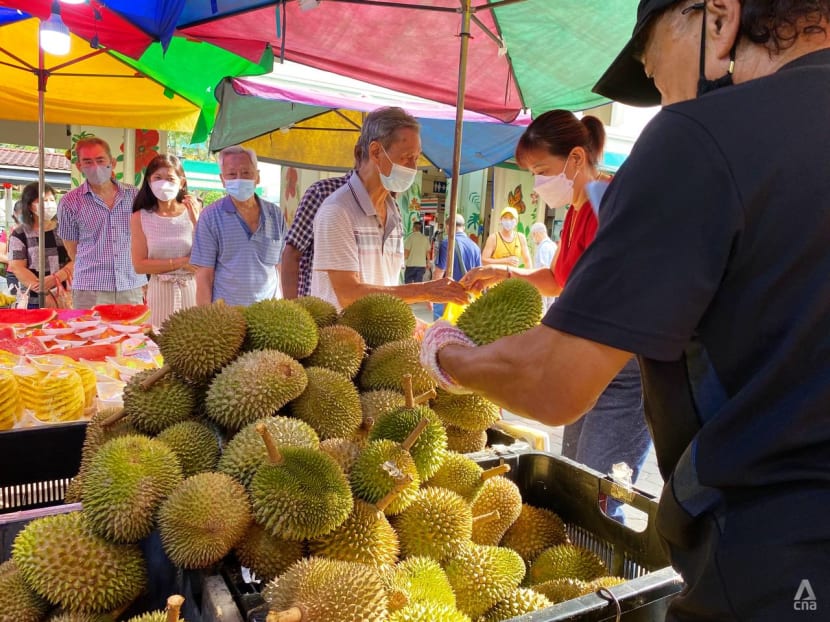 SINGAPORE: Durian lovers have much to celebrate this durian season, which typically lasts from June to August, as some stalls have lowered their prices by as much as S$8 per kg while others are giving away the king of fruits for free. 
This is the result of tough competition as well as a "surprise bumper crop" from Malaysia despite earlier projections that there may be a supply shortage due to poor weather conditions, according to a report from TODAY. 
Checks by CNA on Tuesday (Jun 21) found that one kilogram of Mao Shan Wang, a popular durian type, cost an average of S$12 per kg, below the usual price of about S$18 to more than S$20 per kg.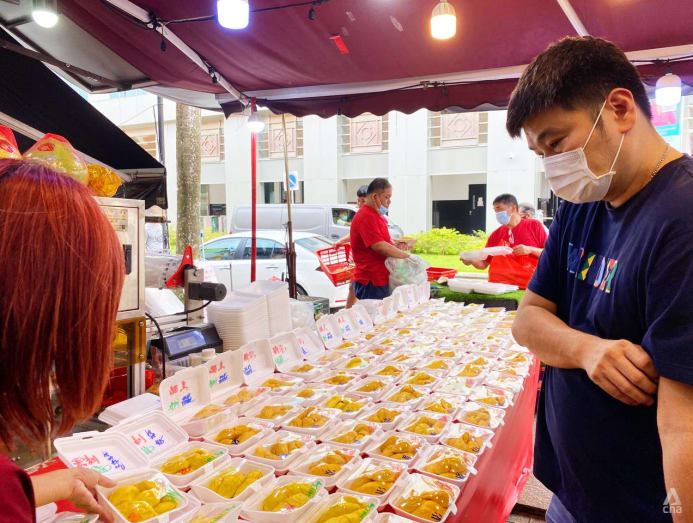 CHEAPER DURIANS 
"Durians are cheaper now. (This is the case for) all brands, from Red Prawn to Mao Shan Wang ... we have a bit more customers, because the prices are better," said Mr Tan Wee Siang, 36, who operates durian stall Wang Sheng Li 95 at Bishan. 
"Our best seller is the Mao Shan Wang. We're selling it for S$12 per kg. It's usually S$18, and sometimes it can even go above S$20. For the Black Gold type, it's S$18 per kg. Buy five, get one free."
Over at an unnamed stall located in front of Citizen Dental Surgery at Bangkit Road's market, 51-year-old stallholder Soh Say Lai has also seen prices drop. 
For instance, his Mao Shan Wang durians go for S$15 per kg, when they would usually sell for S$18 to S$20, he told CNA. 
"However, I see less customers than last year. Probably because people can go overseas now, so they choose to go overseas to eat," he added. 
This year's durian season has also seen brothers Tim Soh and Sam Soh from D-Fruit sell their durians cheaper.
For example, their Mao Shan Wang is going for S$13 per kg, and their Black Gold durian type is selling for S$18. The latter would usually cost more than S$20, the brothers told CNA in Mandarin. 
"The lower prices are because there is suddenly a greater durian haul (from Johor). In April, it kept raining, then in May and June it stopped raining and was very hot. So the durians dropped faster. Usually they drop slowly," said Sam, who heads the D-Fruit branch over at Bangkit Road in Bukit Panjang.
These factors, combined with the supply from Pahang that "coincidentally" came at the same time this year, resulted in cheaper prices, he added. 
"(Despite the lower price, there are) not really more customers, because some have run to Malaysia to eat. But going there to eat isn't cheap either," said Tim, who manages the fruit stall's Choa Chu Kang branch.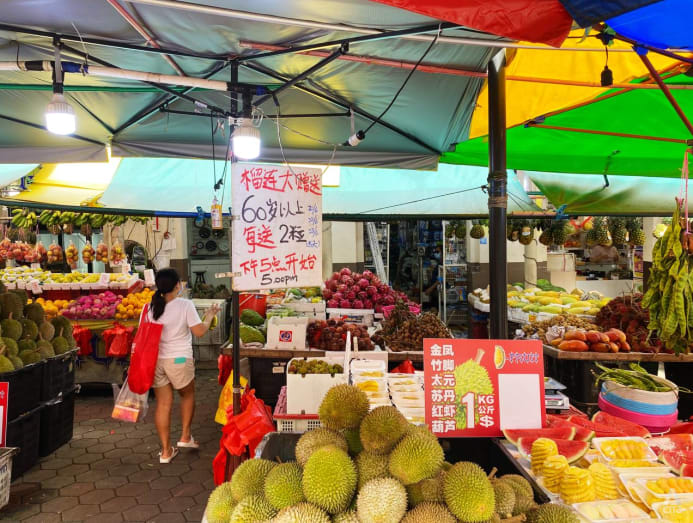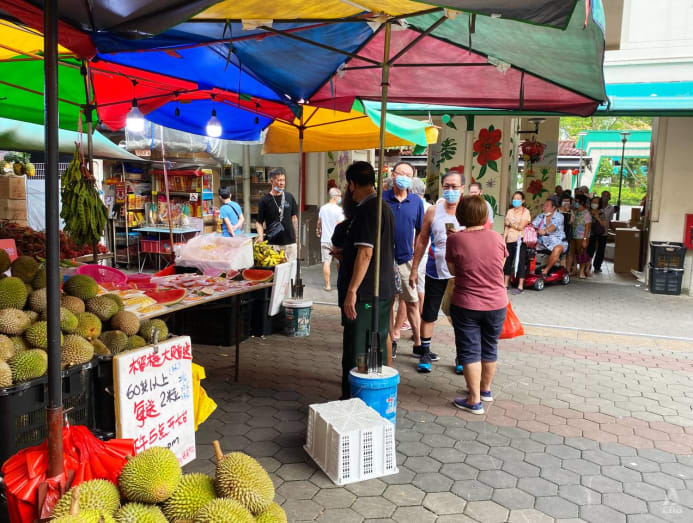 FREE DURIANS
To take advantage of the lower costs, the D-Fruit branch at Choa Chu Kang over the weekend gave away 600kg of durians for free to people aged above 60. 
"It was (gone) within half an hour. We didn't have any youngsters (try to queue for free durians). (If we did), we would have shooed them away," said Tim. 
From Tuesday to Thursday, his brother's D-Fruit branch in Bangkit Road is doing the same. Seniors aged 60 and above can get two free durians from 5pm on each day. 
It is a marketing strategy that seems to work. On Tuesday at 4.30pm, despite only having publicised the giveaway by word-of-mouth in the morning, queues had already begun to form. By 5.30pm, everything was snapped up. 
"We wanted to do this promotion in 2020, but there was the MCO (movement control order in Malaysia). Now, we have many durians and prices are cheaper, so it's a good time to give away," said Sam. 
"Even if we didn't give them away, we'd be able to sell them. But my priority is the elderly citizens here since I've been selling durians here for a decade. I've gotten to know the residents here, so I want to give them something." 
"I WILL PROBABLY EAT MORE THIS SEASON" 
Some durian lovers also plan to take advantage of the lower durian prices. 
Maran, a 64-year-old resident of Bukit Panjang, immediately got in line when he found out about the giveaway at D-Fruit's stall at Bangkit Road. 
"My family loves durian ... I plan to bring these durians back for my family tonight," he told CNA. 
"It's my first time seeing this (sort of promotion). I saw (the queue and wondered) why they're queuing. I thought they're buying durians."
Also in the queue was a resident who only wanted to be known as Mr Teo. 
"I really like durian. Any brand also can, as long as it's flavourful. I'm not picky," the 67-year-old said in Mandarin. 
"Actually I already bought durian in the morning. Two durians for about S$60. Previously (I would buy) about five to six for around S$300." 
Meanwhile, queuing for Black Gold durian in Bishan, a 65-year-old resident who gave his name as Kiran said he thinks he's paying a "slightly cheaper" price for his durians this time round. He had paid S$22 per kg, whereas he recalled usually paying more than S$25. 
"I like the taste of Black Gold. It's bittersweet, not too bad. During durian season, (I eat durian) maybe once a week. I will probably will eat more this season (due to the lower prices)," he said.