SINGAPORE: Large crowds were seen outside The Cathay at Handy Road in Dhoby Ghaut on Saturday (Jun 25) as people gathered to watch a popular busker perform. 
Videos on Facebook, TikTok and Instagram showed the audience, in a wide circle, waving flashlights on their smartphones in sync with the music.
The busker is musician Jeff Ng, whose weekly Saturday performances have gone viral on social media, TODAY reported.
The 32-year-old, who has been busking since 2018, told TODAY that he had to stop his performances when the COVID-19 pandemic hit. 
Last month, he started busking again at The Cathay and in a few weeks, his videos went viral on TikTok, earning Mr Ng the moniker - the Cathay Busker.
On Instagram, he now has almost 39,000 followers and about 24,800 followers on TikTok. 
One member of the audience CNA spoke to, Ms Jelyn Chua, said she turned up to support Mr Ng. 
"I saw him (Jeff) on Facebook and I think he's very popular," she said. While she confessed that she is worried about contracting COVID-19, Ms Chua said she has a mask on for protection.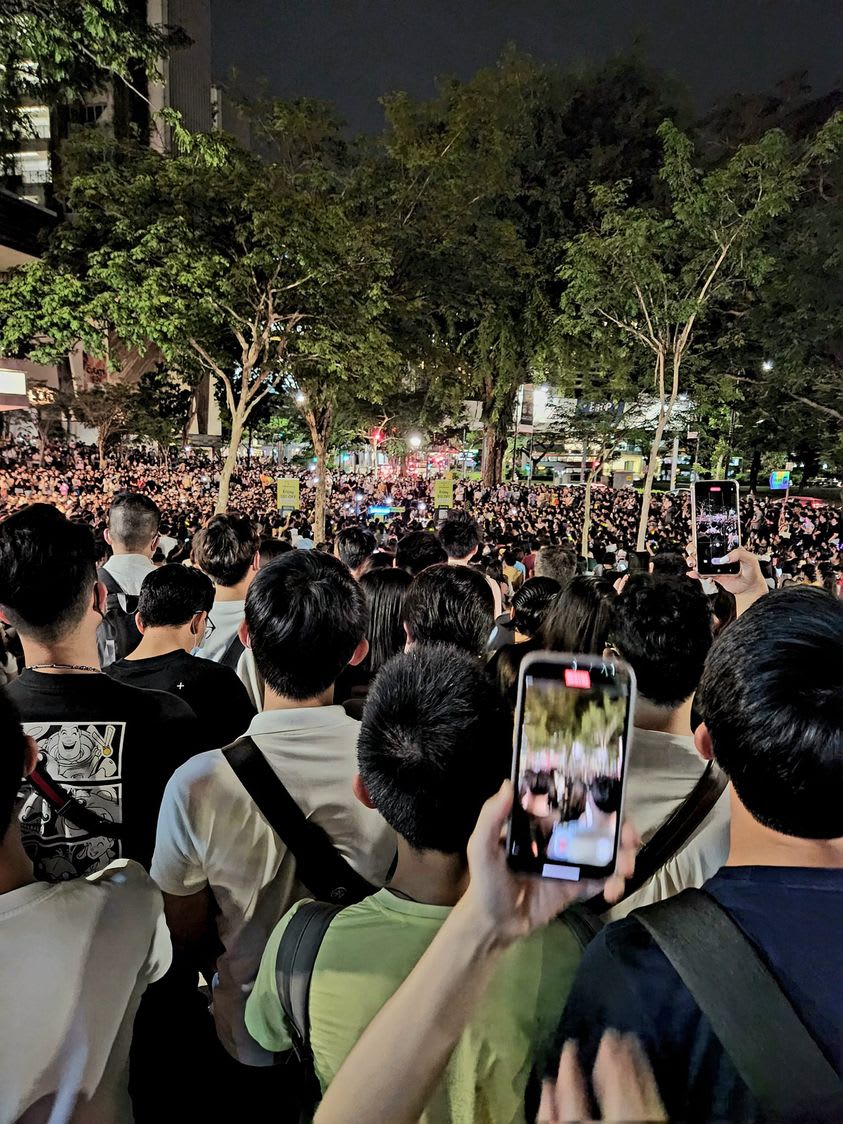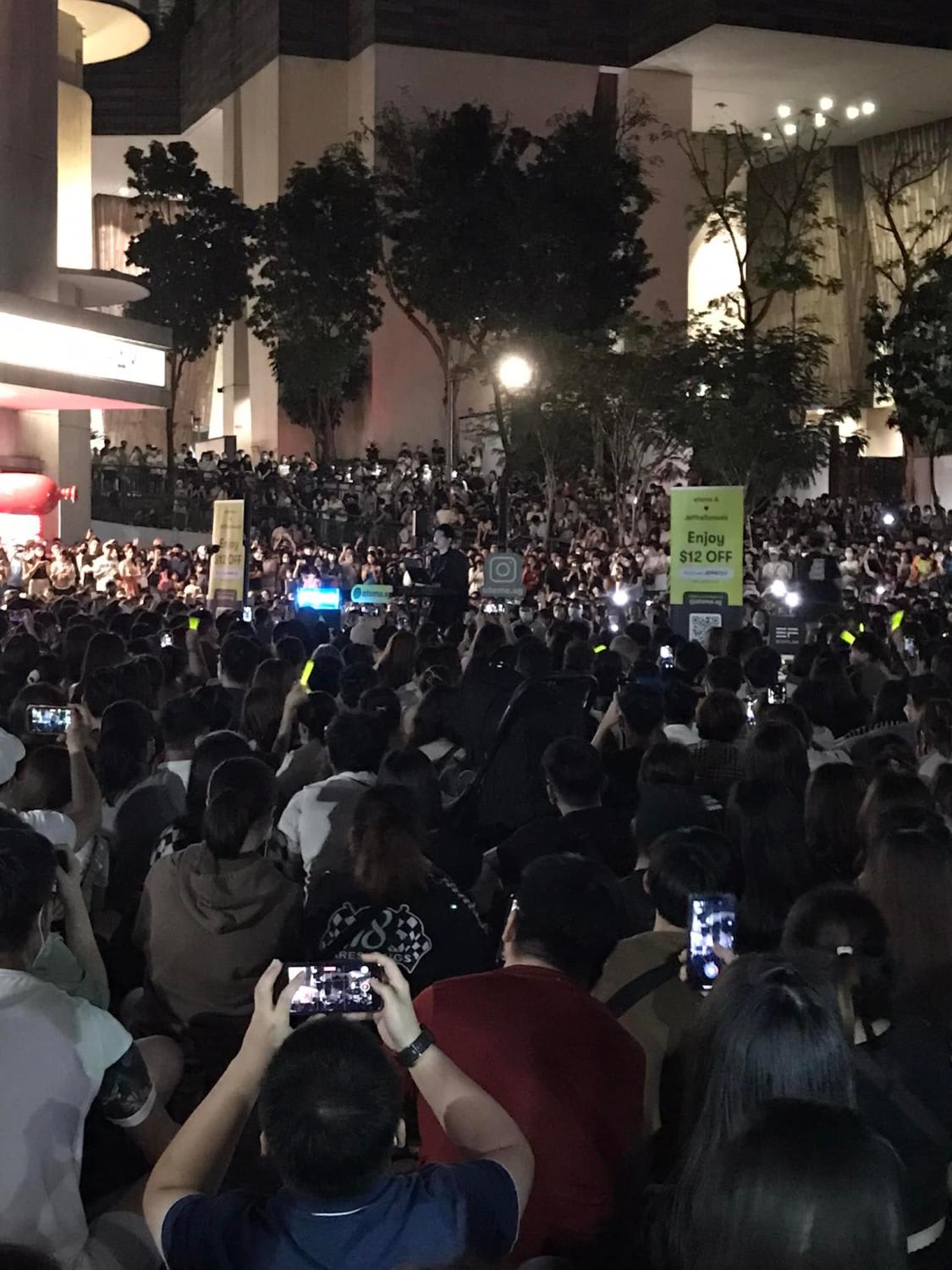 Another group of friends, Ms Rebecca Choo, Mr Issac Kua and Ms Nicole Lee, told CNA that Saturday's outdoor performance felt like a concert.
"It's really quite fun, (a) good way to start the (busking) scene again," said Mr Kua. 
Ms Choo and Ms Lee said they have been following the busker's TikTok account for about three weeks and wanted to watch him perform in-person.
"Every time we sing (karaoke) it's the same playlist ... so we sing along (with him)," said the 25-year-old Mr Kua. 
When asked if they were worried about COVID-19, the trio said that they have already caught the disease.
"It's them (who should) be worried," said Mr Kua, laughing and pointing to the crowd.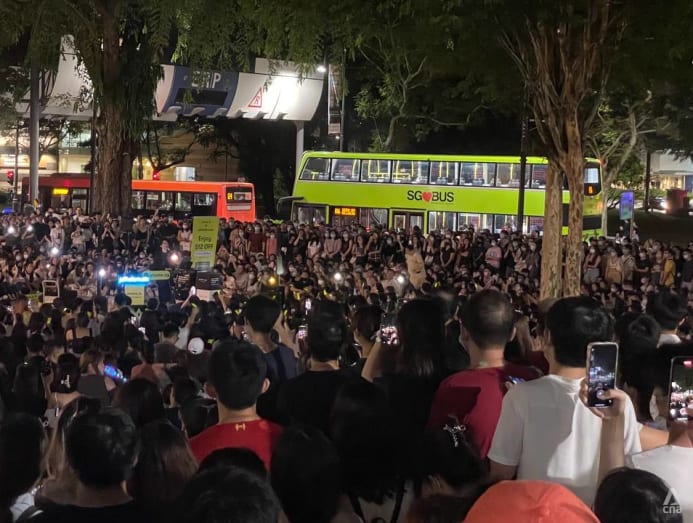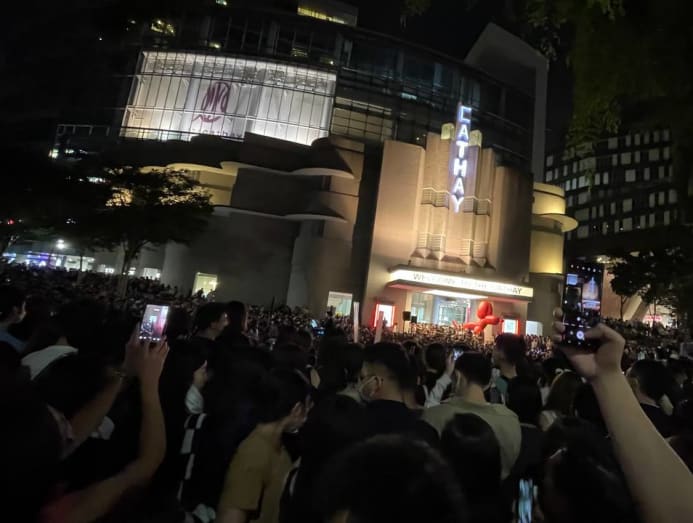 Over at another part of the crowd, two colleagues Mr Daniel Lam and Mr Jeremy Lim, were also at The Cathay to support Mr Ng. 
Mr Lim, 27, said he is not sure if Mr Ng will be performing again with the Cathay Cineplex closing down but he wanted to come down and listen to live music.
"Try la, got chance then come down and see," he said.
But Mr Lim added that he has reservations after seeing the size of the crowd, and said that he is only staying for 20 minutes to watch the performance.
"Scared! That's why I'm wearing (a) mask, a bit scared," said Mr Lim, adding that he has tried to keep his distance from other onlookers. 
With the relaxation of COVID-19 safe management measures, there is currently no cap on group sizes and mask-wearing in outdoor settings is optional.
But the Ministry of Health has encouraged individuals to exercise precaution such as wearing a mask in crowded outdoor areas.
In response to queries from CNA, a spokesperson from The Cathay said that it was "inspiring to witness such great local talent at close proximity and to see the support from fellow Singaporeans".
"From what we understand, buskers like Jeff book public spaces available for busking with the National Arts Council. The outdoor plaza area outside The Cathay is neither owned nor managed by The Cathay."
THE LAST GOODBYE
On Sunday, the Cathay Cineplex at Handy Road will open for the last time before it bids farewell to moviegoers.
Last Friday, Cathay Cineplexes and media company mm2 Asia announced that the decision is part of "cost rationalisation for its cinema operations".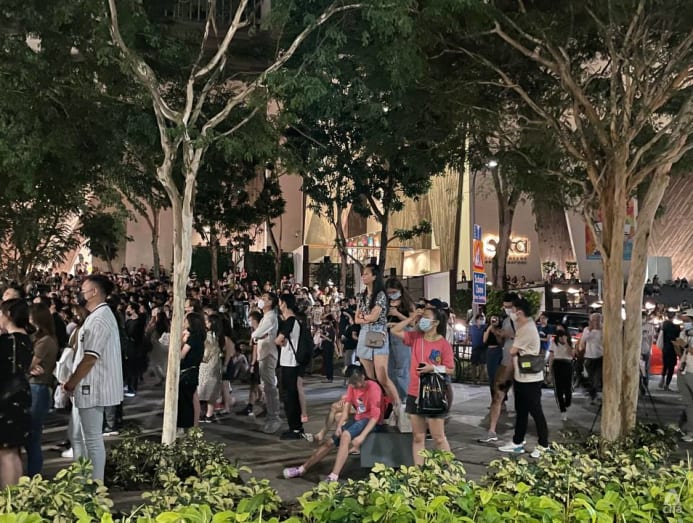 "Over the years, retail traffic demographics have changed. We have had to evaluate the commercial viability of operating two cinemas in the Orchard shopping belt within 1.5km of each other and within 300m of another multiplex," said mm2 Asia's group CEO Chang Long Jong.
The shopping mall's operator, Cathay Organisation, announced that local independent cinema The Projector will welcome patrons as a pop-up from Aug 23.