Low-carbon 'tiny houses' to be available for short stays on Lazarus Island
Called Tiny Away Escape @ Lazarus Island, the new accommodation includes five compact eco-friendly units that each occupy between 150 and 170 sq ft and will be open for bookings from April.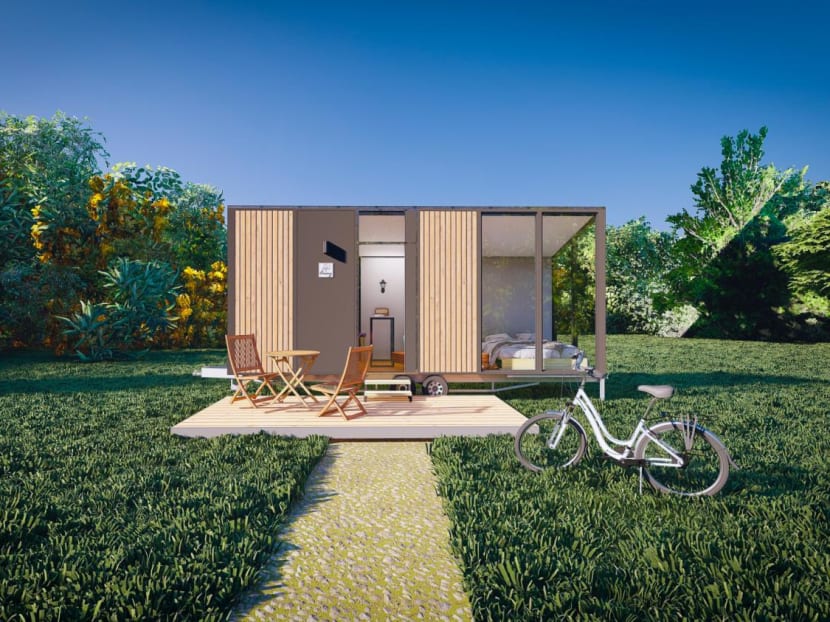 SINGAPORE: Visitors to Lazarus Island will soon be able to book eco-friendly "tiny houses" for a short stay, as well as enjoy new amenities and leisure activities.
This was announced by Minister of State for Trade and Industry Alvin Tan at the Committee of Supply debate on Tuesday (Feb 28).
"Sentosa Development Corporation (SDC) will be making our Lazarus Island a light-touch destination over the next three years, where visitors can experience its rustic charm while minimising (their) impact to biodiversity and the environment," he said.
The accommodation, which will be the first to be built on Lazarus Island for short-term stays, comes in the form of five standalone units that each occupy between 150 sq ft and 170 sq ft, said the SDC in a separate media release.
Called Tiny Away Escape @ Lazarus Island, these units will be operated by homegrown firm Big Tiny, which describes itself as the first company in Singapore to integrate eco-tourism with the concept of "tiny houses" – an international movement that advocates living simply in small and eco-friendly homes.
The firm takes the movement one step further by designing these compact homes on wheels and placing them in scenic, rural settings. Its tiny homes have been made available for rent in eight countries so far, including Australia and Italy. 
The units on Lazarus Island, which will be made available for bookings from April this year, is the firm's market debut in Singapore.
ECO-FRIENDLY ACCOMMODATION
SDC's chief executive officer Thien Kwee Eng said the new accommodation on the island utilises innovative and sustainable ideas to allow guests to lower their carbon footprint.
For example, solar energy will be the main source of power for these units, while supported by the electricity grid as a contingency backup. Energy-efficient electrical appliances are also installed to reduce overall power usage.
The units also use sustainable composite building materials that are produced from recycled plastic and wood fibre. 
Other features include a "high-tech" recycling system that converts food waste to compost on-site within 24 hours, and the provision of biodegradable shampoo and body wash for guests.
In response to queries, SDC said each unit will be fitted with potable water.
Guests will be able to pre-book meal add-ons once their bookings are confirmed. Alternatively, they can choose to prepare their food in the kitchenette within each unit, using the microwave and utensils provided, said SDC's director of special projects Tan Siok Kheng.
The launch of the eco-friendly short-stay option is the first in a series of new initiatives that the SDC has in mind for Lazarus Island and other Southern Islands.
Other new amenities and activities, including a convenience store, overnight glamping experiences and non-motorised water activities, will be launched in phases around June, it said. 
In 2021, the SDC also launched a 15-minute ferry service from Sentosa Cove to Lazarus Island.
SINGAPORE CERTIFIED AS SUSTAINABLE DESTINATION
Mr Tan also announced that Singapore has been certified as a sustainable destination based on the Global Sustainable Tourism Council's (GSTC) destination criteria.
The GSTC criteria is dubbed the global standard for sustainable travel and tourism, said the Singapore Tourism Board (STB) in a separate press release.
Singapore was certified based on its performance in four areas – sustainable management, socio-economic sustainability, cultural sustainability and environmental sustainability.
"This certification validates our policies in stewarding Singapore to become a sustainable urban destination by 2030, in line with our Singapore Green Plan 2030," Mr Tan told the House.
STB chief executive Keith Tan said being certified is "just the beginning" and that tourism businesses "must do more to internalise sustainability as part of their offerings".
"Our vision is to become one of the world's most sustainable urban destinations and we now know we are on the right track," he added.

Editor's note: The image of the convenience store has been removed from this article after SDC clarified that the concept for the facility has not been finalised.
Big Tiny CEO Adrian Chia tells CNA938 his big plans for these tiny homes