Men on pregnancy and infant loss: Anger, crying in private and being expected to 'man up'
A quick online search for support after a miscarriage, stillbirth or infant death shows several avenues for women and few, if at all, for men. CNA speaks to men who've lost a child on how they dealt with their emotions. 
SINGAPORE: He's well-loved as funny man Xiao Ming on SGAG, often lifting spirits through viral memes and skits. But Adrian Ang, 34, dealt with "a lot of anger" in private after his wife had a miscarriage last year. 
The couple learnt they were expecting around six weeks into the pregnancy. But just three weeks later, the doctor found no heartbeat when they went in for a routine scan. 
"After it happened, I got back to work and tried to move on, but I also started to build walls and shut myself in. I didn't want to go out, because any sight of a happy family, as selfish as it might sound, reminded me of something I've lost. If I don't need to see anybody, I don't need to feel these things," he opened up to CNA over Zoom. 
Mr Ang didn't even want to meet his closest friends. Any pregnancy announcements from his social circle would evoke "very negative emotions", he said. 
"Those emotions lasted even up to six months after the miscarriage, especially when it came to festive periods like Christmas, Chinese New Year. People were gathering, friends were talking about families and how to deal with kids. I didn't want to know about any of it." 
Eventually, his wife noticed grief taking over him.
"After the first couple of weeks after the miscarriage, we didn't really talk about our emotions anymore. We tried to move on in our own way, but maybe I didn't. I just kept it in me and it was starting to grow into a slightly different monster," he said. 
"When she sat me down to talk to me, I really opened up to her again. I told her, 'I don't think I'm coping with this too well. I do need some help, I need to talk to someone about this.'"
Finally confiding in his wife and another close friend helped Mr Ang move past that phase of grief, but he said he would have sought professional help if it hadn't worked, as he didn't know how to deal with his emotions anymore. 
FEELINGS OF ANGER, INJUSTICE, DEPRESSION 
This anger towards happy families was something Chris Chan, 47, also grappled with. He only opened up about these emotions following his son's stillbirth in March 2020 towards the end of the call with CNA. 
"After my boy passed away, I just couldn't stand people who were pregnant. I couldn't stand people who had kids, even when I took the MRT with my wife, when I saw a newborn baby in a pram. I was just angry and I didn't know why," he admitted quietly. 
Then Mr Chan got more honest. When he found out someone he knew fell from a bike while pregnant, he felt "a certain part of happiness in me" to know she "experienced the same thing" he experienced. And when he learnt her baby was okay after the fall, he felt "a bit disappointed". 
"I would say that's a very cruel thing to say, but at that point, that was me," he said.
Mr Chan recalled his wife coming "close to prenatal depression" two weeks after his son's stillbirth. He felt he needed to handle his grief while watching over her. 
"She told me she was at the window, and she felt like killing herself. I felt totally lost. Whenever I needed to cry, I'd walk away and make sure she doesn't see me," he shared.
It didn't help that his "old school, traditional" mother would chide him whenever he teared up, by telling him, "Eh, you're not supposed to cry, you're a guy." 
"But I learnt in church that when you cry, it's a healing process and you're letting your emotions and whatever negative things come out, and it doesn't mean you're not 'man' enough. It frees me a lot. I dare to cry now and don't feel guilty about it," he said.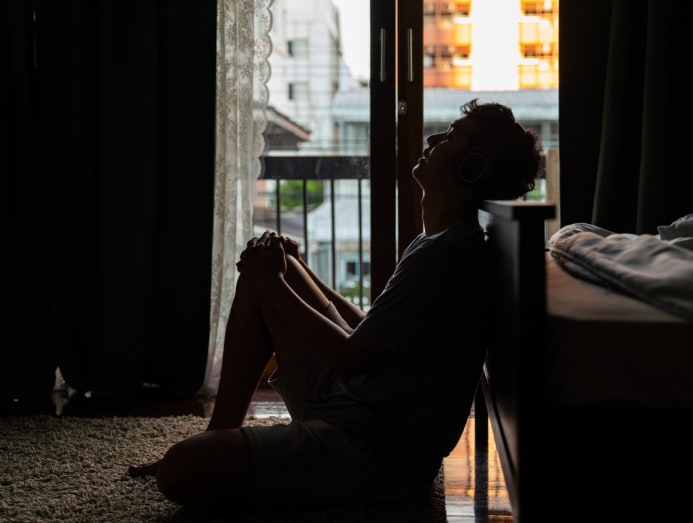 Other men CNA spoke to lost a child through various ways, such as miscarriage, stillbirth or infant deaths. But they discussed similar ways of expressing their emotions: Quietly and in their own time.  
For instance, 40-year-old Jacob Lim admitted the two days of his six-month-old daughter's wake were "therapeutic", as he could talk about his daughter's death. But he only fully let out his emotions when he was alone at home. 
"Days after her passing, barely two months ago, when I was by myself, I had a flashback of her. Looking at photos also brought back memories. There were distinct occasions when I just cried out loud when I was alone," he said. 
Even though Mr Lim's wife didn't expect him to do certain things for her, it felt like there were "unspoken" expectations from friends who'd tell him to take care of his wife. But, he said, there were also friends who reminded him to take care of himself. 
"Perhaps it's true that for guys, because of our general nature, we just do stuff. It doesn't mean we're coping well. There are many things inside us that may not have been dealt with or handled." 
QUIET GRIEF, DIFFICULT EMOTIONS 
Men are "less demonstrative" in their grieving, explained Ms Valerie Lim, who founded Child Bereavement Support Singapore (CBSS) in 2005. But this doesn't mean their grief doesn't exist. 
She recalled a bereaved father in CBSS, who would grieve his late adult son without his wife knowing. 
"He would quietly steal time to listen to his son's set of music. Very quietly, he would play it without his wife knowing. That was his way of getting in touch with his son. Not openly, but in his own way, in his own time," she said.
Acknowledging the greater avenues of support for women compared to men, Ms Lim said mothers are "more visibly affected" by the loss in miscarriages and stillbirths, having carried the child. They would also tend to shoulder guilt, as the baby was in their body.
"However, for the father, his pain is losing the child and losing his wife to grief. It becomes like a double whammy. His feelings of not being the protector or provider, not being the hero in the family unit, are completely broken. If it's internalised and ignored, it becomes a very difficult emotion to unpack," she shared. 
These emotions can be overwhelming, as Mr Ang experienced when he couldn't handle his anger. But in June, slightly more than a year after his wife's miscarriage, he was ready to talk about the incident publicly, so he shared an Instagram post. 
He didn't expect to receive messages that helped him explain the emotions they were going through. 
"Grief is a very big word that sometimes you really just don't know how to comprehend the emotion. So being able to really understand what you're feeling and what you've been through was super helpful," he said. 
"There were also messages encouraging us to accept that (the embryo) was a life, a loved one that we had. Even though it made us feel sadder, it helped to clear up some of our confusion (about whether our embryo was considered a life). That clarity was helpful." 
PRACTICAL SUPPORT
Understanding how men deal with emotions and grief is key to offering help, observed Ms Lim. 
Men are "typically restorative in nature" and they turn to a "problem solving approach" when something happens, she said.
"How he deals with his grief is very physical. He does things. He works. He prepares things. He's moving all the time, but his grief is quiet." 
She added that women, relative to men, are "more emotional and more present with their feelings". 
Ms Lim, whose own daughter died at 16 months old, has been helping bereaved parents for 16 years. She sees about 15 members every month, and around three would be men who are mostly there to support their wives. 
But she noted, it doesn't mean men aren't open to processing their grief with other people. The trick is to adopt a different strategy. 
"Minimise asking 'how are you?', because most men are not going to sit you down and tell you their feelings from the last week or so. They don't express so much in words. But you can show that you care by translating your support and love for this father into a practical way," she said.
To those who might not know what to do, Ms Lim's advice is to "take your cue" from the man. 
For example, her own husband asked a friend out for lunch after the friend lost his adult son, intending to talk about work while providing a safe space for his friend to open up if he felt comfortable. 
"Making a lunch date on a weekday is a safe thing. It's a defined lunchtime slot. After that you can go back to work. You don't have to indulge in your emotions," she advised. 
"Later on after lunch, if he feels comfortable with you, he can call you out again."
Eventually, it became more natural for Ms Lim's husband and his friend to mention their late children's names while spending time together. "It's an absolutely different level of grief altogether," she said.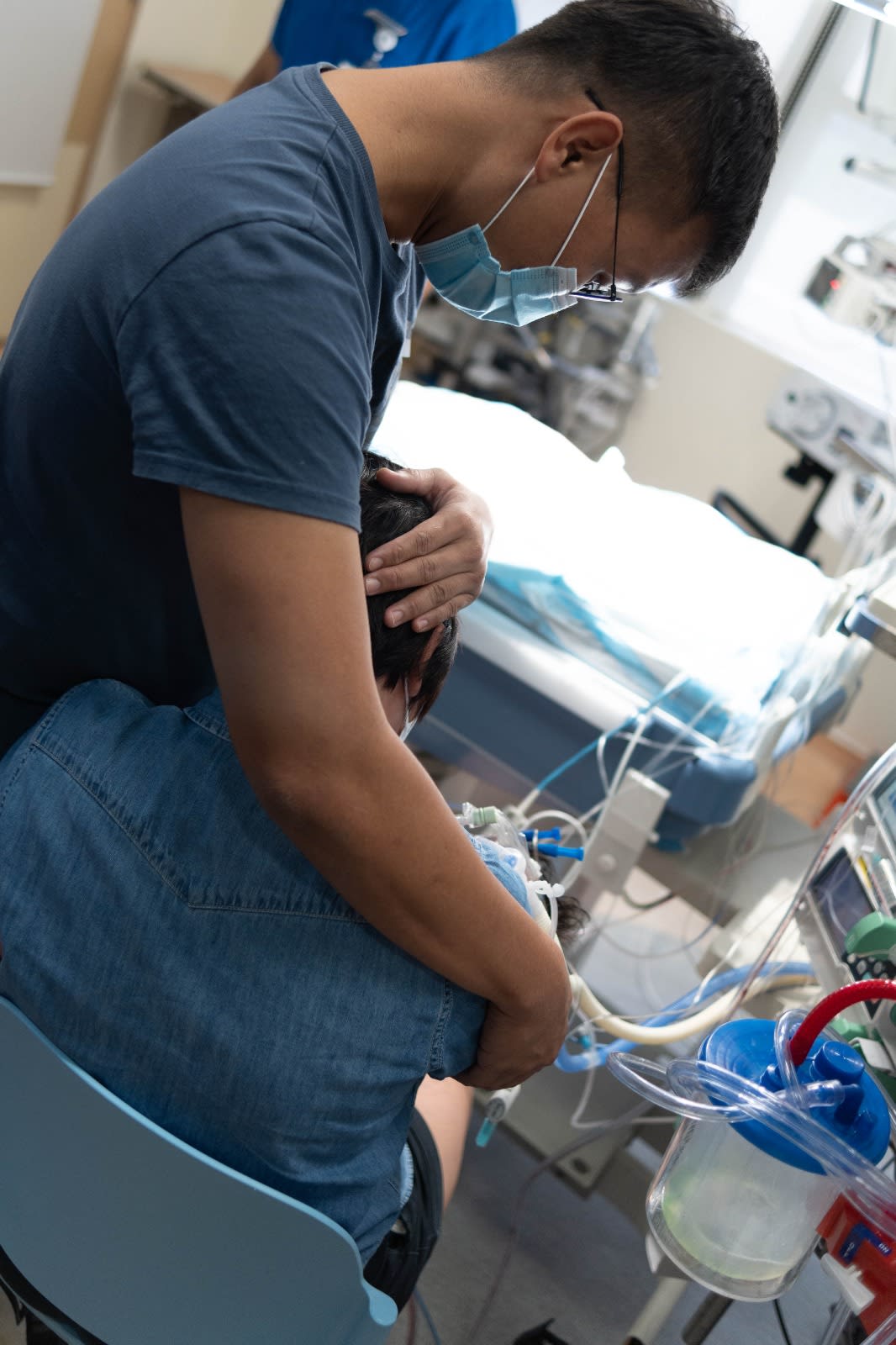 Mr Jacob Lim, who lost his six-month-old daughter in June, agreed that practical measures were a good way to help, such as having friends buy food for him and his wife. He also appreciated people acknowledging that they needed space. 
"People texted us, 'We are keeping you in prayer. If you have time, reply us and update us. If not, we totally understand.' It takes the pressure off us from keeping others informed," he shared.
"This is helpful because it gives us space to respond, while telling us that they're around to support us." 
Having close friends talk about death openly, when they knew his daughter was going to die, also helped him. 
"They would start talking about the death arrangements. Are you planning to put in a niche? Are you planning to scatter (her ashes) into the sea? How many days of funeral? Who's going to conduct the wake? These are practical things, needed things," he said. 
"Some people will say they don't want to talk about it, but it's actually helpful. Because when (the death) really happens, there's already a thought process you've gone through." 
DOES IT GET BETTER? 
Most of the men who spoke to CNA lost their children less than five years ago, with some even as recent as a couple of months prior to the interview. 
All except Mr Patrick Wong, 53, whose late son would have turned 21 this year. He died eight days after he was born in January 2000. 
Mr Wong was also the only father who already had a child when he and his wife lost their baby. His only son then was about two years old. 
In the 21 years since their baby died, the couple have had two more children - and the family of five don't shy away from talking about death, often even leaving an extra chair at the dining table.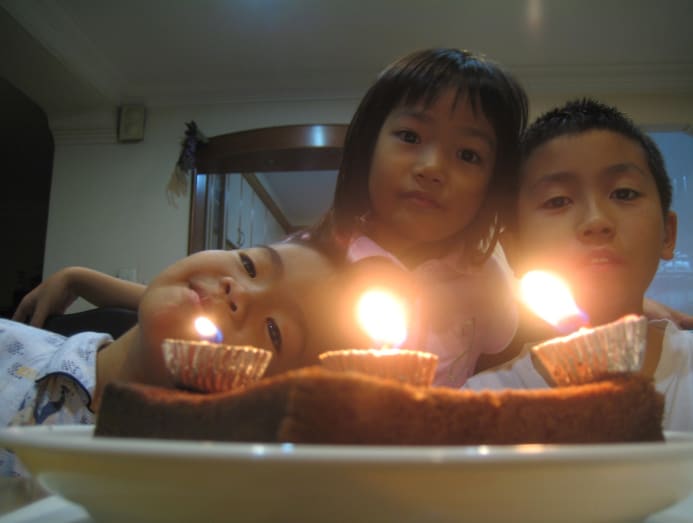 Asked to advise men who have recently lost a child, Mr Wong said to expect regression. 
"You might feel you've moved on, but something somewhere, like a sound or a smell, can easily bring all the memories back."
Attending a support group also taught him the necessity of showing his grief to his wife. 
"There were men in the group who said their wife was angry with them. She'd say, 'Why aren't you crying? Why aren't you grieving? We just lost a child.' In fact, the wife wants to see her husband's grief. She wants to see him in simpatico," he explained.
"If you're down and you see your partner crumbling, you will probably feel compelled to step out of your grief for a while to tend to your partner."
But does it get better after all this time? 
Mr Wong paused for several seconds, deep in thought. When he replied, he didn't answer the question directly. 
"I would tell them to take it one day at a time and to accept whatever they're feeling at that time. If need be, go and talk to someone. Find your way of dealing with it, but try not to lock your wife out. And don't lock yourself away from your wife either," he said.