Singapore supports move to invite 'non-political representative' from Myanmar to attend ASEAN summits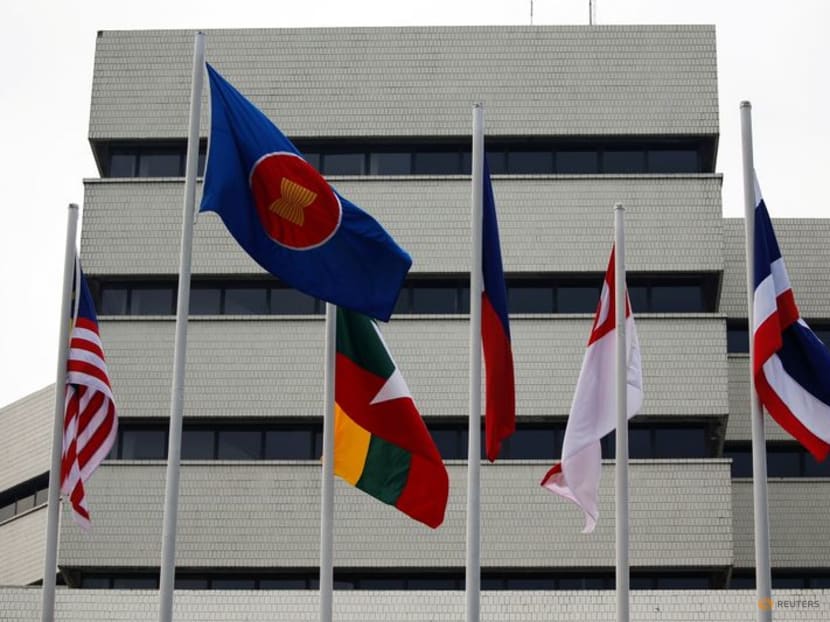 SINGAPORE: Singapore supports the decision reached by the foreign ministers from the Association of Southeast Asian Nations (ASEAN) to invite a non-political representative from Myanmar to a series of ASEAN summits at the end of October, said Singapore's Ministry of Foreign Affairs (MFA) on Saturday (Oct 16).
The decision made at the Emergency ASEAN Foreign Ministers' Meeting on Friday effectively sidelines the leader of Myanmar's military junta, Min Aung Hlaing.
According to Reuters, Friday's meeting was called to address the failure of Myanmar's junta to adhere to a peace roadmap it had agreed to with ASEAN in April, aimed at tackling the fallout from the coup led by Min Aung Hlaing.
On Saturday, in comments made in response to media queries, an MFA spokesperson said: "This was a difficult but necessary decision to uphold ASEAN's credibility given the unsatisfactory and highly limited progress in the implementation of the ASEAN Leaders' Five-Point Consensus." 
Brunei will host the 38th and 39th ASEAN summits and related summits from Oct 26 to Oct 28. 
Brunei's Second Minister of Foreign Affairs Erywan Yusof was picked by his ASEAN counterparts in August as the bloc's special envoy to Myanmar. There have been calls for him to meet ousted civilian leader Aung San Suu Kyi, something the Myanmar junta has already said no to.
The MFA spokesperson said that Singapore "commends" the efforts by Mr Erywan and reiterates its "full support" for the special envoy's mission and Brunei's ASEAN chairmanship. 
"Singapore urges the Myanmar military authorities to cooperate with the Special Envoy to swiftly and fully implement the Five-Point Consensus," the MFA spokesperson said. 
NO CONSENSUS AFTER FRIDAY'S MEETING
In a statement on Friday, Brunei said no consensus had reached for a political representative to attend the meetings in Bandar Seri Begawan.
"As there had been insufficient progress ... as well as concerns over Myanmar's commitment, in particular on establishing constructive dialogue among all concerned parties, some ASEAN Member States recommended that ASEAN give space to Myanmar to restore its internal affairs and return to normalcy," Brunei said.
The statement did not mention Min Aung Hlaing or name the non-political figure to be invited in his stead.
Brunei added that some ASEAN member states had received requests from Myanmar's National Unity Government, formed by opponents of the junta, to attend the summit.