National Day Rally 2021: PM Lee looks forward to post-COVID world, addresses societal fault lines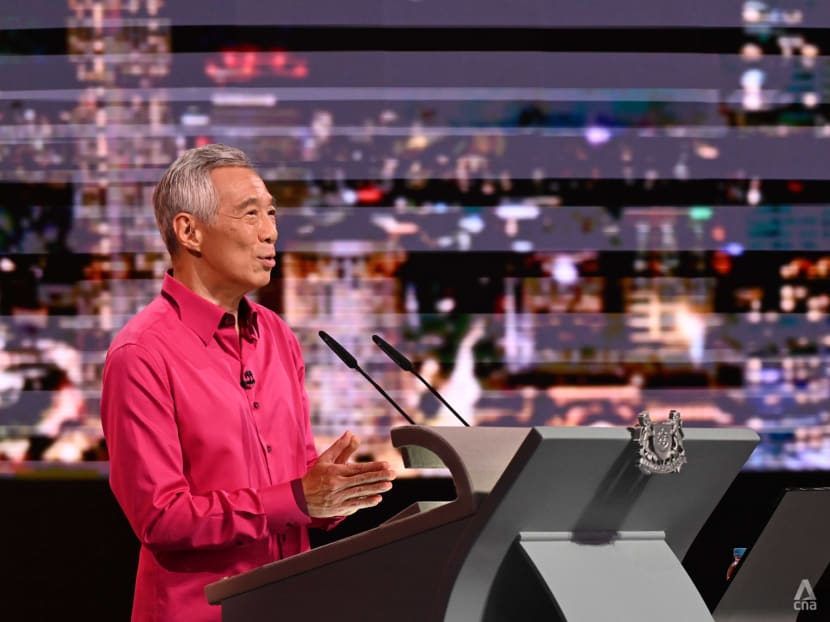 SINGAPORE: Prime Minister Lee Hsien Loong announced a range of measures to help lower-wage workers and addressed concerns about racial and community faultlines in his National Day Rally speech on Sunday (Aug 29).
Announcing that Singapore has passed a critical juncture – where 80 per cent of the population has received two vaccine jabs to guard against the coronavirus – Mr Lee spoke of what lies ahead, but cautioned that Singapore will move forward "step by step".
Mr Lee was speaking at the Mediacorp Campus on Sunday evening to both a small physical audience and about 2,000 people who tuned in virtually as the rally took on a hybrid format for the first time.
It was the first National Day Rally since the COVID-19 pandemic hit Singapore as last year's event was cancelled and Mr Lee gave a speech in Parliament instead.
This year's speech was also delayed by a week, from Aug 22 to Aug 29, as rising cases of COVID-19 in Singapore prompted another period of tightened COVID-19 restrictions.
Mr Lee spoke in Malay and Mandarin first, then in English for the speech that was also broadcast on local TV channels and radio stations.
Thanking everyone in Singapore for their discipline and resilience during the past 18 months, Mr Lee said that despite the many disruptions caused by the virus, Singapore has done better than many other countries in the fight against COVID-19.
"We are in a new situation. Vaccination has slowed the transmission and spread of COVID-19," said Mr Lee.
He added that with the much more infectious Delta variant, it is no longer possible to bring COVID-19 cases down to zero even if Singapore locks down for a long time, so it has to prepare for a future where the virus is endemic.
"Fortunately, with vaccination and added precautions, we can live with the virus and become 'COVID resilient'. We may have to tap on the brakes from time to time, but we want to avoid having to slam on the brakes hard," he said.
CHANGING GEARS
While the number of coronavirus cases has gone up in the last week, the number of seriously ill people has remained stable, he said.
"It is important to maintain this, so that we can continue to ease up, and especially to reconnect Singapore with the rest of the world," he said.
Mr Lee said that Singapore will not open up in "one big bang" like some countries, but will proceed cautiously, "feeling our way forward".
Having survived the worst economic crisis since independence and with the global economy picking up, Singapore must now "change gears", said Mr Lee.
"It is no longer about drawing down reserves to keep ourselves on life support. It is about generating new growth, new jobs, and prosperity for the future," he said.
Mr Lee said that to sustain Singapore's longer-term growth, it needs to preserve its status as a business hub, attract more foreign investments and grow Singapore companies and entrepreneurs.
But economic growth is only a means to an end – so that Singaporeans and their children can lead better lives, said the Prime Minister as he moved on to address the nation's social challenges.
He spoke in turn about supporting lower-wage workers, anxieties over competition from foreign workers and friction due to race and religion.
HIGHER INCOMES FOR "PRECARIOUS" LOWER-WAGE WORKERS
Mr Lee said that many lower-wage workers such as cleaners and security guards were on the frontlines of fighting the pandemic, and they were also more stressed than others during this time.
"Their jobs are less secure, they are more likely to be laid off, they have less savings to tide over hard times. In the pandemic, their situation has been precarious," he said.
He highlighted that lower-wage workers in Singapore do get help, from policies like Workfare and the Progressive Wage Model (PWM), but more will be done for them.
The age to qualify for Workfare will be lowered from 35 years old to 30 years old in two years' time.
The PWM, which lays out salary and skills ladders for various industries, will also be expanded to many more workers, said Mr Lee. 
It will be extended to more industries – first to retail next year, then to food services and waste management – and it will also start to cover certain occupations that cut across industries, starting with administrative assistants and drivers.
Firms hiring foreign workers will also have to pay a salary of at least S$1,400 to all local employees. Companies currently have to meet this Local Qualifying Salary before they can count the employee towards their quota for hiring a foreigner, but do not have to pay every employee a minimum amount. 
The Local Qualifying Salary will be adjusted from time to time, said Mr Lee.
The Government will also introduce a Progressive Wage Mark to accredit companies that are paying all their workers progressive wages, said Mr Lee.
"The PW Mark will tell consumers which companies are paying all their workers decent wages," he said.
"The public sector is a major buyer of goods and services, and it will take the lead and purchase only from such businesses."
He said that the new measures will cover eight in 10 lower-wage workers. "If we include the Workfare enhancements, almost all lower-wage workers can look forward to higher incomes within the next two years," said Mr Lee.
He appealed to people in Singapore to support these measures and "chip in" to enable the workers to keep their jobs at a higher pay.
"Pay a little bit more for some of our favourite things, like bubble tea or bak chor mee, with or without 'hum', to help the shop cover higher cleaning and waste collection costs," said Mr Lee. "I am glad that many Singaporeans are willing to support lower-wage workers in this way."
He said that the Ministry of Manpower is also concerned about lower-wage workers in the gig economy and is studying the issues these workers face.
LABOUR DISCRIMINATION LAWS
COVID-19 has also exacerbated anxieties among middle-income Singaporeans about competition for jobs and opportunities at the workplace and this has led to unhappiness with foreign workers, particularly in certain sectors.
To address this, authorities have increased the salary cut-offs to qualify for Employment Passes and S Passes.
But Mr Lee said that Singapore must assure all employees of fair treatment at the workplace and there are some companies that don't "play ball".
Going forward, Singapore will write into law its guidelines on workplace discrimination.
"We will enshrine the TAFEP (Tripartite Alliance for Fair & Progressive Employment Practices) guidelines in law. This will give them more teeth, and also expand the range of actions we can take," said Mr Lee.
There will also be a tribunal created to protect workers against discrimination based on nationality, as well as other kinds of discrimination covered by TAFEP, such as that based on gender, age, race, religion or disability.
"Philosophically, writing TAFEP guidelines into the law is a major move. It signals that we do not tolerate discrimination at workplaces," said Mr Lee. 
"But in practice, we hope to operate in a similar way as today, except better. We should still resolve workplace disputes informally and amicably, if at all possible. The legal redress should be a last recourse."
But he also asked Singaporeans to remain open to people from all over the world.
"Foreigners who are here in Singapore. they strengthen our team. They are our colleagues, and our neighbours and friends," he said. 
"During COVID-19, some have endured personal hardships, perhaps been separated from families who are abroad, or been stuck outside Singapore and unable to return home here. Many worked on the front line, shoulder-to-shoulder with Singaporeans. They too have contributed to Singapore."
"A DELICATE BALANCE"
While speaking about integrating foreigners in Singapore, Mr Lee touched on how Singaporeans now identify more as Singaporeans than with their respective ethnic groups.
"Compared to the non-Singaporeans, we are 'same same but different'," he said.
Singapore has achieved racial harmony over the past few decades, but recent racist incidents, a number of which targeted Indians, are reminders of how "fragile" this harmony is, said Mr Lee.
"Over time, the different ethnic groups reached a balance. We did this not through push and shove, but through mutual compromise, and give and take," he said.
"As a result, Singapore is one of the few countries in the world where people of different races and faiths live peacefully together, and have done so now for more than half a century. 
"It is a rare and precious achievement but it is also a delicate balance."
Earlier in his Mandarin speech, Mr Lee said that it is "entirely baseless" to claim that there is "Chinese privilege" in Singapore. Singapore's founding leaders stood firm on the overarching policy of racial equality and the Government was impartial when drafting laws and administrative measures, he said.
"We treat all races equally, with no special privileges. Few countries have made this their policy, and even fewer have actually managed to make it a reality."
But he acknowledged that racial discrimination still happens and that minorities are the ones most affected by it, and asked the majority Chinese community to be "more sensitive to the concerns of the minorities".
"We must also have the moral courage to take a stand against racist behaviour, to express clear disapproval of racist incidents when they happen," he said. 
"And what is much harder: To call out deliberate racist agitation that masquerades as something else. Like the campaign against CECA, which claimed to be about putting Singaporeans first, but had a strong racial undertone."
CECA is short for the India-Singapore Comprehensive Economic Cooperation Agreement and there has been fierce criticism of the trade pact for swelling the flow of workers from India in Singapore, an assertion that has been debunked by the Government.
NEW RACIAL HARMONY ACT
Mr Lee said that the real solution is to change social attitudes, but this takes time and legislation can play a role.
"Laws may not by themselves make people get along with one another, or like one another; but laws can signal what our society considers right or wrong, and nudge people over time to behave better," he said.
Mr Lee announced that a new Maintenance of Racial Harmony Act will collect together in one place all the Government's powers to deal with racial issues.
It will also incorporate some "softer and gentler touches" like the power to order someone who has caused offence to stop doing it, and to make amends by learning more about the other race and mending ties with them.
Mr Lee also said that from November, Muslim nurses will be allowed to wear a tudung with their uniforms, if they wish to. He made the announcement both in English and in Malay.
This will not apply to other uniformed occupations such as the military and the police force, as they are "impartial and secular arms of the State", and need to be seen to be doing their duty without fear or favour, he said.
For school uniforms in national schools, Mr Lee said that students need to wear the same uniform regardless of social status, race or religion.
"We need to emphasise their similarities and minimise their differences, so that students can build bonds in their formative years that will shape their attitudes for life," he said.
Mr Lee said that he hopes everyone will take this move on the tudung "in the right spirit". While the Muslim community had called for this for many years, the Government was cautious about how it would affect relations between the communities.
"We are making a careful adjustment to keep our racial and religious harmony in good order. This approach has worked well for us for many years," he said. 
Rounding up his speech, Mr Lee said that Singapore has many strengths to be proud of – its healthcare system, civil service, public infrastructure and the country's national reserves.
"But our greatest strength is our people: United and resilient, steadfast and resourceful, in good times and bad," he said.
Throughout the speech, he had brought up several individuals and frontliners who have stepped up during the COVID-19 crisis. In this crisis of a generation, Singaporeans have shown how strong they can be, and what Singaporeans can do, he said.
"COVID-19 will not be our last crisis. We will surely encounter more trials on the road ahead. We will be tested again, sometimes severely," said Mr Lee. 
"Each generation will wonder, as their parents and grandparents did: Will we survive? Will Singapore prevail? Will Singaporeans stay together as one people? 
"My answer: We have done it before. We will do it again."