National Day Rally initiatives part of broader goal for fairer, more inclusive Singapore: Lawrence Wong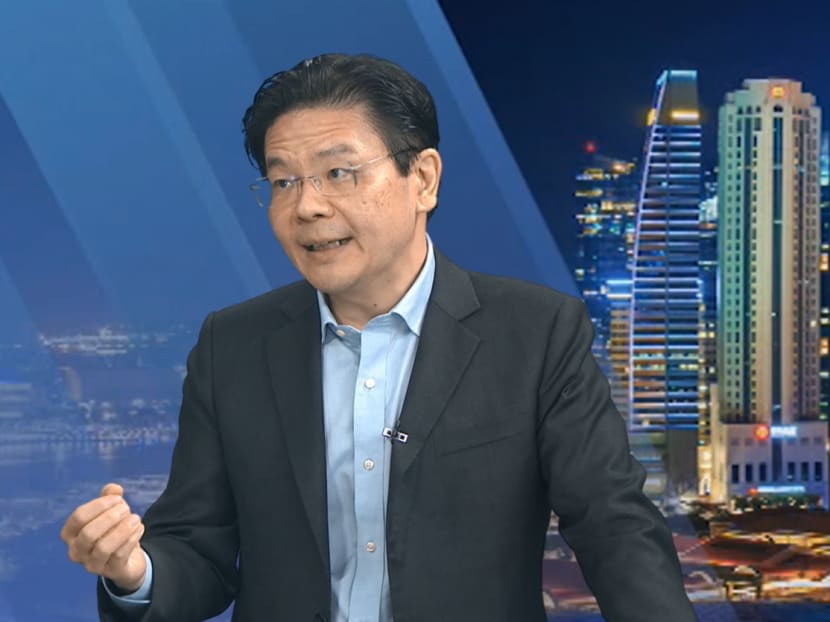 SINGAPORE: The latest announcements made by Prime Minister Lee Hsien Loong at the National Day Rally on issues related to race and religion, low-wage workers, as well as anxieties over foreign workers, are part of a broader agenda to guide Singapore into becoming a fairer, greener and more inclusive society.
The Government has been thinking about these issues for some time but decided that it "had to move more quickly and urgently" due to the COVID-19 pandemic's strains on the society, said Finance Minister Lawrence Wong on Wednesday (Sep 1).
Speaking in an interview on Channel 5's News Tonight, the minister said: "So we decided we have to redouble our efforts to tackle these social challenges and deal with them decisively."
In a wide-ranging National Day Rally speech on Sunday, Mr Lee announced efforts to further support Singapore's lower wage workers through three measures, including expanding the Progressive Wage Model to more sectors.
Anti-discrimination guidelines in the workplace will also be enshrined into law, while a new Maintenance of Racial Harmony Act has been proposed to consolidate the Government's powers to deal with racial issues.
Mr Wong said the Government will follow up on all the initiatives and "implement them with due dispatch".
He added that the announcements should not be seen in isolation, but "as part of a broader agenda" for Singapore to emerge stronger after this crisis, not just economically but also as a society.
"We aspire to be a fairer, more equal and more just society, and this is underpinned by several key values," Mr Wong said.
These values include wanting every Singaporean to have a share in the nation's progress, as well as be treated with dignity and respect and have a place in society.
"All the moves we've made over the past year, from the Singapore Green Plan to Budget support measures, have been conceived with this aspiration and these values in mind. This will be our lodestar that guides our work towards a fairer, greener and more inclusive future," the minister said.
"A VERY SIGNIFICANT SHIFT" IN TACKLING SOCIAL INEQUALITY
Mr Wong said the Government has been actively tackling social inequality – a key priority – for some time.
"From year to year, you may not see so much of the changes but if you look back over the last 10 years, cumulatively all the things that we've been doing add up to a very significant shift in the Government's position and the way we approach social security," he added.
It has "considerably strengthened social support across every life stage", starting from pre-schools to give every child a good start in life. More has also been done in education, not just for the young but also for adults through SkillsFuture initiatives. 
The minister also mentioned that work is under way in other areas such as ensuring affordable housing, uplifting of incomes especially for low-wage workers and improving on universal healthcare.
All these add up to a strengthening of safety nets to give Singaporeans greater assurance to cope with life's uncertainties, Mr Wong said.
"I think that's an important part of ensuring that everyone has a fair shot at opportunity and security, and that we strengthen our social compact so that we can be better positioned to deal with any future challenges in the post-pandemic world," he added.
Asked how the country can move forward on the issue of race and privilege as one society, the minister replied that Singapore has always taken a very strong stance against racism and has done its utmost to promote harmony in a multiracial society.
But its approach is not one of confrontation and compulsion where one group asserts maximum entitlements or presses its rights and claims against another.
Instead it prefers a "partnership approach", characterised by mutual accommodation and respect, consultation, finding consensus and expanding the common ground shared.
This approach has worked well, said Mr Wong, and will remain essential in strengthening unity amid diversity and forging a more inclusive society.
"So whether it's dealing with the issue of uniforms for nurses which Prime Minister touched on, or putting in place a new Maintenance of Racial Harmony Act … we will continue with this partnership approach," he added.
"It's a more difficult approach, but I think it's more sustainable. As they say, if you want to go fast you can go alone but if you want to go far, then we do it together. This approach, I think, is one where we want to bring everyone together."
TRANSITION SUPPORT PACKAGE FOR BUSINESSES IN THE WORKS
Mr Wong also said that the Government will put together a transition support package for businesses, as part of addressing concerns about higher costs given the wage changes for low-income workers.
Already, the Government has said it will be increasing its annual spending on the Workfare Income Supplement, which tops up the salaries of lower-wage workers in cash and Central Provident Fund (CFP) contributions. The higher spending will allow for higher payouts for all recipients and extend the scheme to those aged 30 and above.
"Businesses have to adjust. They do have to pay their low wage workers more. The Government will support them in this process," said the minister.
"We will also put together a transition support package to help businesses to cushion the impact on their business cost," he added, noting that details of the package are being worked on and authorities will announce when ready.
That said, Mr Wong reiterated that consumers also have to do their part by chipping in and paying a little more for goods and services.
"We all have this conviction that we must do more to uplift the incomes of lower-wage workers and if we share this conviction and I'm sure every Singaporean does, we have to go beyond words. We have to put into concrete action … and make it happen."
Asked about anxieties over the local-foreign mix in the workforce and how the Government will ensure fair employment for Singaporeans, Mr Wong said it is "existential" for Singapore, a small country, to stay open and be connected to the world.
When companies come to Singapore, they "will want to attract and recruit the best from overseas to work with Singaporeans, and to coordinate their local, regional and international operations".
"The key, therefore, is to make sure that we have criteria to ensure that foreign work pass holders are of the right calibre and standards. Then they can come in, complement Singaporeans, and we can form the best team to compete internationally," he added.
The minister noted that most companies act responsibly, except for a few who do breach the rules and have firm action taken against them.
The latest move to enshrine into law the current workplace anti-discrimination guidelines "will send a much clearer signal to employers that we take this very seriously and that we will not tolerate discrimination in workplaces", Mr Wong said.