From frontliners to families, NDP 2022 to celebrate all Singaporeans who helped the country weather COVID-19
Adrian Pang, actor and artistic director of local theatre company Pangdemonium, will helm NDP 2022 as its creative director.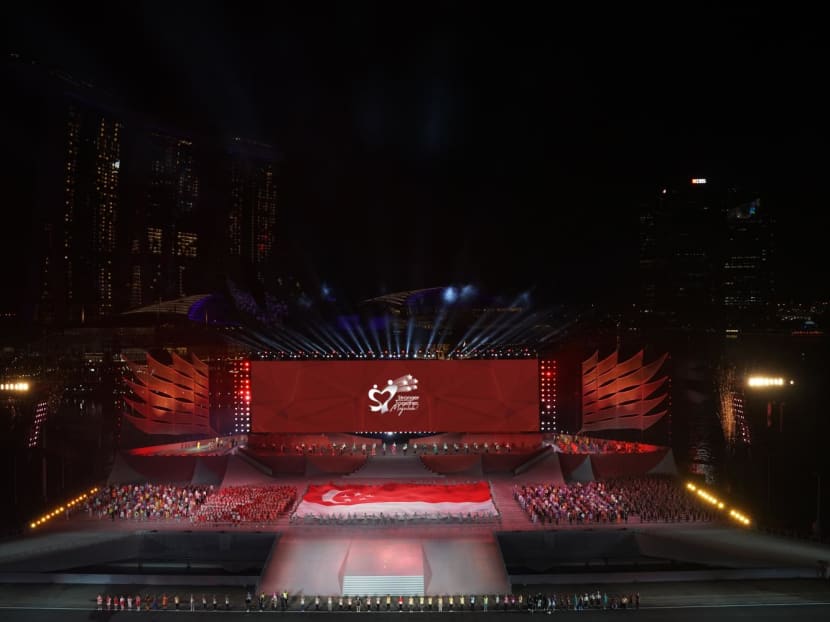 SINGAPORE: Transforming suffering into stories of survival, the National Day Parade (NDP) 2022 will celebrate all Singaporeans who have weathered the COVID-19 storm.
Titled The Story of Us, the show will see a return to live performances on a grand scale after two years. The live show will be complemented by a film and pre-recorded satellite performances, the NDP executive committee announced on Wednesday (Jun 29).
And tasked to tell the story of us is a familiar face on TV and on stage. Adrian Pang, who is also the artistic director of local theatre company Pangdemonium, marks his debut NDP behind the scenes as creative director. 
Mr Pang, 56, previously hosted NDP in 2008. 
LIVE SHOW TO CELEBRATE "THE ADAPTABILITY OF SINGAPOREANS" 
Hosted by Joakim Gomez, Sonia Chew, Siti Khalijah and Rishi Budhrani, this year's show also marks the large-scale return of students and youth to NDP after two years.
Around 1,300 young people, from secondary school to tertiary institution students, will be involved in the show. These include on-stage performers, make-up artists and audience motivators.
In total, the show will comprise more than 2,000 performers. 
Across five chapters, the show will pay tribute to various sectors of society that have helped Singaporeans get through the pandemic, including frontliners, social and community groups, and our families. 
"It will also celebrate the adaptability of Singaporeans who showed their resilience and pivoted to contribute in different ways when their industries were adversely affected," said the committee.
And those watching the parade from home are in for a surprise. At the end of the show, home audiences will get to experience "a special effect". 
There were three considerations for the show, said the chairman of the show committee, Colonel (COL) Mikail Kalimuddin on Wednesday.

"The first one was, what is the purpose of this year's show? … We had a very clear, shared experience (during the pandemic). We needed to reflect on that," he said.

"The second consideration is that we needed to take what we had experienced ... that reflection and move forward with confidence. We want to lift up the mood of the country and make them feel like, you know, we've done it and anything's possible."

The third consideration was a "very practical one", added COL Mikail.

"(The) show had to be COVID resilient. Whatever the situation come the 9th of August, the show still needed to be pertinent, still relevant, and still executable."
Speaking about the selection of Mr Pang as creative director, COL Mikail said the productions that Pangdemonium is known for were "about issues that were salient to Singaporeans".
"They were the kinds of productions that made people think, that challenge them to reconsider ... to deal with these issues. And that's exactly the kind of person, that kind of approach we needed for this year's show," he said.
Mr Pang called himself a "wild card" choice as creative director for NDP 2022, mainly because he values his creative control without being answerable to "many other levels".  
Still, he agreed to the project, noting that there was "something very resonant and very meaningful" about the role.
"I think we as a people, as a nation, as Singaporeans could come together in NDP 2022 to take stock of, to reflect on, to be grateful for what we still have, and also use all those elements to carry on into the future," said Mr Pang.
While previous NDPs have been "largely a celebration" akin to a birthday party, Mr Pang felt that NDP 2022 was a "significant one" to reflect on the "very significant communal crisis" that Singaporeans have "been through and are still going through".
FILM TO DEPICT "INTERCONNECTIVITY" AMONG SINGAPOREANS
The live performance will be interwoven with a film called Connections, written and directed by award-winning Singaporean filmmaker Ken Kwek. 
Broken up into four episodes, the film depicts "the interconnectivity among individuals, families and communities who, though impacted by the pandemic in different ways, are united in their resolve to help one another tide over the crisis", said the committee. 
"It highlights the resilience and solidarity that Singaporeans have displayed over the last two years and shows how small acts of kindness can have big effects on those in need."
Mr Kwek highlighted that the beauty of film, in comparison to the grandeur of the parade, is that "it allows you to zoom in on the little intimate moments".
The film is "essentially a multi-plot narrative with a lot of characters weaving in and out of each other's lives", he said.
"In a way, it's a mirror to real life. This is what we do. We wake up, we go out, we buy our breakfast, we go to work, we take the bus. And along the way, we meet people who are familiar to us and people who are complete strangers. And some of these complete strangers will perform the simplest, smallest acts of generosity which somehow get us through a tough day," he added. 
"(The film is about) showing people the very ordinary deeds that we take for granted every single day that help us get through difficulties. And these ordinary deeds, although they may seem ordinary, are quite exceptional because everybody's had to be exceptional to be able to go through these times."
Editor's note: This article has been updated to say that the last time Adrian Pang hosted the National Day Parade was in 2008 after the NDP executive committee corrected the information it provided previously which said it was in 2013.