NDP 2022 at Marina Bay floating platform open to the public after two years of downsized celebrations
Freefall jumps by the Red Lions and exhibitions by the Singapore Armed Forces and Home Team are among the celebrations in the heartlands ahead of National Day 2022.
SINGAPORE: This year's National Day Parade (NDP) at the Marina Bay floating platform will be open to the public, with organisers seeking to bring "as many Singaporeans as possible" to the venue. 
Spectators will return en masse to NDP 2022 following two years of downsized celebrations because of the COVID-19 pandemic. 
National Education shows for Primary 5 students will feature once again, as well as a couple of ticketed preview shows for public balloting on top of the actual parade on National Day at The Float @ Marina Bay. 
Details for ticket applications will be released subsequently, said the NDP 2022 executive committee on Thursday (Jun 2). 
As Singaporeans move towards living with COVID-19 and large scale events progressively resume, executive committee chairman Brigadier-General (BG) Goh Pei Ming said the organisers "really want to be able to bring as many Singaporeans to the float this year ... as possible". 
The maximum seating capacity for The Float is 26,000. 
BG Goh also noted that the executive committee "prioritises the safety and the well-being" of the parade's participants and spectators. 
"Some of these measures include that we've required all our performers to be vaccinated before they're able to take part in this year's celebration," he said. 
"We're watching the national COVID situation very closely. ... We are also remaining adaptable and agile in our plans, and we'll make the necessary measures and changes accordingly, in line with national guidelines." 
The committee will ensure that all celebrations are done in a "safe, exciting and meaningful" manner, he added. 
This year's parade could be the final time the parade will be held at The Float before construction for NS Square - a permanent space to commemorate national service - is slated to begin in March 2023.
Celebrations on Aug 9 will feature a total defence display, as well as the parade and ceremony. 
The Float's infrastructure will allow the Singapore Armed Forces and Home Team to conduct air, land and sea demonstrations. 
The parade, which comprises contingents from the Singapore Armed Forces, the Home Team and other agencies, will be complemented by "a virtual military tattoo", said the NDP 2022 executive committee in a press release. 
For the first time during the parade, there will be a virtual choir performance of the NDP 2022 theme song "Stronger Together".
This will be followed by the show segment that will include five live chapter performances and a film, depicting "how Singapore, as a community and nation, emerges stronger from challenges that we have faced". 
These live chapters will be performed by agencies with special guest appearances by Singaporean artistes, with selected chapters complemented by satellite performances, added the NDP 2022 executive committee. 
Additionally, the NDP pack, designed by aspiring artists with disabilities, will include "sustenance items and interactive items". 
ISLANDWIDE CELEBRATIONS 
This year's celebrations will kick off on the weekend of Aug 6 and 7, when heartland celebrations organised in partnership with the People's Association will take place at five locations around the island. 
At each location, Singaporeans will get to enjoy performances and activities, as well as view exhibitions and a "static display" of platforms by the Singapore Armed Forces and the Home Team. 
On Aug 7, the Red Lions will conduct freefall jumps over two heartland sites. 
On National Day itself, "aerial elements" will make their way into the heartlands. The state flag carried by Chinook helicopters will be flown around the island, while F-16 fighter jets will execute a fighter island flypast.
As fireworks go off at The Float @ Marina Bay, the parade's main location, they will also be set off in the heartlands concurrently. 
More details about the heartland celebrations will be released in due course. 
"STRONGER TOGETHER, MAJULAH!" 
This year's parade theme, "Stronger Together, Majulah!", calls for Singaporeans to forge ahead as a united and strong people towards a better future, said the committee. 
It also reminds Singaporeans that "unity in our diversity is what makes us stronger", stated the NDP 2022 executive committee in a media factsheet. 
"Communities, families and friends coming together form the bedrock of our nation's strength and resilience, and enable us to overcome challenges." 
"Majulah", meaning "onward", encapsulates the hopes and spirit of a nation since independence 57 years ago. It is also a "rallying call for Singaporeans to strive for a better future and grow from strength to strength as we emerge from COVID-19". 
"NDP 2022 is not only a celebration of the resilience that Singaporeans have demonstrated, but is also a call for Singaporeans to come together and strive onwards," said chairman of the executive committee, BG Goh.
"As we move towards living with COVID-19, this year's NDP has the opportunity to physically bring Singaporeans together and aims to engage Singaporeans through exciting and meaningful celebrations at both the heartlands and The Float @ Marina Bay."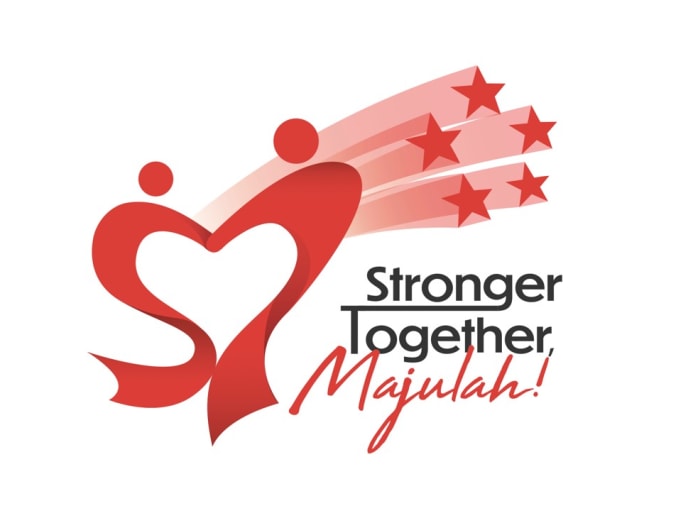 LOGO DEPICTING LOVE, EMPATHY, COMPASSION 
This year's logo depicts two figures holding hands and embracing a heart, which represents Singaporeans coming together to build a strong, inclusive and caring society, stated the executive committee. 
The heart symbolises "love for our nation and countrymen", and "puts empathy and compassion at the centre of what we do". 
The two figures also outline the number "57", reminding Singaporeans of our progress since independence and the challenges we have overcome. 
Meanwhile, the five shooting stars represent the ideals of democracy, peace, progress, justice and equality, and show that Singapore will move forward stronger as a nation when we come together. 
ONLINE ENGAGEMENT EFFORTS 
Meanwhile, a couple of digital engagement efforts by NDP 2022 will encourage Singaporeans to give back to the community, as well as express their hopes and wishes for Singapore. 
#PledgeSG is a digital campaign that invites Singaporeans to pledge their support for various causes and/or express their hopes and wishes for Singapore. These pledges will be collated into an online social wall.
At the same time, the #DoingGood campaign, which will be launched in July, aims to encourage Singaporeans to fulfil pledges for causes. Singaporeans will also be able to sign up for various #DoingGood activities that will be held over 22 days.