NEA calls for 'urgent action' as dengue cases surpass 6,000 in under 4 months, more than in whole of 2021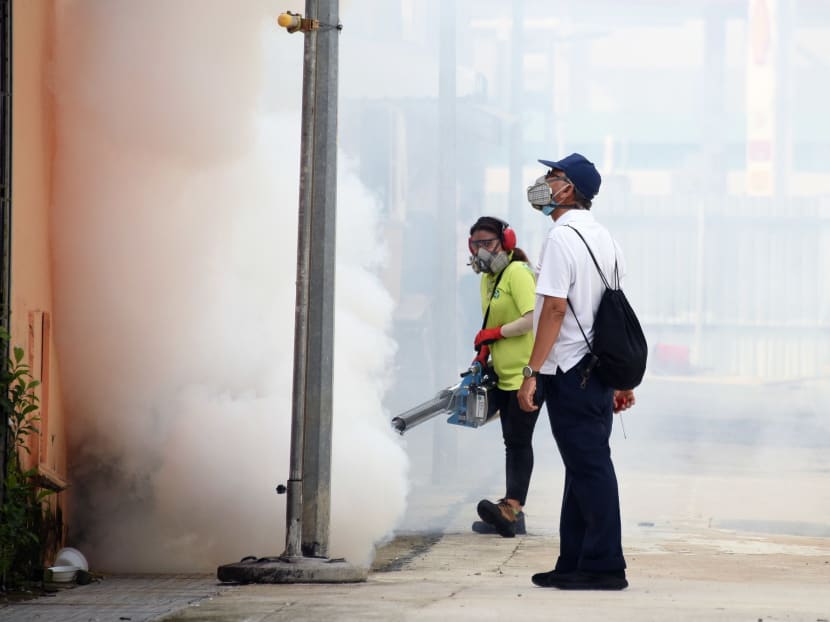 SINGAPORE: More than 6,000 cases of dengue have been reported so far this year, surpassing the 5,258 cases reported for the whole of last year, the National Environment Agency (NEA) said on Thursday (Apr 28). 
In a media release, the NEA said the number of weekly reported dengue cases has continued to rise sharply, hitting 941 cases for the week ending Apr 23 - an increase of 28 per cent, or 208 cases, from the previous week's 733 cases. 
This is even before Singapore reaches the traditional peak dengue season from June to October, the agency noted.
It called on premises owners and occupiers to take "urgent action" to carry out mosquito prevention and control measures and break the cycle of dengue transmission as quickly as possible.
As of Tuesday, 193 active dengue clusters had been reported, with most mosquito breeding continuing to be found in homes, said NEA. 
"The number of Aedes mosquito breeding detected has also increased and almost doubled at all premises types, from around 1,300 to 2,400 from February to March 2022," it added. 
"This has led to an increase in adult Aedes mosquito vectors present in our neighbourhoods, which can transmit dengue."
NEA said together with other agencies as well as the general community, it had managed to close 394 of the 587 dengue clusters reported since the start of this year, or about 67 per cent.
The agency noted, however, that recent inspections continued to find "egregious cases" of premises with multiple mosquito breeding habitats, as well as habitats with "profuse mosquito breeding". 
For example, repeat inspections in March and April this year found multiple mosquito breeding habitats in the common area of a condominium located in a dengue cluster around Eng Kong Terrace and Kismis Green in Bukit Batok. 
"Mosquito breeding was detected in gully traps on two separate occasions with 50 and 200 larvae or more, and in a discarded receptacle with 200 larvae or more," said NEA. 
Officers also found three instances of "multiple profuse mosquito breeding" during inspections at residential premises at Borthwick Drive in Serangoon Gardens in March and April. These included two ornamental containers and a basin with more than 50 mosquito larvae each; a water fountain with about 100 larvae; an unused fountain and an unused pond with more than a few hundred larvae each.
Thirteen other residences also had mosquito breeding habitats with 100 or more larvae each, it added.
In another instance, "a few hundred" larvae were found in a ground puddle at a condominium compound in Hougang Avenue 5 this month.
Separately, an inspection this month at a commercial premises located within the periphery of a dengue cluster at Cheong Chin Nam Road found three instances of profuse mosquito breeding in ground puddles at different levels of the development's car park, with a total of more than 100 mosquito larvae.
"These egregious cases of mosquito breeding show that some premises owners and occupiers are still not carrying out necessary basic mosquito control checks, despite the current serious dengue situation in Singapore," said NEA, noting it will take strong enforcement action against these recent cases.
For households with repeat mosquito breeding offences and multiple mosquito breeding habitats, offenders may face a fine of up to S$5,000, or a jail term of up to three months, or both, for the first court conviction. 
Repeat offenders will be given heftier penalties or sent to court, the agency said. 
"In addition to ongoing islandwide dengue inspections, NEA has intensified inspection and outreach efforts in April, and will continue with this over the next few months," it said, adding that residents living in dengue cluster areas are strongly urged to cooperate with NEA officers and facilitate their checks.
It advised residents to take steps such as breaking up hardened soil as well as lifting and emptying flowerpot plates to target common mosquito breeding habitats. 
It also advised people to overturn pails and wipe their rims, change water in vases and keep roof gutters clear and place BTI insecticide - a type of larvicide - inside these gutters. 
On Sunday, Minister for Sustainability and the Environment Grace Fu said the increase in dengue cases was a "worrying trend" given that it was only April, adding that a surge in the number of cases can be expected in the coming months.