CNA Explains: Singapore ramps up Wolbachia mosquito project. How does it work in the fight against dengue?
SINGAPORE: Nearly a third of all HDB blocks would, from July, be covered in a study that uses male Wolbachia-Aedes mosquitoes to fight dengue, as Singapore steps up efforts to combat the transmission of the disease.
The National Environment Agency (NEA) announced last month that the project would be expanded to eight more locations.
So if you live in Bedok North, Bedok Reservoir, Yew Tee, Geylang, Hougang, Punggol, Sengkang or Woodlands, expect that mosquitoes will be released in the neighbourhood.
Not just any mosquitoes - but the male Wolbachia-Aedes species that do not bite or transmit disease.
How does the strategy work and should you be concerned about the release of such mosquitoes? Here's what you need to know about Project Wolbachia-Singapore.
HOW DOES IT WORK?
The idea is to release male Aedes aegypti mosquitoes that carry the Wolbachia bacteria so that when they mate with the female Aedes aegypti in an urban environment, the resulting eggs do not hatch due to incompatible matching. 
"Regular releases of male Wolbachia-Aedes mosquitoes over time will thus eventually lead to a reduced urban Aedes aegypti mosquito population, and will reduce the potential spread of diseases such as dengue," NEA said in a factsheet in May.
The male mosquitoes do not bite and cannot transmit disease as they feed only on plant juices such as nectar to obtain the sugar they need for energy and survival. 
The males will die soon after release, most within a week. 
This method is known as the suppression strategy. NEA said that after studying various mosquito control methods, the Wolbachia method was found to be the most suitable for Singapore's high-rise, high-density tropical environment.
WHERE DO THE MOSQUITOES COME FROM?
The male Wolbachia-Aedes mosquitoes are selectively bred at NEA's mosquito production facility in Ang Mo Kio, which opened in 2019.
There are several processes such as ensuring the right conditions for larvae rearing, sorting the mosquitoes according to their gender and implementing checks to ensure that Wolbachia is present in the male mosquitoes that will be eventually released.
For instance, NEA works with its partners to develop technologies such as a pupae sex sorter that is 10 to 20 times faster than a manual method to sort male Wolbachia-Aedes aegypti pupae (which are smaller in size) from female pupae.
The sorting process, however, is not 100 per cent accurate.
"Hence NEA subjects the sorted mosquitoes to a small dosage of X-ray radiation, to render any females among the males infertile so that they cannot propagate in the field," said the agency.
"Use of radiation is done with precision such that it will not affect the fitness of the male Wolbachia-Aedes mosquitoes."
To support the recent expansion of the project, NEA worked with technology partners to increase the number of male Wolbachia-Aedes mosquitoes produced every week from 2 million to 5 million.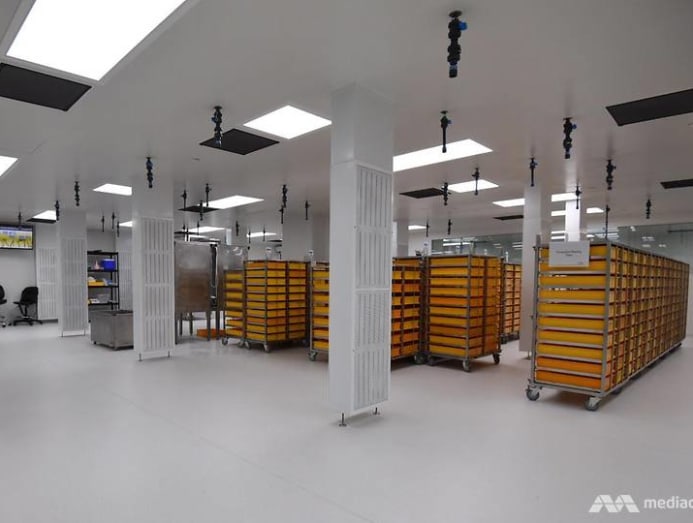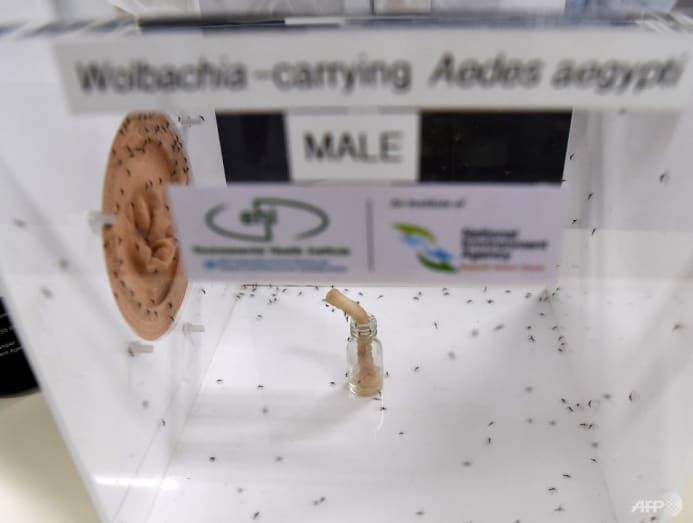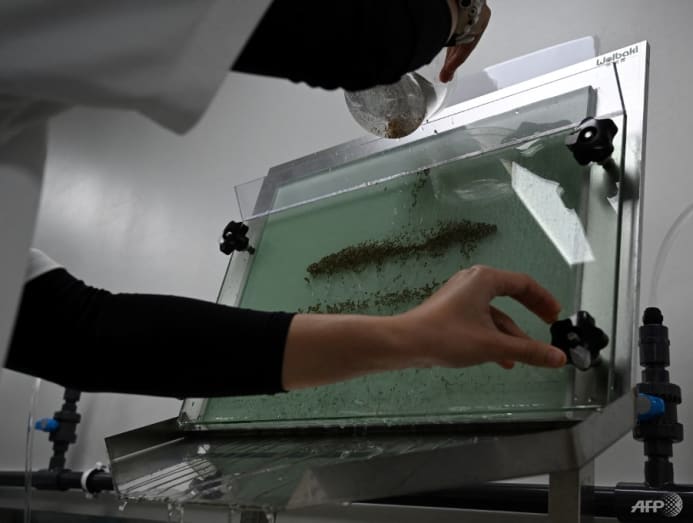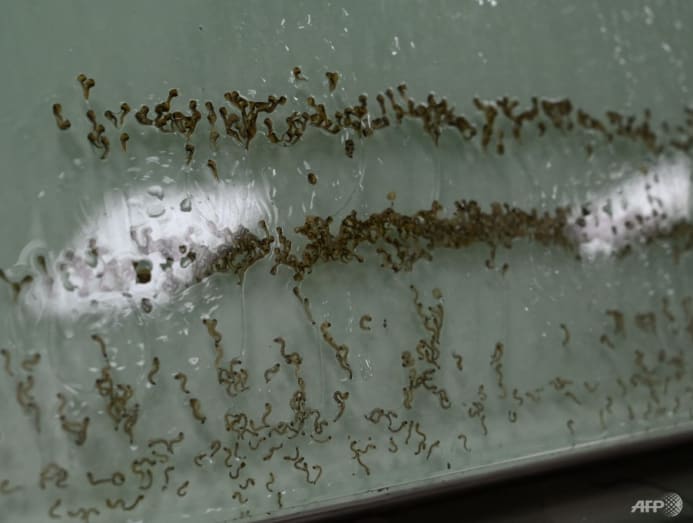 HOW SUCCESSFUL HAS THE PROJECT BEEN?
The expansion to cover more HDB sites comes on the back of success in existing study areas, according to NEA.
In Tampines and Yishun, where male Wolbachia-Aedes mosquitoes have been released for more than a year, NEA previously observed up to 98 per cent reduction in the dengue mosquito population and up to 88 per cent drop in dengue cases.
During the current dengue outbreak, similar observations have been made - these areas have 70 per cent fewer dengue cases compared to similar areas without Wolbachia, NEA said.
"The positive outcome of the field studies at release sites have shown that continued releases of male Wolbachia-Aedes mosquitoes can successfully suppress the female urban Aedes aegypti mosquito population in Singapore," the agency added.
NEA's approach differs from area to area. A "more targeted strategy" was used in Choa Chu Kang and Bukit Batok, focusing on neighbourhoods with consistently high Aedes aegypti populations.
For its studies at landed residential estates in Marine Parade, NEA used vans equipped with release automation technology. It is part of efforts to incorporate automation, which should allow the agency to cover larger areas more effectively as the project ramps up.
WHY ARE THERE STILL DENGUE CASES IN THESE AREAS?
Small numbers of dengue cases may still be reported in existing study sites. 
"This could be due to the presence of low-level dengue transmission, or because cases living in the area were infected elsewhere," said NEA.
"However, due to the low Aedes aegypti population in the study sites brought about by the releases of male Wolbachia-Aedes, we have seen significantly fewer dengue cases in study sites compared to areas without releases."
NEA said it typically takes at least three to four months before there is a significant reduction of Aedes aegypti population.
WHY ISN'T THE PROJECT EXPANDING FASTER OR USED IN DENGUE CLUSTERS?
Trials have been rolled out at a controlled rate so far. "Our trials start small and, if successful, progress in size and complexity," said NEA.
To deploy Project Wolbachia on a large scale, the agency has to develop and test different deployment strategies and tactics to suit different contexts.
For instance, NEA gradually expanded releases to cover Tampines and Yishun towns entirely early this year, to find out if the suppression of the mosquito population at the town level can be sustained with the release of fewer male Wolbachia-Aedes mosquitoes.
"This is important to allow Wolbachia technology to be sustainably deployed on a larger scale in the future," said the agency. 
Similarly, the trial at the Marine Parade landed residential estate, which started in April, aims to develop deployment tactics in such landscapes.
New sites for the project are chosen based on several factors: Historical dengue risk level, Aedes aegypti population, the size and landscape of the area, as well as NEA's capacity for producing and releasing male Wolbachia-Aedes mosquitoes.
Ultimately, Project Wolbachia was intended to be used as a preventive measure. It was not primarily designed to be applied to existing dengue clusters, or as a real-time mosquito management solution, said NEA.
SHOULD I KILL MOSQUITOES NEAR A PROJECT WOLBACHIA SITE?
Residents in sites where male Wolbachia-Aedes mosquitoes are being released do not have to do anything differently, according to NEA, meaning you can continue to kill mosquitos as you normally would.
The agency noted that male mosquitos - even though they do not bite - might still land on humans because they seek out female mosquitos, which are likely to be found near people. 
Mosquitoes are attracted to a variety of cues produced by or associated with humans, including visual cues like light, colour or movement, olfactory cues including carbon dioxide, lactic acid and octenol and thermal cues like temperature and moisture, said NEA.
Note that you might still get bitten by mosquitos or other species not targeted by Project Wolbachia, such as the Aedes albopictus and Culex quinquefasciatus. 
ARE OTHER COUNTRIES USING THE WOLBACHIA METHOD?
China, Thailand and the United States have piloted the Wolbachia-Aedes suppression technology, the majority of which have been successful.
Malaysia has moved its own Wolbachia project into the operational phase, with at least 30 localities in Selangor, Kuala Lumpur, Putrajaya, Penang, Kelantan and Melaka being part of the programme.
The non-profit organisation World Mosquito Program (WMP) has projects operating in countries across the world, according to its website.
Indonesia, Vietnam, Sri Lanka and Australia are among those working with the WMP, as are Brazil, Colombia and Mexico in the Americas.
Some of these countries, including Malaysia, use the replacement strategy. 
This approach aims to replace mosquito populations with Wolbachia-carrying mosquitoes. It involves the release of both non-biting male and biting female Wolbachia-carrying mosquitoes, which then introduce Wolbachia into field mosquito populations. 
WHAT ELSE IS BEING DONE TO COMBAT DENGUE?
Potential dengue vaccines are in the works.
Singapore may, in the next year, have access to a vaccine from Japanese pharmaceutical giant Takeda that is suitable for both people who have been infected and those who have not. 
This makes it the first of its kind, as Dengvaxia - the world's only approved vaccine for dengue - is only for those who have had a previous infection. 
Approval in Singapore for the vaccine candidate from Japanese pharmaceutical giant Takeda would make it the first of its kind. 
Still, there is no silver bullet. NEA encourages residents to regularly practise the "Mozzie Wipeout BLOCK" steps: Break up hardened soil; lift and empty flowerpot plates; overturn pails and wipe their rims; change the water in vases, and keep roof gutters clear and place BTI insecticide inside.