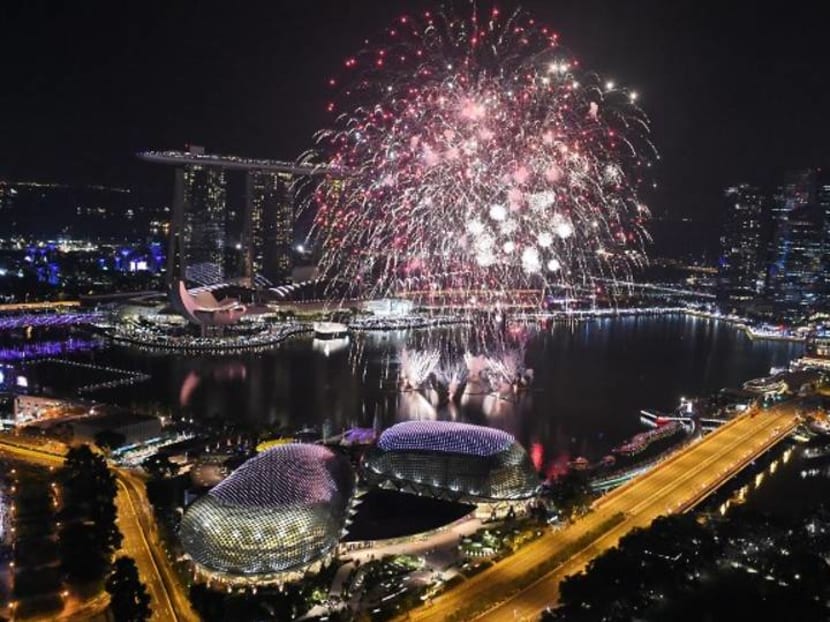 SINGAPORE: An hour-long show featuring fireworks will be among the highlights at the Marina Bay Singapore Countdown 2019 to usher in the new year.
The multi-sensory musical, which will include a series of fireworks, will also feature lights, 3D surround sound and performance acts by Taiko drummers, dancers, and fire performers, the Urban Redevelopment Authority (URA) said in a press release on Wednesday (Dec 5).
Mediacorp's Let's Celebrate 2019 countdown concert at The Promontory will be free for the public for the first time.
The Marina Bay Singapore Countdown 2019 will also feature the Build a Dream initiative, a collective effort to support the less fortunate in fulfilling their dreams and personal development.
Artwork by students and beneficiaries of local schools and welfare organisations will be transformed into a series of light projections on the facades of key landmarks around Marina Bay.
"The Marina Bay Singapore Countdown has been a signature countdown event that draws both locals and overseas visitors, as it offers a unique cityscape and vibrant atmosphere for everyone to enjoy the New Year's Eve," said Mr Lim Eng Hwee, chief executive officer of URA.
"As we come together to celebrate the New Year and enjoy the activities that have been lined up, we hope that the public will also be inspired to play a part in helping the less privileged through the Build a Dream initiative."
Other activities and events will be hosted across various partner event hubs around Marina Bay and Civic District. The full list of events:
Light projection shows on key landmarks around the bay
Let's Celebrate 2019 countdown concert by Mediacorp at The Promontory, made free for the public for the first time
Food Truck Fest at the Marina Bay Sands Event Plaza offering modern local gastronomical delights
Esplanade Presents Come Together outdoor performances by local acts at the Esplanade Outdoor Theatre
Prudential Marina Bay Carnival at the Bayfront Event Space
Car-Free New Year's Eve at the Civic District where the roads around the Padang will be closed to vehicular traffic for activities such as movie screenings, live performances, bazaars, salsa dancing and more·  
STAR ISLAND Singapore Countdown Edition bringing a fireworks display set against the Singapore city skyline