Obesity rate rises to highest level since 2010; MOH urges public to exercise and adopt healthier diet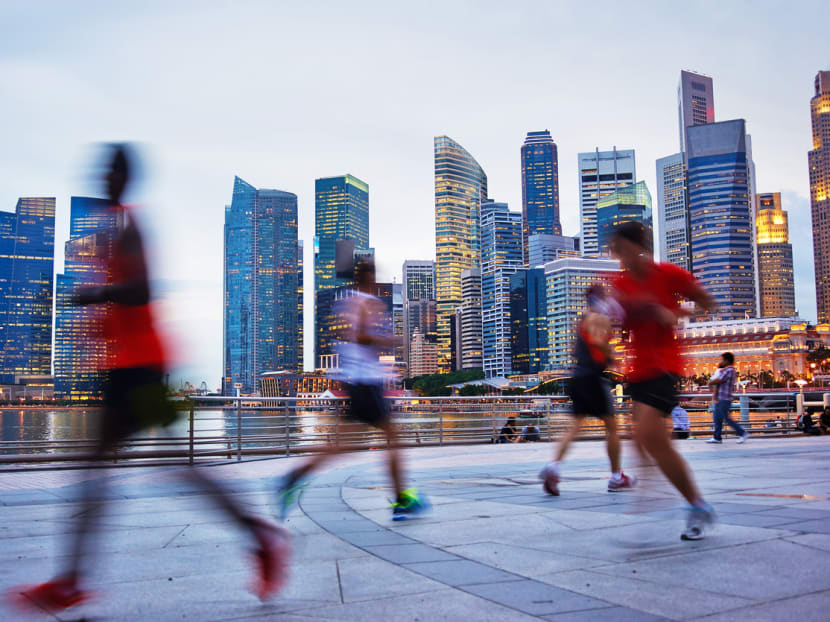 SINGAPORE: Singapore's obesity rate has risen to the highest level since 2010, said the Ministry of Health (MOH) on Thursday (Nov 18), as it urged residents to increase their physical activity and adopt a healthier diet.
Binge drinking also increased among residents last year, particularly among men and younger adults.
The data was published in MOH's annual National Population Health Survey on Thursday (Nov 18). The survey, conducted between July 2019 to March 2020 from a representative sample of residential addresses, tracks the health and risk factors, as well as lifestyle practices of Singaporeans and permanent residents aged between 18 to 74.
While the fieldwork had been curtailed by COVID-19, MOH said it did not substantially affect the results and that they managed to get "a very good" sample size of around 6,000 adults for the household interviews and 5,000 adults for health examinations.
However, MOH acknowledged that the survey did not capture the subsequent impact of COVID-19 as the survey was stopped in March last year.
OBESITY ON THE RISE
Among its findings, the survey found that during the period of 2019 to 2020, 10.5 per cent of Singapore residents were obese. This is the same obesity level as in 2010.
In comparison, the crude prevalence of obesity was 8.6 per cent in both 2013 and 2017, when data on obesity was collected.
"Increases in obesity prevalence between 2017 and 2019-2020 were mostly among the older adults aged 50 to 74 years, males and Malays," the report said.
More than two in 10 respondents, or 20.7 per cent, also had high risk Body Mass Index (BMI), the survey showed, up from 18.7 per cent in 2017.
Similar to the obesity prevalence, there was a higher proportion of men (22.6 per cent) with high risk BMI than women (18.8 per cent). Malays (38.7 per cent) and Indians (31.8 per cent) had higher proportion with high risk BMI than Chinese (16.1 per cent).
The survey also found that fewer Singapore residents engaged in at least 150 minutes of moderate-intensity physical activity per week - the recommended level prescribed by the World Health Organisation (WHO) - last year.
According to the report, 76.4 per cent of respondents achieved the recommended level in 2020, "significantly lower" than the 80.9 per cent recorded in 2017.
This, MOH said, was despite a 4 percentage point increase in the number of people who engaged in leisure-time regular exercise, which refers to any sports or exercise for 20 minutes or more at least three days a week.
"An observed increase in prevalence in obesity and high risk BMI can potentially increase the risk of developing chronic diseases. Aside from genetic factors, obesity can also result from a lack of physical activity and an unhealthy diet," said MOH.
To encourage residents to be more active, MOH said it will continue to improve accessibility to its regular exercise programmes, such as by bringing them online and creating more exercise sessions in community spaces.
Programmes such as the National Steps Challenge also aim to get residents to lead more active lifestyles.
Meanwhile, the Health Promotion Board (HPB) is planning to ramp up efforts to spur reformulation of reduced-sodium sauces and seasonings, with the latest survey results showing that residents are consuming saltier diets.
HPB will also embark on a nationwide campaign to encourage residents to reduce sodium consumption in their diets, with more details to be released in the coming months, said MOH.
During a virtual technical media briefing on Thursday, HPB said mandatory nutrition labels, also known as 'Nutri-Grade', and advertising prohibitions on pre-packaged non-alcoholic beverages will come into effect from the fourth quarter of 2022, instead of end-2021 as previously announced.
"We've extended the period for the industry to implement that because of the shifts and the disruptions brought about by COVID," said HPB.
It added that it is also working on extending those measures to freshly prepared beverages.
SMOKING RATES DOWN WHILE BINGE DRINKING GOES UP
Results from the latest survey showed a decrease in smoking prevalence, in line with trends observed over the past decade.
The crude prevalence of daily smoking was 10.1 per cent in 2020, a drop from 11.8 per cent in 2017.
According to the report, the decline was more pronounced in men compared to women, with the latter's prevalence remaining relatively constant at around 3 per cent in recent years.
In 2020, 17 per cent of the men surveyed had smoked daily, compared with 3.4 per cent for women.
The report also found that daily smoking was most prevalent in adults aged between 50 and 59 years and least prevalent among older adults in the 60 to 74 years age group.
Responding to a question from the media about factors that may have contributed to the decline in smoking rates, MOH said the decrease can be attributed to its "holistic" approach.
This includes increasing education and outreach efforts - from pre-schools to institutes of higher learning - about the harmful effects of smoking.
"There are innovative ways that we reach out to the different age segments for them to understand the message as well as to be the influence to the family to help with smoking reduction," said MOH.
"Over and above that, HPB actually works with many of our community leaders to reach out in a more (culturally) acceptable way to have the various population segments actually embarked on or start thinking about smoking cessation," MOH added.
It added that it will continue efforts to keep smoking prevalence low, such as enhancing education in mainstream schools and through smoking cessation programmes.
On the flip side, binge drinking continued to increase from 8.8 per cent in 2017 to 10.5 per cent in 2020.
The survey defines binge drinking as five or more alcoholic drinks for men and four or more alcoholic drinks for women in a session.
"Binge drinking was more prevalent among males (14.6 per cent) than females (6.5 per cent); and among Chinese (11.6 per cent) and Indians (11.4 per cent) compared to Malays (1.7 per cent)," said MOH.
The report also showed that younger adults in the 18 to 39 years age group were more likely to binge drink compared to the other age groups. In particular, among the men surveyed, about one in five had a habit of binge drinking.
MOH said it will monitor binge drinking trends in Singapore and continue efforts to reduce it by raising awareness in schools and collaborating with agencies to include messages on responsible drinking.
GO FOR REGULAR SCREENINGS
MOH also reiterated the importance of regular health screening for early detection of disease.
As part of Screen for Life (SFL) programme, MOH said eligible Singapore residents are offered "heavily subsidised" screening tests for cardiovascular risk factors including obesity and diabetes, cervical cancer and colorectal cancer.
"We will continue our efforts to reach out to the unscreened population, to encourage Singaporeans to participate in screening regularly," MOH added.