Only fully vaccinated employees can return to workplaces from Jan 1; others must test negative
Employers are strongly encouraged to give special consideration to pregnant women and people who are medically ineligible for vaccines, says an MOM advisory.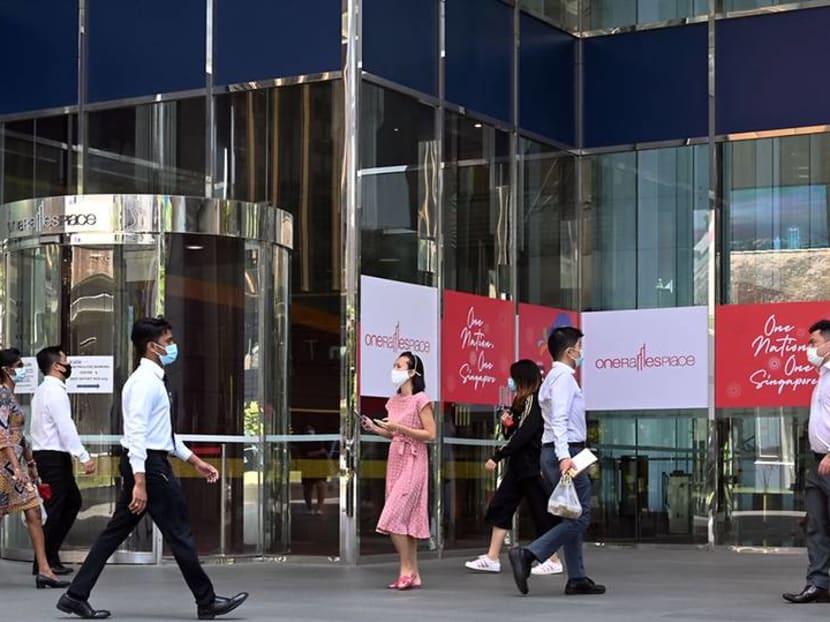 SINGAPORE: From Jan 1, only employees who are fully vaccinated against COVID-19 or have recovered from the disease within the past 270 days will be allowed to return to workplaces, the Ministry of Health (MOH) said on Saturday (Oct 23).
Unvaccinated employees will not be allowed to return to their workplaces unless they have tested negative for COVID-19. These employees will bear the costs of testing.
The tests should be administered at MOH-approved providers and must be valid for the duration that the employees are required to be at their workplaces. Negative antigen rapid test results are valid for 24 hours.
Employers are "strongly encouraged" to give special consideration to employees who are pregnant or medically ineligible for vaccines.
For employees who are medically ineligible for all the vaccines under the national vaccination programme, including the Sinovac jab, they will be exempted from the vaccination requirement if they need to work on-site, said MOH and the Ministry of Manpower (MOM).
Otherwise, this group of workers should be allowed to work from home if they are able to do so. Their absence from the workplace should not affect the assessment of their performance, said MOM in an updated advisory. They may also be redeployed to suitable jobs which can be done from home, the ministry added.
Work-from-home options should also be considered for pregnant women who are not vaccinated, said MOM.
"Pregnant employees are also strongly encouraged to be vaccinated with the vaccines under the NVP (national vaccination programme) as soon as possible," said the advisory.
Authorities noted that among the unvaccinated pregnant women hospitalised with COVID-19 in Singapore, 20 per cent required oxygen supplementation and 10 per cent needed the intensive care unit or high dependency care as of end-September.
"In contrast, not a single vaccinated pregnant woman who contracted COVID-19 has needed oxygen or was sent to ICU," said MOH and MOM.
NO-PAY LEAVE
For other unvaccinated employees without special consideration, MOM laid out several options if their work cannot be done from home.
Employers may allow them to continue in their existing jobs with pre-event testing done at the employees' own time and expense.
They can also redeploy employees to jobs which can be done from home "with remuneration commensurate with the responsibilities of the alternative jobs".
Finally, they may place employees on no-pay leave. As a last resort, employers can terminate workers' employment, with notice, in accordance with employment contracts.
"If termination of employment is due to employees' inability to be at the workplace to perform their contracted work, such termination of employment would not be considered as wrongful dismissal," said the advisory.
MOST EMPLOYEES VACCINATED
As of Oct 17, 96 per cent of Singapore's workforce has been vaccinated and 70 per cent of firms have achieved 100 per cent vaccination coverage, said MOM.
"Nevertheless, there remain around 113,000 unvaccinated employees, of which around 14,000 are above the age of 60, who are at high risk of severe illness or death from COVID-19 infection," it added.
"Only a small proportion of these 113,000 employees are medically ineligible for vaccination."
The ministries noted that there is a "small minority" of employees who are medically ineligible for mRNA vaccines.
But with the inclusion of Sinovac in the national vaccination programme, most of these employees can now get the vaccination, said MOH and MOM.
They are "strongly encouraged to visit an approved private clinic to do so as soon as possible", the ministries added.
MOH considers individuals to be fully vaccinated if they have received the appropriate regimen of vaccines under the World Health Organization emergency use listing. This includes the duration post-vaccination for the vaccine to be fully effective. Their vaccination records must have been added to the ministry's systems.
 
VACCINATION-DIFFERENTIATED ENTRY RULES
On Saturday, MOH also announced that people who are medically ineligible for all vaccines under the national vaccination programme will be given "special concession" to enter places such as shopping malls, attractions and hawker centres.
This exemption from vaccination-differentiated measures will start from Nov 1, said co-chair of the COVID-19 task force Gan Kim Yong at a news conference.
"For those who are medically ineligible for mRNA vaccines but are eligible for Sinovac, they will need to be vaccinated with Sinovac to be considered to be fully vaccinated," he added.
Mr Gan said that such individuals will be given a grace period until Dec 31 to get their Sinovac shots.
ACTIVITIES FOR SENIORS
Fully vaccinated seniors can look forward to participating in "safe and healthy activities" that will help them maintain their physical and mental wellness, MOH said on Saturday.
"Over the past months, the options for seniors to be socially engaged in wellness activities have been limited, as a result of safe management measures which had to be imposed to curb transmission of COVID-19," said the ministry.
"Keeping active is important for our seniors to maintain good physical and mental health. Hence, the People's Association will organise activities for fully vaccinated seniors according to prevailing safe management measures."
Mr Gan said that activities may include physical exercises like qigong, outings and learning journeys.
Editor's note: This article has been updated to remove a reference to testing requirements for pregnant women and people who are medically ineligible for vaccinations, following a correction from the Health Ministry.
Watch the full news conference by the multi-ministry task force and subsequent Q&A session with journalists: