It's a boy: Gender of Singapore's first giant panda cub confirmed, public invited to submit names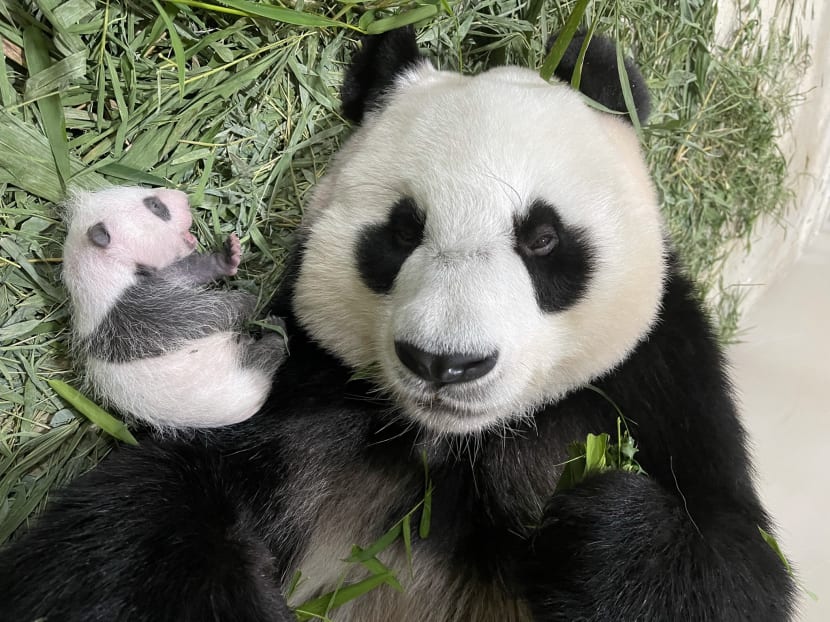 SINGAPORE: The cub born to giant pandas Kai Kai and Jia Jia at the River Safari is a male, Wildlife Reserves Singapore (WRS) said on Friday (Sep 10).
Members of the public have been invited to submit names for the cub before it turns 100 days old on Nov 21.
The cub's gender was determined through a "series of visual assessments" performed by the WRS' panda care team, who sent photos and videos of it to experts from the China Conservation and Research Centre for Giant Panda.
The gender was confirmed in consultation with the Chinese research centre.
"The close relationship between Jia Jia and her carers has allowed them to observe the cub at close range, enabling them to confirm the presence of external male genitalia," WRS said in a media release.
The cub, which was born on Aug 14, is "doing well and steadily growing day by day", WRS said.
It has begun to develop prominent black markings around its eyes, ears and body over the last month.
Jia Jia has also regained its appetite and has resumed eating. The new mother is also comfortable with leaving the cub unattended for short periods of time.
The cub has not undergone a full veterinary examination yet as its mother "continues to be its primary caregiver", WRS said, adding that "there have so far been no reasons for medical interventions".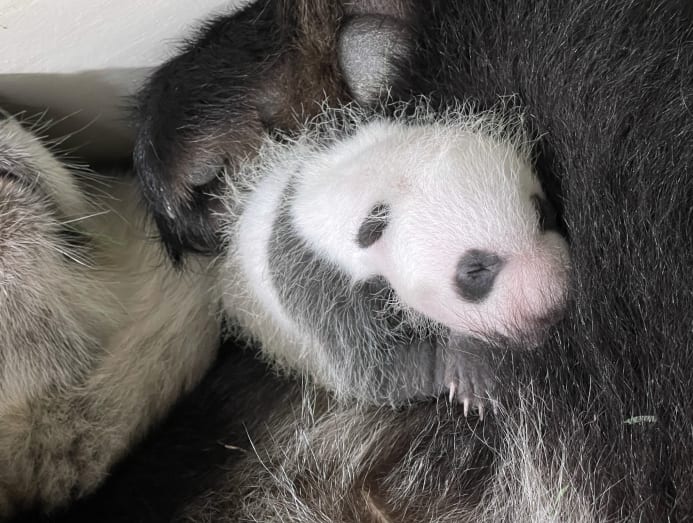 "EXCEEDED ALL EXPECTATIONS"
Jia Jia has been adapting to its role as a mother well, according to Dr Cheng Wen-Haur, WRS' deputy chief executive officer and chief life sciences officer.
"Jia Jia continues to grow in her role as a new mother and has exceeded all expectations in caring for her cub. As such, the panda care team has decided to allow this period of maternal care to continue for as long as possible for the duo to strengthen their bond," he said.
"While supporting Jia Jia's care of the cub, we were able to determine the cub's gender through close visual observation and will only retrieve the cub for veterinary checks when the time is right."
As Jia Jia settles into the routine of caring for the cub and begins resting more, carers will resume "conditioning sessions" to train it for cub retrieval, WRS said. This training has been conducted regularly since 2015 in preparation for the birth of a cub.
"Only then would the care team be able to conduct thorough health checks on the baby," WRS said.
NAMING
Members of the public can submit their suggestions for the cub's name on the WRS website.
"Names should be catchy and easy to remember, while reflecting characters with positive meanings or attributes, have relevance to Singapore heritage and culture as well as significance to the friendship between Singapore and China," WRS said.
A judging panel will be chaired by Mr Tan Chuan-Jin, the deputy chairman of Mandai Park Holdings. He will oversee the process.
The panel will include representatives from the Chinese Embassy in Singapore, relevant government agencies, academia and WRS.
"Shortlisted names will be released for public voting, and the panda cub will take the name with the most number of votes," WRS said.
The deadline for submissions is 11.59pm on Sep 19.