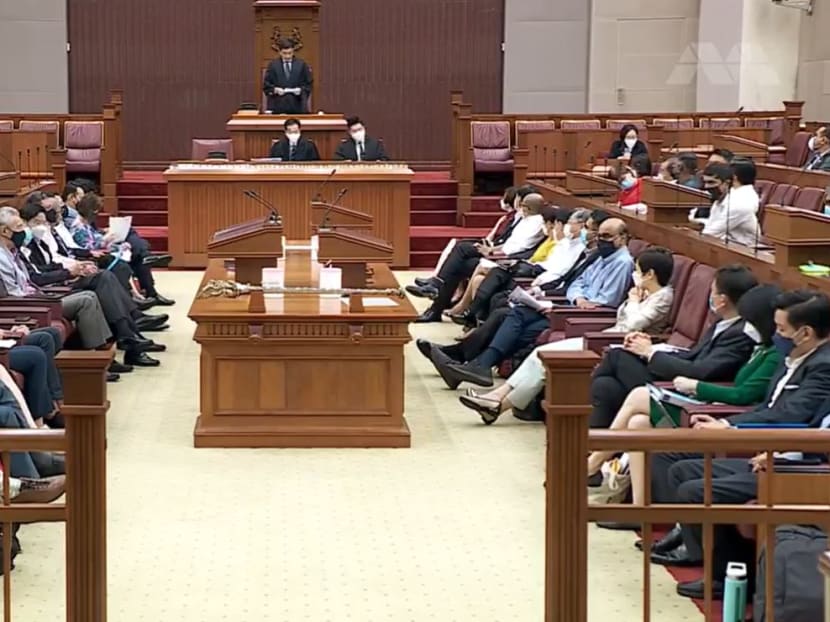 SINGAPORE: After an extensive debate, Parliament on Tuesday (Apr 5) endorsed the White Paper on Singapore Women's Development as a whole-of-nation plan to build a fairer and more inclusive society.
A total of 41 Members of Parliament stood to speak in a nine-and-a-half hours debate which became emotional at times, as they shared anecdotes about their own family life and mothers.
Minister for Information and Communication Josephine Teo, who gave the opening speech, noted that this was the first time the Government has presented a White Paper on women's development for Parliament to debate, saying that this alone was significant.
The paper was released on Mar 28, with proposals for 25 action plans in five key areas: Equal opportunities in the workplace, recognition and support for caregivers, protection against violence and harm, other support measures for women and mindset shifts.
Speaking on the progress of women in Singapore, Mrs Teo said that women's development has reached a "very high base", but that there is "a duty" to find new ways to uplift women in every generation.
While the White Paper has provisions for workplace fairness legislation and better support for caregivers, Mrs Teo emphasised that everyone has to "take action" in their homes,  workplaces, community and relationships for a fairer and more inclusive society.
"This will only happen when men and women partner each other as equals in every domain. It depends on how we, as family members, share in caregiving, and act as role models for our children," said Mrs Teo, the chairperson of the People's Action Party's Women's Wing. 
"It depends on how we, as a community, signal our protection and respect for our women. It depends on how we, as employers, empower women colleagues to dream bigger and fly higher."
WOMEN AT HOME
Health Minister Ong Ye Kung spoke on deeply embedded biases in social practices and constructs that are "beyond government policies and legislation".
Sharing stories about his daughters, he said that he better understood the lived experience of social expectations and prejudices towards women through their eyes.
"But no matter how entrenched, that past is challenged by the present," he said. Education and technology have combined to force a "rethink of the status quo".
"Neither men nor women are better at numerical calculation, more empathetic or more meticulous. It is individuals that have varied strengths and weaknesses."
A change in mindset is a third driving force of change, he said. "The patriarchal structure will evolve faster if people now conclude that as a society, if we treat men and women more equally, it is better for the welfare of our families and our loved ones."
On equal partnership at home, Minister for Social and Family Development Masagos Zulkifli said men and women should work together for a "whole of society" approach. 
Highlighting a child's ability to learn through watching their parents, Mr Masagos said it is a father's responsibility to "teach our sons what it means to respect women, starting from a young age" and to instil the right values in them.
"Our children are social learners of the world, watching our every attitude, word and action. They model after us, assimilate perceived pro-social roles," he said. 
The minister also called on men to pitch in more with caregiving at home. 
WOMEN IN WORKPLACES
A number of MPs spoke on the challenges faced by working women, and the need to erase the lines between jobs traditionally dominated by men or women.
MPs Jessica Tan (PAP-East Coast) and Melvin Yong (PAP-Radin Mas) asked that tripartite guidelines on flexible work arrangements, which are to be introduced by 2024, be accelerated.
"We should strike when the iron is hot … and roll out the guidelines when many employers are still fresh from having majority of their workforce telecommuting," Mr Yong said.
To this, Minister of State for Manpower Gan Siow Huang said that it was important to take a "calibrated and enabling approach" to enhance access to flexible work arrangements.
"We need to equip employers with capabilities to manage a more flexible workplace, not just remote work," she said, pointing out that more than 10,000 companies have already adopted the tripartite standard on flexible work arrangements, covering more than one in four employees here.
MP Poh Li San (PAP-Sembawang), a former helicopter pilot in the Singapore Armed Forces (SAF), asked if more women can join the SAF and the police force. 
She also asked what can be done to increase the proportion of women in STEM or science, technology, engineering, mathematics industries.
"It is important to make a concerted effort to encourage our young women to chase their dreams," she said. "As the paper has pointed out, mindsets about what jobs are appropriate for which gender will need to shift."
The topic of female leadership was also raised in Parliament. Noting that having more women in leadership roles "helps to catalyse robust governance and better stewardship of organisations", Mr Masagos noted that female representation on Singapore boards in the top 100 listed companies is almost 20 per cent. 
This number is "reaching 30 per cent" for statutory boards and the top 100 Institutions of a Public Character (IPCs). 
He added that the Ministry of Social and Family Development is working to address "root causes" to improve gender diversity in the workplace. This would be "more effective than setting mandatory quotas", which he said does not address the issues of culture and tradition.
SUPPORT FOR CAREGIVERS
Despite some men sharing caregiving responsibilities at home, women continue to take on a heavier load, with many feeling the need to choose between caregiving and a career, said Ms Rahayu Mahzam, Parliamentary Secretary for Health.
To ease the caregiving load, authorities recently said they will broaden the scope of the Household Services Scheme to cover basic elder-minding and child-minding services. This will provide caregivers with another option to tap on so they can take a break, she said. 
She added that the Health Ministry is also reviewing respite care – temporary institutional care of a sick, elderly or disabled person – on how it can be made more accessible and affordable.
Ms Rahayu also acknowledged the importance of financial support for caregivers, who have to spend on care options and daily necessities. 
She reiterated the review of the Home Caregiving Grant in the White Paper, which outlined plans to increase the grant from S$200 to S$400 per month, with more help for lower-income families. 
This additional amount will work together with existing support, such as insurance schemes like CareShield Life and ElderShield, to help lighten the financial load on caregivers. 
To mitigate the negative financial impact on single women caregivers, MP Rachel Ong (PAP-West Coast) provided several suggestions, including boosting workplace support for this group of individuals and compensating and recognising caregivers.
Ms Ong proposed providing "a calibrated monthly caregiving allowance with CPF contributions" for those who have reduced or stopped work to care for their loved ones. 
"Caregiving allowance is not meant to be a full income replacement, but at the very least an allowance to support these out-of-pocket care expenses in caregiving and also basic personal subsistence, without disincentivising work," she said. 
Speaking on initiatives to help caregivers, Minister of State for Culture, Community and Youth Low Yen Ling said that the Government will "spare no effort to boost and bolster new structures of support" for caregivers.
"With greater community support, we hope no caregiver will walk the journey alone," she said.
WP SUPPORTS "SPIRIT OF THE MOTION", SUGGESTS IMPROVEMENTS
The Workers' Party supported the "spirit of the motion" and the White Paper's overarching goal of achieving a fairer, more inclusive society, said MP He Ting Ru (WP-Sengkang).
But she also pointed out gaps for improvement, such as the need to ensure that the protections and aims within the paper apply to not just Singapore women, but all women in Singapore, regardless of nationality and status.
In a similar vein, MP Leon Perera (WP-Aljunied) highlighted the uncertainties that foreign spouses of citizens face over their immigration status, which affects their access to housing and employment.
These spouses are mostly women, he said, reiterating the party's call for a "clear, transparent and time-based" path to citizenship for these spouses who are parents of Singaporean children.
On shaping gender roles, MP Louis Chua (WP-Sengkang) mooted a scheme that entitles parents to share 24 weeks of paid leave between them, with at least four weeks granted to the father and 12 weeks to the mother.
Currently, fathers get two weeks of paternity leave and can share up to four weeks of their wives' 16 weeks of maternity leave.
The hope is that this will encourage fathers to spend more time with their children, take on their fair share of chores, and "lead to an overall uplift in our society's perception of gender roles", he said.
Similarly, Non-Constituency MP Hazel Poa from the Progress Singapore Party urged the Government to have leave schemes in "equal shares" by default, with the flexibility for reallocation. This would "underline the belief that parenthood is a responsibility that should be shared equally by both parents", she said.
On enhancing leave schemes, which many MPs raised, Ms Gan encouraged companies to adopt progressive leave policies, which will help to attract and retain talent.
A number of MPs also brought up the plight of single parents and their unequal access to government benefits. 
Minister of State for Social and Family Development Sun Xueling said that an Alliance for Action to strengthen marriages and family relationships is looking into support for single parents.
She said that her ministry will partner non-profit organisation Daughters of Tomorrow to pilot a child-minding service for low-income women, including single parents, outside childcare operating hours.
To MP Louis Ng's (PAP-Nee Soon) suggestion that all marriage and parenthood be available to single parents, Ms Sun said that many of the benefits are available to every Singaporean child regardless of their parents' marital status.
"At the same time, our marriage and parenthood incentives seek to support parenthood within marriage. This is because our society continues to strongly value marriage and having children within marriage," said Ms Sun.