FAQ: Planning to travel? Here's what you need to know about renewing your Singapore passport
SINGAPORE: With borders reopened and more people planning to travel, passport applications have surged.
Photos of snaking queues outside the Immigration and Checkpoints Authority (ICA) Building have surfaced on social media, alongside comments of people waiting for hours to collect their passports.
People queuing to check on the status of their application or requesting to expedite passport application of collection have also exacerbated the situation, said ICA.
The processing time as for May 11 for the renewal of Singaporean passports is at least six weeks, up from four weeks in early April. 
More than 5,000 passports are currently issued daily, almost three times the number prior to the COVID-19 pandemic in 2019, said ICA on Jun 11.
From Jun 13, ICA will only accept walk-ins from passport applicants who have been notified to collect their passport, submit supporting documents, or re-submit photographs.
Appeals by those who need to travel urgently can only be made online.
If you are planning an overseas trip and your passport is expiring soon, here are some tips to ensure the renewal goes smoothly.
Q: When should I renew my passport? 
You do not have to renew your passport if you are currently in Singapore and have no plans to travel for the next six months, said ICA. 
"The Singapore passport is not a mandatory identity document and there is no penalty for not renewing passports which have expired," said the authority. 
Singaporeans travelling overseas need to make sure their passport is valid for at least six months before departure.
According to ICA, you should apply for a passport online if it is your first time applying for one, your passport is running out of pages, if it has expired or is expiring in nine months or less.
Q: What do I need to renew my passport? 
A passport-sized, digital, colour photo taken within the last three months is required for your passport application.
The photo must meet ICA's passport photo requirements, which are based on specifications by the International Standards Organisation (ISO) and the International Civil Aviation Organisation (ICAO).
Printed photos must be on a matte or semi-matte finish.
For photos uploaded via e-Services for online applications, the recommended dimension is 400 pixels by 514 pixels. They should be uploaded in jpg, jpeg or png format and have a file size of no more than 2MB, said ICA. 
If you are taking a photo using your mobile phone, ICA recommends that you download and use mobile apps that are specifically designed to take photos for passport applications. 
"These apps usually come with features that will help you take photographs in the required dimensions," said the authority on its website.
Some of these apps can be found on the Android Play Store or Apple App Store by searching "Singapore Passport", "Singapore IC" and "Photo". 
"The photograph will be accepted if it complies with our photo guidelines," said ICA.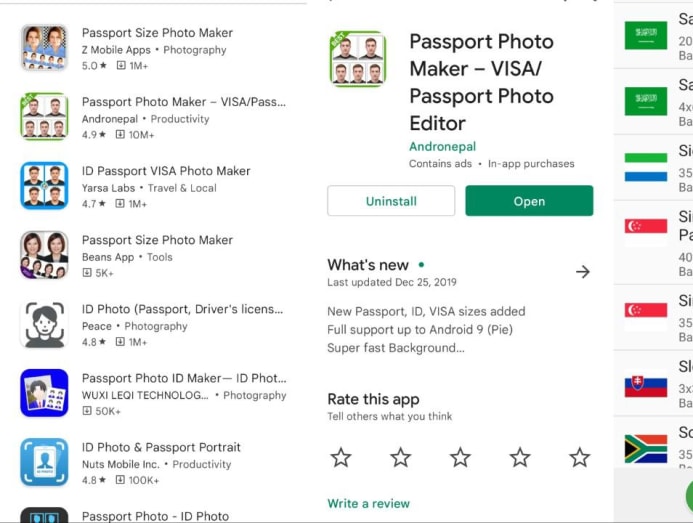 Selfie photos are also not recommended as the "result is usually not ideal" and will delay your application. ICA recommends that people applying for their passports should get someone to help take their photos. 
Passport applications, with a S$70 fee, can be done online using ICA's e-service. You can also do it by post or by dropping the completed application form in the deposit box outside the ICA building.
Q: What are the photo requirements? 
Under ICA's photo guidelines, photos must be taken with even brightness, with no shadows cast over your face.
It should be clear, in sharp focus and not pixelated. It should also not be flipped or distorted.
The photo background must be white, and your headgear or attire must be dark coloured against the background. 
Your facial expression in the photos should be neutral, with your mouth closed. Your shoulders, hair and eyes must be fully visible.
Non-coloured contacts should be worn and spectacles must have clear lenses where the eyes are clearly visible. You should also ensure there is no red-eye in your photos. 
Your eyes must be looking at the camera in your photos, with your facial features taken in full frontal view. 
The photo should also not be altered or enhanced in any way, which includes the modification of facial features.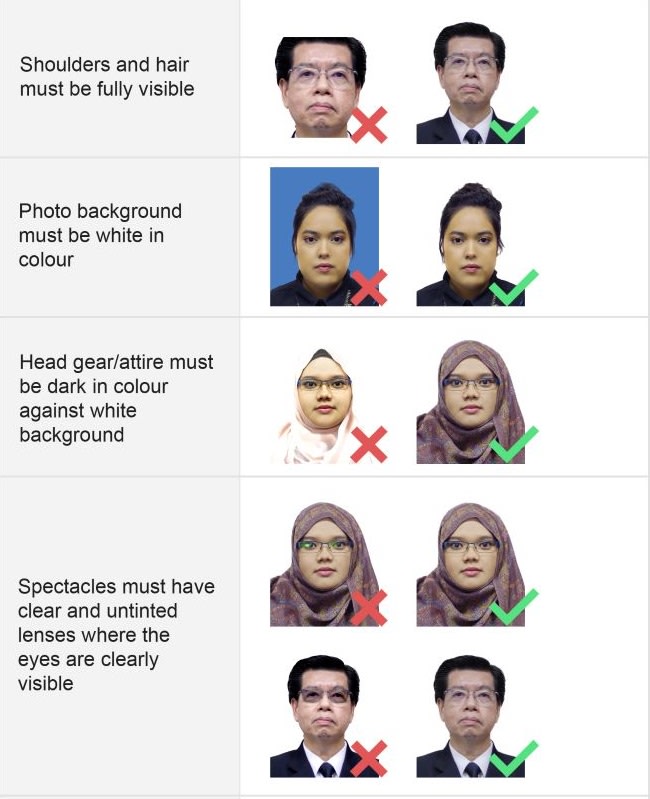 To avoid delays in processing your passport application, you should ensure your photo submitted meets the requirements, said ICA.
If not, you will have to resubmit a new photo and your application may be delayed, ICA said in response to CNA's queries. The authority will notify applicants via post or email if their photos are rejected. 
Q: How long is the renewal process?
At the moment, you can expect a processing time of at least six weeks, due to overwhelming passport applications. 
After submitting your application, you can check the status of your application via the MyICA mobile app or on the ICA website. 
ICA said it could take even longer if there is a greater surge in the number of applications or if there are issues with the application, such as the photo submitted does not meet the requirements. 
The processing time will also be longer if ICA requires additional information or clarification from the applicant. 
Previously, Singaporeans who needed to travel urgently were allowed to produce supporting documents in person at the ICA Building for assessment on a case-by-case basis. 
You will need to provide supporting documents to substantiate the urgency of travel. These may include hotel reservations, flight tickets and travel itinerary.
ICA will contact the applicant within a week, or at least two days in advance of the intended date of travel, whichever is earlier.
Q: When and where can I collect my passport?
You should collect your passport within three months of it being ready for collection. To do so, make an appointment online.
You are allowed to change or withdraw your appointment if you are unable to make it in time. ICA only allows a maximum of six changes to your appointment.
Your passport can be collected at post offices or at Level 2 of the ICA building. 
ICA is encouraging people to collect their passports at post offices, instead of at the ICA building, as there are still many appointment slots available at post offices. 
No additional collection fee is required and the post offices may offer wider operating hours, including weekends. 
When collecting your passport, you will need to bring your digital or physical identification card (IC) and your current passport.
For applicants below 16 years old, they must come with the parent who submitted the application. They should bring the child's original birth certificate, current passport and the parent's digital or physical IC.
Passports not collected after three months will be cancelled and no refund of the passport fee will be given.
Q: What are some common mistakes? 
ICA said many cases where applications take a longer processing time involve photos not meeting its requirements.
As the requirements are based on international specifications, ICA needs to ensure that Singapore passports comply with these specifications, so that they would be accepted by immigration authorities overseas. 
Common problems with submitted photos include those with non-white backgrounds, flipped or laterally inverted images, or people using photos that are not current. 
Additionally, photos with uneven backgrounds or shadows on the applicant's face, or reflection or glare on the applicant's spectacles may also be rejected. 
These can create inconsistent patches on the facial image when it is laser engraved on the passport, said ICA. 
"These issues, if left unchecked, may result in Singaporeans facing delays or even refusal of entry at immigration clearance overseas," the authority added.
This article was updated on Jun 13 to reflect the latest information from ICA.