Quarantined students taking PSLE must inform schools 2 days before paper, take daily COVID-19 tests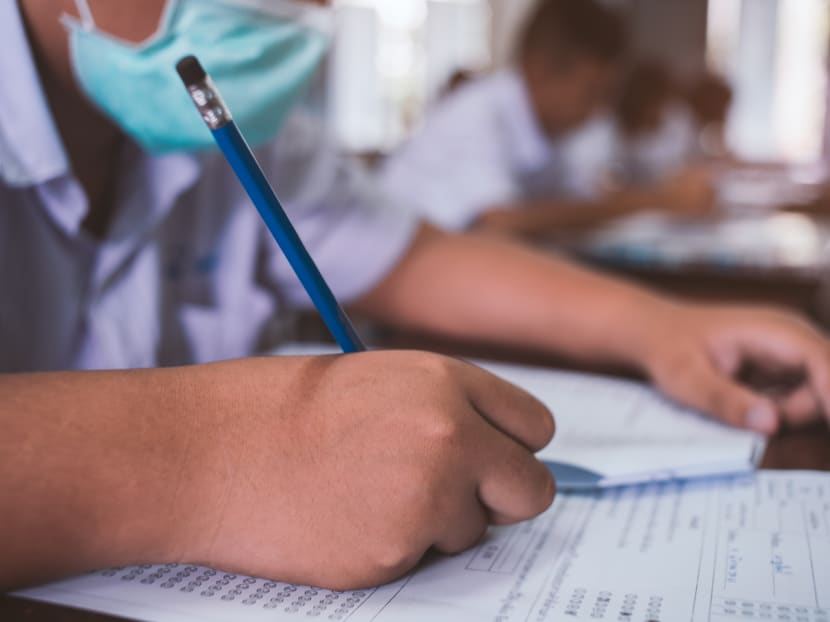 SINGAPORE: Students who are quarantined and want to take their Primary School Leaving Examinations (PSLE) must take daily COVID-19 antigen rapid tests (ART) and inform their school two days before the paper.
The first PSLE written paper is scheduled for Thursday (Sep 30) morning.
The Ministry of Education (MOE) and Singapore Examinations and Assessment Board (SEAB) announced on Sunday that students who are on quarantine order may be allowed to sit for their national year-end examinations if they test negative for COVID-19.
They said that the arrangements for students on quarantine - a departure from the previous year's measures - were made in view of the rising COVID-19 cases.
According to a circular by MOE, parents must inform their child's school of the quarantine order by noon and the child's plans to sit for the paper. This must be done at least two days before the paper.
An MOE spokesperson said PSLE candidates on quarantine order who have indicated to their schools that they wish to sit for their papers should wait at their place of residence for their entry polymerase chain reaction (PCR) test. 
The test will be administered at their place of residence by swab providers appointed by the Ministry of Health (MOH).
The PCR test will take at least 24 hours to be processed and the results will be made available in the students' HealthHub account. 
The MOE circular said students should wait at home for their entry PCR test, rather than "rush down to a clinic".
The spokesperson added that ART kits for the candidate's subsequent use will be separately provided by another service provider appointed by MOH. These would be delivered to their place of residence by the following day after the entry PCR swab. 
"Once your child has received a (quarantine order), the earliest he or she can sit for the PSLE exam is two days after the day of the notification," said MOE in the circular.
"If there is a paper scheduled the next day after the (quarantine order) is received, your child will not be able to sit for it. However, the child can apply for special consideration through the school."
Parents will not need to inform the school that their child intends to sit for any subsequent papers, said MOE.
Children must also do daily ARTs while waiting for the entry PCR test results at home.
If the PCR test comes back negative, the child should take an ART that evening, and take a photo of the negative result. This must be done at 6pm before each paper.
On the day of the paper, the student's negative PCR and a photograph of the ART results have to be presented in order for the student to take the PSLE paper.
Students will have to continue to do the ARTs the day before the remaining papers.
If a student misses one paper while on quarantine order, they can still sit for the remaining papers if their PCR test is negative and the self-swab ART before each exam paper is negative.
"Students are encouraged to go to school by themselves. Parents under quarantine may accompany their child to the school after satisfying the same testing requirements," said MOE.
Such students should not take public transport. Instead, they should travel directly to the exam venue "by private transport or on foot, with no stops in between", added the circular.
SPECIAL CONSIDERATION
MOE and SEAB said on Sunday that students who miss the exams with valid reasons can apply for special consideration.
"Special consideration is a well-established procedure which awards candidates with projected grades through a fair and rigorous evidence-based methodology," they said.
"In awarding a grade for these affected candidates, SEAB will consider multiple sources of data, such as the candidate's performance in the other papers for that affected subject in national and school-based examinations as well as the school cohort's performance in national and school-based examinations, to ensure a fair assessment for all candidates.
"All special consideration applications are assessed on each case's merit, to ensure that the grades awarded are as accurate and fair as possible."
For candidates who miss all papers of a subject, their prelim results will be taken into consideration to determine their relative rank among their peers in the same school cohort.
This position will then be used to derive their grade.
For candidates who miss one or more papers in a subject, SEAB will use the candidate's performance in the papers they did take to derive a projected outcome for the subject. Their performance in the prelim examinations will also be taken into consideration.
Editor's note: An earlier version of this story said a Certis officer will administer the students' PCR tests and provide ART kits for subsequent use. MOE has clarified that this will be carried out by MOH-appointed swab and service providers.