Meet the SAF senior band major who took part in 39 NDPs, including the year he was hospitalised
Military Expert 3 (ME3) Abdul Razak Mohammed Noor will retire after taking part in NDP 2022.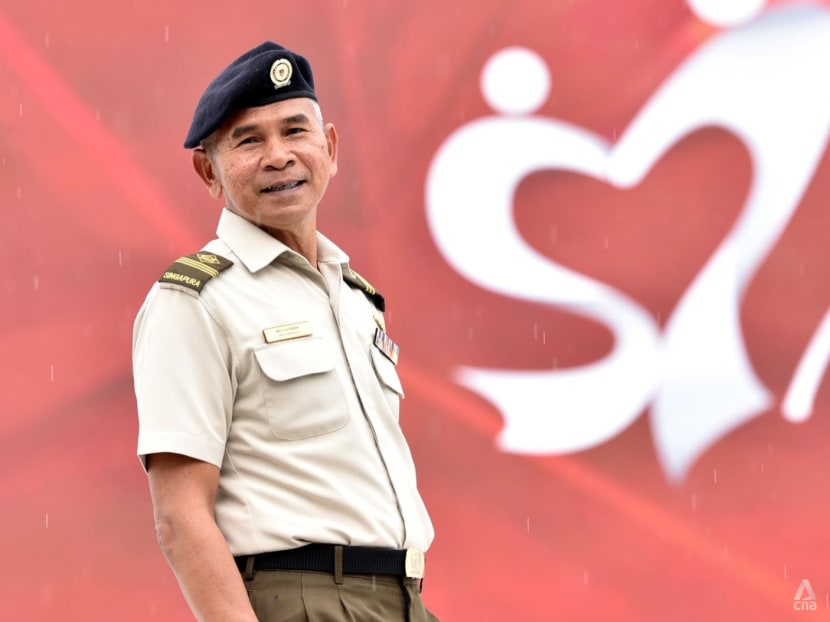 SINGAPORE: His love for music fuelled his involvement in the National Day Parade (NDP) every year for 39 years.
But come August, the Singapore Armed Forces' (SAF) senior band major Abdul Razak Mohammed Noor will make his swansong in his 40th and final parade before he retires.
Military Expert 3 (ME3) Abdul Razak, who turns 60 this year, has been part of every NDP since signing on with the then Republic of Singapore Navy band.
He is now part of the SAF Band, which was established after the service bands were restructured in 1994 - and he's come a long way.
At his first parade, ME3 Abdul Razak recalled "only carrying drinks for the participants". He eventually performed with the clarinet, an instrument he picked up in secondary school during his time in the National Police Cadet Corps band.
Although he later moved on to more "regimental" and advisory work with the band, ME3 Abdul Razak never stopped serving the nation through music.
"To me, this is the biggest thing I can contribute to my country in terms of my expertise. I love most what I've been doing. I like to do something, not because of recognition, but just to share with everybody," he told CNA. 
"If I have a piece of cake, I make sure the piece of cake (is shared among) everybody. That's me." 
This year's parade is also special for other reasons, added ME3 Abdul Razak, noting that youth uniformed groups, as well as participants from social and economic organisations, will march in person for the first time since the COVID-19 pandemic struck.
"I can see the perseverance, the commitment (shows) … (as well as their) competency. Really, we want to uphold … to deliver the best that we can do to support all the NDP, to make the whole nation remember this thing," he said. 
"Of course, (what's special this year is) the involvement of the school youth. And the civilians will come in … and integrated with the virtual performance. This is something new and we're very happy with that."
Before he calls it a day, ME3 Abdul Razak said he just wants to deliver "another splendid performance for our nation" and to make this year's NDP a memorable one.
MUSIC, NDP PARTICIPATION RUNS IN THE FAMILY 
Growing up with a father who played the guitar, ME3 Abdul Razak is also a maestro on the saxophone and keyboard. 
The avid music lover even met another love of his life in the then Republic of Singapore Navy's band. His wife, who is six years younger than him, also played the clarinet. 
They have four children from their 35-year marriage, three of whom are also musicians who play the percussions. One of his proudest memories, he said, was sharing the stage with his daughter during NDP, although he could not recall which year that was.   
His son-in-law, although not a musician, also participated in the parade's total defence display as part of the Special Operations Command in the Singapore Police Force.
Recalling another fond memory from four decades of parade participation, ME3 Abdul Razak remembered his second grandson being caught on camera by free-to-air TV channel, Suria. 
"He put the Singapore flag on his cheek. Very chubby. Suria was there, they captured the news. We took a video, and we kept it until now. One for my memories," he said.
UNDETERRED BY HOSPITALISATION 
Despite not having skipped a single parade for the last 39 years, an injury in May 2016 threatened to break ME3 Abdul Razak's streak. 
That fateful day, he collapsed during the final 100 metres of a run, having suffered a heart blockage. 
"Somebody woke me up at the hospital and asked, 'You know where you are Razak?' When I saw my chest had all the tubes, I broke down and I cried," he said. 
"After I was discharged, the staff nurse said this has never happened in (the hospital) before. There was a super long queue (of people) who came to visit me because of my service in the SAF. The Chief of Army at that time also visited me." 
ME3 Abdul Razak was put on hospital leave for a month after undergoing surgery, but then returned to take part in NDP 2016.
"People were also worried. They asked, 'Razak are you okay?' … But if I skipped NDP that year, because I am halfway through, I would feel I'm lost. Frankly speaking, I love to do NDP. Meeting a lot of people; talking about perseverance, confidence, competency," he explained. 
"We are the so-called subject matter experts in music in the parade segment. That is my heart."
And in the leadup to his last hurrah, ME3 Abdul Razak's heart is both full and heavy. 
"Sometimes, I sit down at the Floating Platform (and) cry tears (because) I'm going to retire. But I'm going to put all my effort, all my heart and soul, for the nation," he said. 
"At the end of the day, when I see people, they say, 'Eh Razak!' That's what I want. Every year national day, I want to give the best of the best."