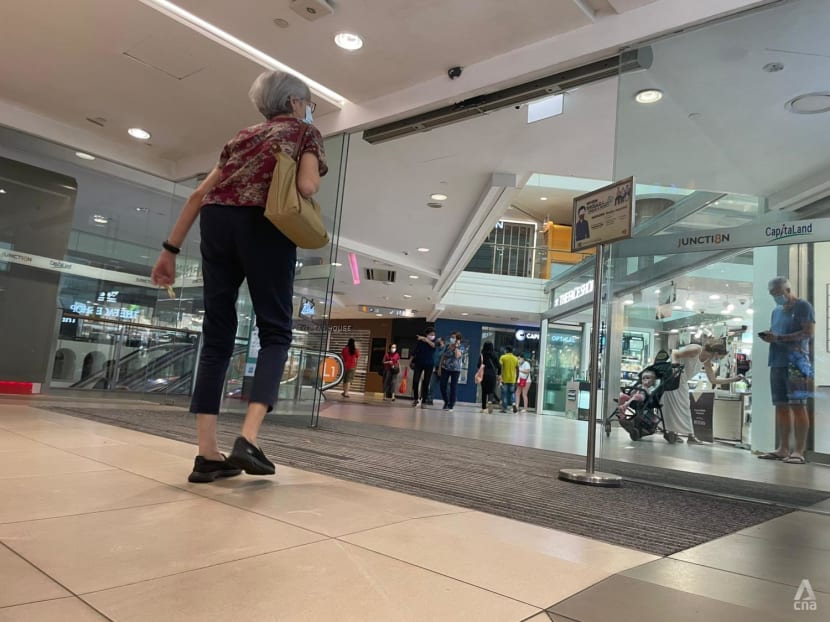 SINGAPORE: For 18-year-old Kaslyn Neo, who visits Junction 8 in Bishan nearly every day, going to the mall on Tuesday (Apr 26) was a starkly different experience.
"I was super shocked, like eh, something feels different, it feels emptier than usual. I texted my friends, because we always come here … to say, no more SafeEntry!" she said.
SafeEntry stations and barriers were removed at most places across Singapore on Tuesday as COVID-19 measures were eased, allowing people to move in and out without checking in using their TraceTogether app.
This is in line with the removal of vaccination-differentiated safe management measures for most settings.
"It feels really different because you're so used to preparing to go into a mall by opening up the TraceTogether app, it's automatic," said Ms Neo, a student.
"It'll take a bit of getting used to, but it feels more convenient, you just need to walk in."
For Grab delivery rider Kent Choo, who had to check in and out of places 20 to 40 times a day, the easing of contact tracing measures is a relief.
"It's really the time to remove them because now we treat COVID-19 as a normal disease," he said, adding that he will now be able to do deliveries more quickly without the queues at the check-in points.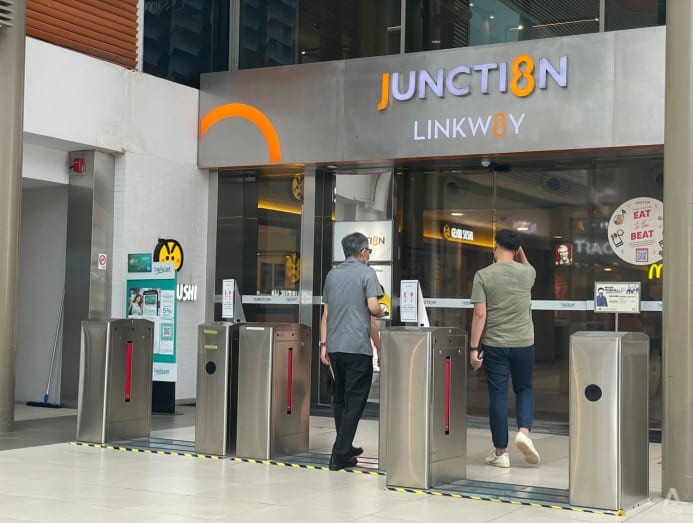 Ms Libby Ting, 27, a retail assistant at a skincare store in Junction 8, agreed. Entering during peak hours can involve a two-minute wait, which feels troublesome even though it is not a "long" time, she said. 
"(The mall's layout has many wings), you need to scan in every time. Go outside just to pick something up, you also need to scan in … So this is more convenient."
But Mr Alex Low, 62, is a little warier about the move.
"I'm wondering about the tracking, if there are any cases going up, what will happen to it. We don't know how the situation will change again so basically we just have to watch (infection rates) after this," he said.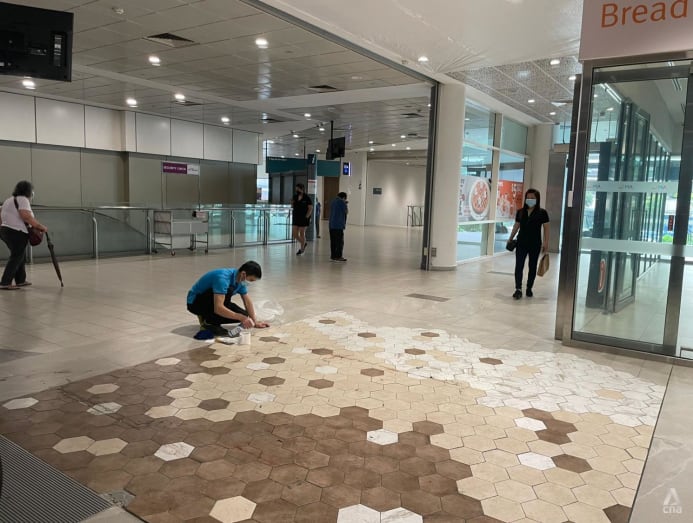 At the nearby Ang Mo Kio Hub, which is also a transport node, CNA saw SafeEntry gantries being dismantled and removed.
Check-in stations and small mazes of barriers were previously put in place to separate mall visitors from those using the bus interchange on the first floor.
"It's easier for us now that we don't have to walk one round," said a 28-year-old who only wanted to be known as Mr Seet.
An unvaccinated retiree, who only wanted to be known as Madam Roha, was also overjoyed at the removal of vaccination-differentiated measures and check-in stations.
"Imagine, for two years I never come into the shops here because I'm not allowed," said the 70-year-old.
"(Last time I had to buy groceries) outside, walk for so long with my trolley, I'm very tired … So now I'm very happy."
Mr Jason Loh, 26, also said he felt it was time the tools were stepped down. 
"I feel that TraceTogether is quite useless … because even though you know someone is infected, I don't think they (authorities) will notify you also," he added.
But an 83-year-old who only wanted to be known as Mr Leow noted the importance of taking precautions now that contact tracing measures have been eased.
"You must still take care of your own safety, hygiene and don't go to crowded places," he said. "I also still bring my token with me in case I need it when I go to other places."
RESTAURANTS GEARING UP
At restaurants, vaccination-differentiated measures still apply but there will be no SafeEntry check-ins. Instead, the onus is on diners to abide by the rules, with authorities conducting random spot checks. 
Capacity limits and the need for safe distancing have also been scrapped.
At Junction 8, Genki Sushi's assistant manager Tom Lim told CNA that the restaurant began preparing last night by removing SafeEntry notices and safe distancing markings.
"Now more people can come, every seat you can sit. Maybe we'll get a full house … I'm quite excited because it's been two years (that we've had COVID-19 restrictions)."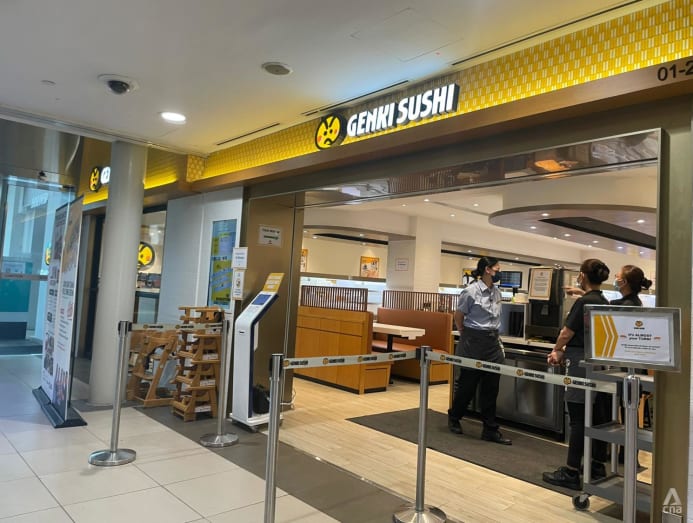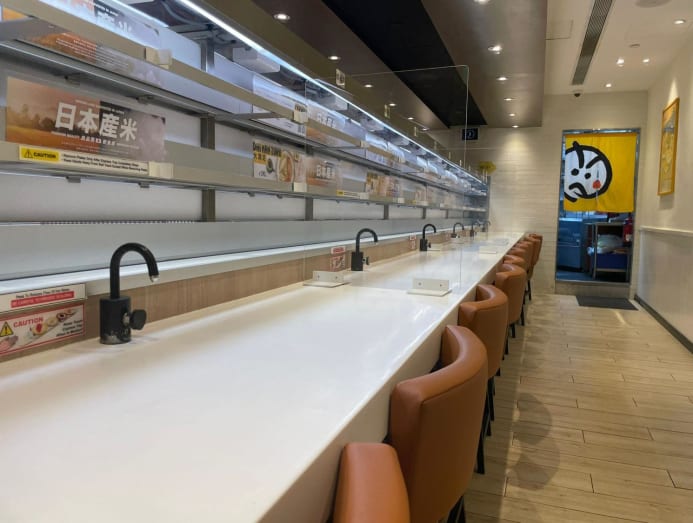 At Osaka Oysho, similar preparations were made, said the restaurant's manager Johnson Choy. While it used to accommodate about 40 patrons, the outlet can now seat more than 80 people with the removal of distancing requirements, he said.
As malls throw open their doors, they are also keeping up other safety practices.
Frasers Property Retail said it is committed to ensuring a "safe shopping experience", such as by maintaining its regular cleaning and disinfecting schedules.
As for CapitaLand, a spokesperson said its malls will continue adhering to guidelines. It also thanked shoppers for complying with other safe management measures, including keeping their masks on while indoors.