Shanghai lockdown will not significantly affect Singapore's supplies of food and healthcare essentials: MTI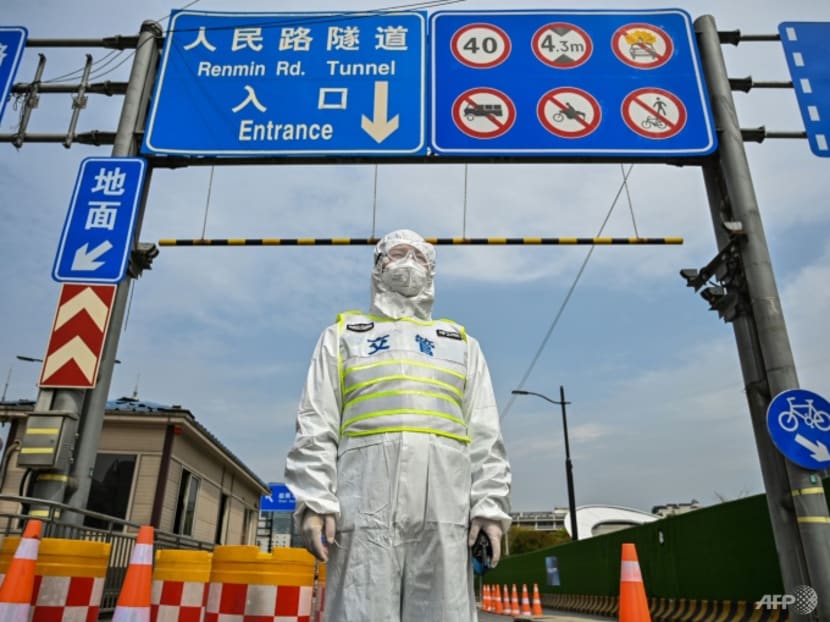 SINGAPORE: The COVID-19 lockdown in Shanghai is not expected to significantly affect Singapore's supplies of essential food and healthcare items, said Minister of State for Trade and Industry Low Yen Ling on Monday (May 9).
"Our reliance on China is relatively low and the cities where we import most of our food supplies are not classified as high-risk ones for now," she said in Parliament, adding that the Government will continue to adopt "a multi-pronged approach of import diversification, local production, and stockpiling" to help minimise supply shocks.
Ms Low was responding to a parliamentary question from Member of Parliament He Ting Ru (WP-Sengkang) who asked about the impact of China's COVID-19 lockdowns on supply chains and rising prices in Singapore.
Ms He also asked which industries or goods and services have been or are expected to be the most badly hit, and whether any further measures are being taken to alleviate the impact.
China is facing its most severe COVID-19 outbreak in two years and has responded with full or partial lockdowns in various cities as part of the country's "zero-COVID" approach. 
In Shanghai, most of the city's 25 million people have since been confined to their housing compounds for more than a month. The capital city Beijing, meanwhile, has begun mass testing and tightening travel and business curbs to control a spike in infections.
Ms Low said with China being a major supplier to the world, a reduction in the country's economic activity will inevitably lead to supply chain disruptions, especially delays in the fulfilment of manufacturing orders and shipping time.
"However, cargo is still able to leave from (the) Shanghai port and where necessary, is being redirected to other ports in China or other transport modes such as air," she added.
Singapore's key imports from China include electronics, machinery and metals, which are primarily intermediate goods required by firms in the manufacturing and construction sectors, Ms Low said.
"Based on the feedback from companies in these sectors, we understand that most of them have been able to cope with the delays in shipments from China thus far," she told the House.
Still, the lockdowns in China, which are stressing already-frayed global supply chains, are likely to exacerbate global inflationary pressures in the near term. The longer-term effects will depend on the scale and extent of the lockdowns, as well as their impact on China's economy, said Ms Low.
The Government recognises that rising cost pressures and higher frequency of supply disruptions have affected businesses, she noted. For instance, some businesses have had to hold higher inventory buffers to cope with the challenges and this will require more working capital.
To support firms with their cash flow needs, measures such as an extension of the Temporary Bridging Loan Programme and the enhanced Trade Loan Scheme were announced in this year's Budget.
In addition, the Monetary Authority of Singapore (MAS) has tightened monetary policy three times over the past six months. By doing so, the central bank is effectively allowing the Singapore dollar to appreciate.
This should also help moderate the pass-through effects of external inflationary pressures, Ms Low said.
STRONGER SING DOLLAR WILL NOT HURT EXPORTS
Responding to a separate parliamentary question on the impact of a tighter monetary policy, Minister of State for Trade and Industry Alvin Tan said a stronger Sing dollar is "not expected to have a significant negative impact" on the country's exports.
For example, growth in Singapore's non-oil domestic exports has remained firm in the first quarter, he said.
Mr Tan, who is also an MAS board member, added that Singapore's exports are primarily dependent on demand, rather than the exchange rate. He cited the latest business expectations survey done by the Economic Development Board among manufacturers, which showed that the Sing dollar is "not a key limiting factor" for these firms' export orders.
"Singapore's exports are genuinely high value-added products and services, where demand is less sensitive to price and therefore, exchange rate changes," he said. "Further, a stronger exchange rate helps reduce the import costs faced by our export industries."
He noted that the tightening of monetary policy is necessary to dampen inflation and help preserve the purchasing power of businesses and households in Singapore.
With the MAS embarking on the shift in policy stance early in October last year, the central bank has been able to respond to rising inflationary pressure through gradual shifts in its exchange rate policy.
"Had MAS not begun tightening policy last year ahead of many central banks, it would have had to allow for a steeper appreciation of the exchange rate," said Mr Tan.
Moving forward, the central bank will continue to focus on medium-term price stability while avoiding "sudden large shifts in policy". It will also remain vigilant to developments in the external environment and the impact on the Singapore economy, he told the House.