'My heart is very painful': Japanese people in Singapore shocked, sad after former Japan PM Shinzo Abe assassinated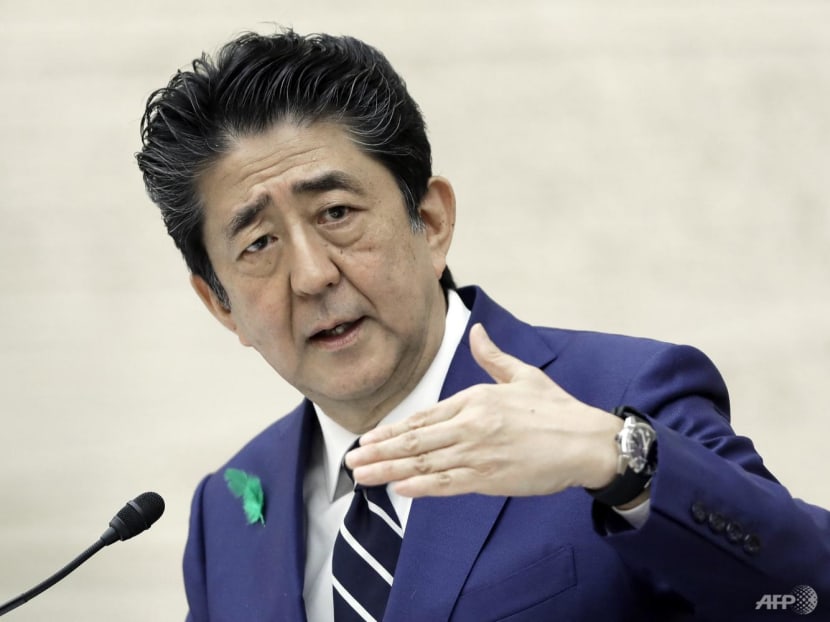 SINGAPORE: Japanese people living in Singapore expressed their shock and sadness after former Japanese prime minister Shinzo Abe was assassinated on Friday (Jul 8).
Mr Abe, 67, was delivering a speech during a campaigning event in Nara when he was shot at about 11.30am. He was rushed to hospital and was in a state of cardiac arrest upon arrival, said Hidetada Fukushima, professor of emergency medicine at Nara Medical University hospital.
Medical staff tried resuscitating him, but he died at about 5pm. Mr Abe died of blood loss, despite undergoing blood transfusions in large quantities, Prof Fukushima said.
A 41-year-old man suspected of carrying out the shooting has been arrested.
"NEVER THOUGHT THIS WOULD HAPPEN IN JAPAN"
Japanese national Yohei Sugakawa, who works as a hairstylist in Singapore, said he was following the developments after news of the shooting first broke on Friday morning.
 
"I was shocked ... that it happened, and I was also very surprised that a lot of people knew about this, including my customers," said Mr Sugakawa. 
"I hope that people don't think bad about Japan after this, and that our image as a country where people are kind and friendly won't be ruined." 
Graphic designer Yasuko Tamekuni said she was "extremely shocked" at the news of the attack and Mr Abe's death. She added that Mr Abe was a "familiar" face in Japanese politics.
"I couldn't believe it ... I didn't think it was a serious injury," she said. "Even if one's political ideology differs from that of the former prime minister, such an incident is unacceptable."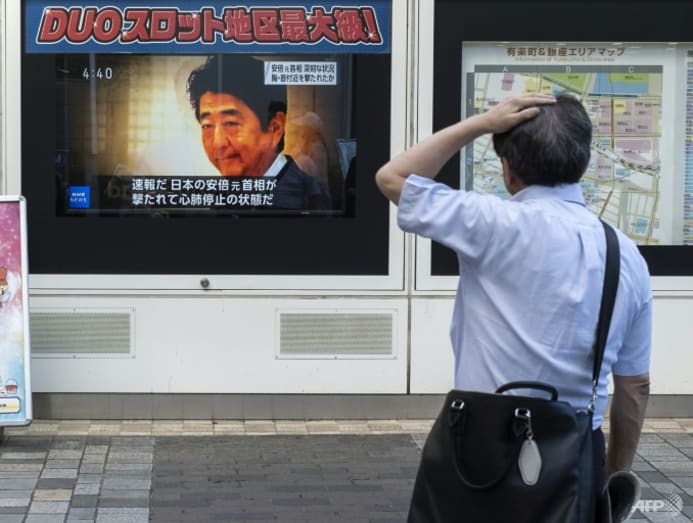 A teacher who works at Ikoma Language School, who wanted to be known only as Ms Kanai, was in disbelief when she first heard the news. 
"I saw it on the Internet but I couldn't believe it," said Ms Kanai. "I never thought this would happen in Japan, because it's a safe country."
Citing police sources, Japanese media outlets identified the 41-year-old suspect as Tetsuya Yamagami. Several media outlets described him as a former member of the Maritime Self-Defense Force, Japan's navy. 
The gun used in the shooting appeared to be a homemade firearm, public broadcaster NHK reported. 
Ms Rio Kawai, a 29-year-old who works in social media marketing, said: "I am very shocked and saddened because there are very few gun incidents in Japan. 
"My heart is very painful and I do not want to believe it. I don't want this to happen again." 
Ms Misato Yamada, who has lived in Singapore for eight years, told CNA that she was "speechless" when she saw video clips of the attack.
The 44-year-old, who is married to a Singaporean and has a three-year-old daughter, said: "I realised it was two gunshots. You know, same as Singapore, Japan is a safe country. (I thought) did it really happen in Japan?"
Although she did not agree with all of Mr Abe's policies and political directions, Ms Yamada said she "really cannot forgive" the man who shot him. 
"My first reaction is that it is very sad. After that, it's like, why did this happen? What is the reason?" 
Her mother, who is in her 70s and living in Japan, sent her messages after the attack.
"She also cannot agree with Abe-san's political directions ... But whatever the reason is, you should not kill other people. She feels very sad, and especially very sad for Japan," she added. 
"We are a safe country, we are a high-tech country ... Where is the good in Japan?" 
Ms Yamada said she was also scared that similar incidents might occur, after she found out the man who shot Mr Abe might have used a homemade gun. 
"Maybe stupid people will try to do the same thing, and the same thing will happen, and we cannot stay a safe country anymore. What are our morals then?" 
A RESPECTED LEADER 
Several Japanese people who spoke to CNA on Friday also paid tribute to Mr Abe, calling him a "good and respected leader". 
"Abe-san was the longest-serving prime minister so his image is really directly related to Japan, because he was so well known to even people outside of Japan. Everyone knows Abe-san," said Ms Misaki Morimura Sugawaka, who has been living in Singapore for the past 10 years.
 
"I respected his leadership. Even though there are a lot of different opinions about him in the public ... I respected him," said the 39-year-old, who works as a general manager for a recruitment company.
Her sentiments were echoed by Mr Sugakawa. He said: "For me, I think he tried his best for Japan, so I don't have a negative opinion of him."
"When he expresses his thoughts, there are of course a lot of people who say negative things but when he replies to those people, I always found that he made sense and that he had a point," he added.
"So for me, I thought he was a good leader."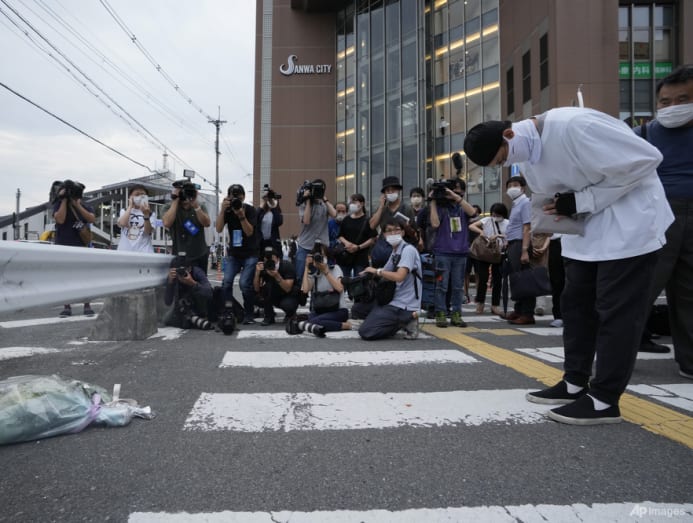 While they saw the shooting as a dark day for their country, Japanese nationals who spoke to CNA expressed hope that it would not ruin Japan's image. 
"We live our lives thinking that Japan is safe because we are not allowed to have guns," said Ms Tamekuni. 
"That is why politicians also give speeches without wearing bulletproof vests. Politicians and citizens are close. That is a good point," she added. 
"But now that such an incident has occurred, perhaps there will be a rethinking of safety when politicians give speeches." 
Ms Morimura added: "It's a terrible thing that happened, but I hope that it doesn't divide the country further but instead unites the country and brings people closer.
"Japan is a peaceful country, and I hope there will be no more of such incidents, no war, or no more people hurting each other."