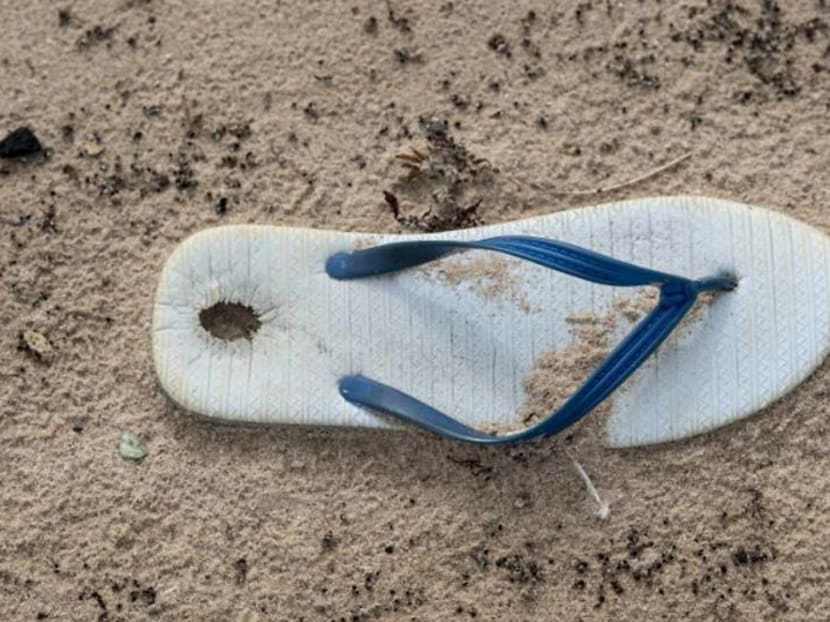 SINGAPORE: About 22 million pairs of shoes are sold in Singapore yearly, according to a report by market research company Statista. 
Whether your go-to kicks are S$4 sandals or S$14,000 designer sneakers, chances are that shoes are something you wear every day. And while necessary to protect our feet, they also leave a significant impact on the earth we tread on.  
A typical pair of running shoes is responsible for about 13.6kg of carbon dioxide emissions in its lifetime – the equivalent of keeping a 100-watt light bulb on for a week, one 2013 study by researchers from the Massachusetts Institute of Technology (MIT) found.

Then there is the issue of waste. While there are no footwear-specific figures, National Environment Agency statistics indicate that 141,200 tonnes of textile and leather waste were disposed of in Singapore last year, of which only 6 per cent was recycled.
In Singapore's voluntary national review presented to the United Nations High-Level Political Forum for Sustainable Development earlier this month, responsible consumption and production was one of five sustainable development goals it focused on.
"In order to maintain a safe living environment with a high quality of life for current and future generations, Singapore's approach to sustainable consumption and production is to become a Zero Waste Nation," the voluntary national review report stated.
"By reducing waste and our consumption of materials and goods, we also avoid depleting the earth's resources through wasteful habits. This will keep Singapore clean, conserve precious resources, and reduce the need for space-consuming landfills."
As a consumer, here are some ways you can walk with a spring in your step knowing you've helped give wasteful consumption the boot.
DON'T CHUCK THOSE CHUCKS, FIX THEM
The MIT study, which broke down every possible greenhouse gas-emitting step in a shoe's life cycle from the extraction of raw materials to the disposal of the shoes, attributed most of the carbon emissions to production processes, especially the materials processing (29 per cent) and manufacturing (68 per cent) stages.
Veerappan Swaminathan, founder of social enterprise Sustainable Living Lab, said that as the footwear manufacturing industry for shoes sold in Singapore operates mostly in neighbouring countries, a lot of the local environmental challenges are "externalised".
"Materials used are often petrochemical byproducts, and as they are comprised of mixed materials are extremely difficult to separate for recycling ... Dyes used in the process of treating fabric are usually not processed properly, leading to poisoning of river streams."
Ways to improve sustainability in the industry include consumer decisions to get longer lasting shoes, and keep them functional beyond their typical lifespan through repairs and restorations, Mr Swaminathan said. 
Shoemaker Lisa Teng said that for her own shoes, she makes the effort to replace the soles if they wear out or create new designs through patchwork or stitches when the uppers get damaged. 
Sports shoes are more complicated, Ms Teng said, as a lot of soles are manufactured to match the shoe shape. "In my case, I would take the challenge and combine different components to fit the design."
For those who aren't experts, Sustainable Living Lab runs Repair Kopitiam, a community initiative that teaches people how to repair items, including shoes, in an effort to combat "throw away" culture. 
The free event is held at Block 452 Jurong West Street 42 and Block 890D Tampines Avenue 1 from 10am to 2pm every last Sunday of the month. 
There are also off-the-shelf solutions such as Sugru, a silicone-based "moldable glue" that comes in various colours and has the consistency of Play-Doh. Out of the packet, it can be reshaped and pressed into most materials such as fabric and leather to cover small holes or tears. Left to cure for 24 hours, it hardens into a flexible rubber.
The possibilities are endless: Fixing frayed laces, patching small tears in fabric uppers and sealing cracks in waterproof boots. As a bonus, the different colours can be combined in designs to customise your shoes.
But when it comes to major repairs, it may be best to leave it to the specialists. 
Cobbler Kay Ching Boh, one of a handful of old-timers who still ply their trade at an open space known as Cobbler Square in Chinatown, estimates that 10 to 20 people bring their shoes to him for repairs a week.

From gluing on new soles to smoothing out scuffs on leather uppers, he does it all. "There are no repairs too difficult if you really want to do them," he said.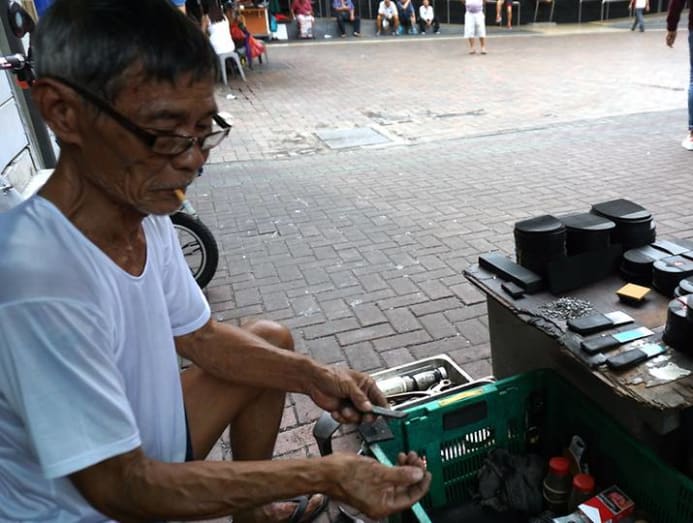 The 67-year-old, a former hawker who taught himself how to fix shoes more than a decade ago by "secretly" watching others work, said people from all walks of life come to him to refresh their footgear, from young professionals in their 20s to retirees. 

Another professional shoe fixer, who wanted to be known only by Uncle Tan, plies his trade under a nondescript walkway near Sengkang MRT station. 
He charges as little as S$6 for repairs such as hand stitching on new soles – he boasts of being among the best at stitching up shoes, with about 10 needles of different sizes dedicated to the craft.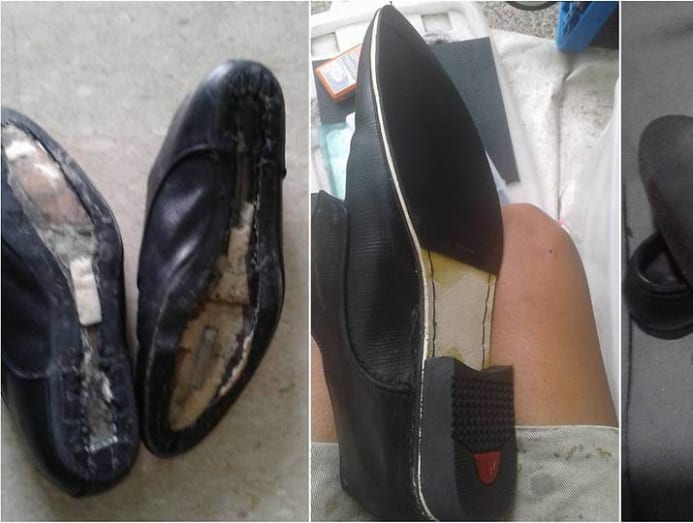 BUY SHOES MADE TO LAST

Both Mr Kay and Uncle Tan told Channel NewsAsia they run a brisk business and avoid taking unnecessary cases, such as small repairs that customers can fix themselves. The cobblers also each had tips for customers to keep their shoes in good condition so they don't have to be fixed too frequently. 
Mr Kay recommends that new pairs be waterproofed at a cobbler to extend their longevity. "Sometimes people bring them to me to be treated after water has already seeped in but I tell them it's too late, you should have brought them to me when they were new," he said, shaking his head. 
Meanwhile, Uncle Tan stressed the importance of wearing shoes regularly to keep the rubber from becoming brittle or decaying – he recently had a customer who left a S$400 pair of branded shoes unworn for two years; by the time he wanted to wear them the soles were "black and sticky" from rot and had to be replaced completely. 
His hot tip for customers who want branded shoes on a budget: Buy them at warehouse sales for cheap, then bring them to him to stitch on the soles securely for a few dollars. 
"Shoes on sale have usually been sitting around for some time, so the glue would have weakened and the soles come off easily," he said. "If you stitch them on, they will last longer."
But the quality of the original shoe is also an important factor. 
Mr Kay said he discourages people from trying to repair cheap shoes: "It will cost more than what you paid to fix them, why bother? Just throw them away!"
Quality shoes, on the other hand, can be fixed again and again for years of wear. 
Brandishing a pair of boots he was working on, he explained that as the calf skin uppers were holding up well, replacing the soles – the part most likely to be worn down through regular wear and tear – occasionally was all that was needed to keep the pair in good shape. 
For S$12, he had glued on new non-slip soles, then painstakingly cut them down to size with a sharp razor. He let me scrutinise them: No rough edges.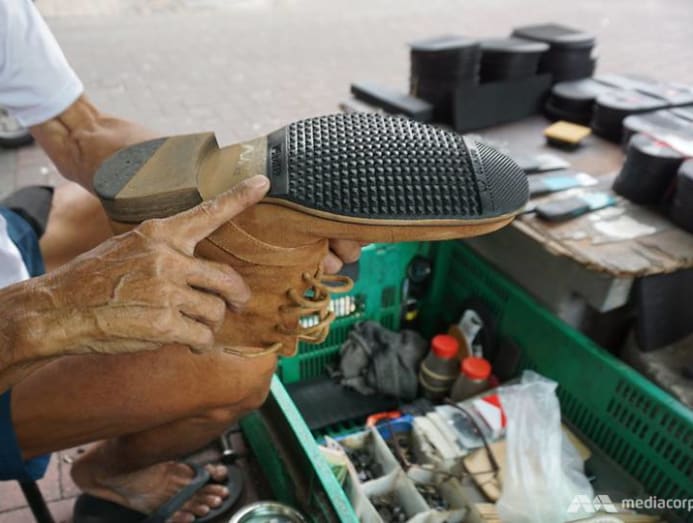 Ken Lim, the owner of the boots, said he had brought four to five pairs of shoes to Mr Kay in the past year. 
"I'm very particular about shoes, so I like to buy those that are a bit more expensive," the 57-year-old retiree said. 
"Usually the upper part, after a while, will still be very good. It would be a waste to throw them away because the sole or heel is damaged. So I will come here to fix the sole or heel, and the whole shoe is like brand new again."
Ms Teng agreed. "These days, it is easy to get a cheap pair of shoes only to discard it quickly. However, the materials used are not environmentally friendly," she said. 
For example, the shoe designer said she tries to avoid using PVC in her products as she discovered that over time, the material either becomes sticky or the coating flakes off. 
"It may seem expensive to invest in leather shoes, (but) it definitely lasts longer than most synthetic material," she said. 
But durability may be less of a factor in the buying decisions of some consumer segments than style, according to Singapore Management University Associate Professor of Marketing Hannah Chang, who noted that there has been a growing fast fashion trend particularly among younger consumers in the last few years. 
"When it comes to fashion – be it clothes or shoes – there are different consumer segments with different buying processes and demands," the consumer behaviour expert said. 
"While for many consumers style and comfort remain the top decision criteria, younger consumers may care less about how long shoes last compared to older consumers."

WEAR ECO-FRIENDLY MATERIALS

Once under fire by environmental campaigners for their manufacturing practices, including allegedly polluting rivers with hazardous chemicals from its factories, major sports shoes manufacturers such as Nike and Adidas – two of the companies dominating the footwear industry in Singapore last year according to a report by Euromonitor – have found novel ways to turn trash into treasure. 
Under its Nike Grind programme, the footwear giant recycles surplus manufacturing materials and footwear by separating and grinding up rubber, foam, fiber, leather and textile blends into granules, which are then incorporated into products including new Nike footwear and apparel as well as sports and playground surfaces.
The company estimated in its latest sustainable business report that it had diverted about 5.67 million kilograms of factory and post-consumer waste from landfills with Nike Grind and that 75 per cent of its products contained some recycled material in the financial year of 2016-2017. 

Adidas has also taken strides to improve its environmental friendliness, recently teaming up with environmental organisation Parley for the Oceans for its Parley range of shoes, made with plastic waste intercepted before it reaches the ocean. The German sportswear maker pledged earlier this month to using only recycled plastic in its products, including apparel and shoes, by 2024.
There are also brands that have built eco-friendliness into their core brand ethos. 
Indosole, for example, says on its website that it is "on a mission to become the world's most responsible footwear company".  The Bali-based footwear company re-purposes discarded tires into soles for sandals and shoes, which it says is an effort to prevent the waste tires from getting to landfills or incinerators, polluting the environment.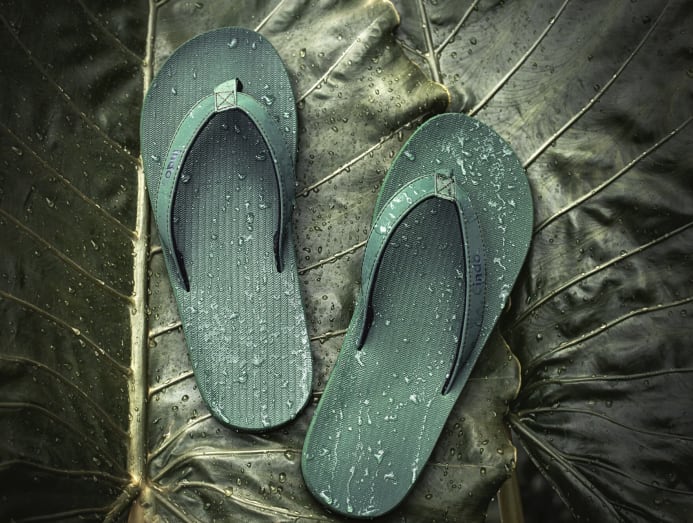 Meanwhile, Brazilian plastic shoe brand Melissa claims that its patented PVC material Melflex, which is used for all of its shoes, is 100 per cent recyclable, and Parisian sneaker brand Veja was built around environmental and social responsibility and focuses on sustainable materials such as wild rubber from the Amazon, a fabric created from recycled bottles and vegetable-tanned leather.

IF YOU DON'T WANT THEM, DONATE
If your problem with your shoes is not that they're falling apart but that you're tired of them and want a change, you could always give your pre-loved footwear a new lease of life by donating them. 
Nashville-based charity Soles4Souls collects new and used shoes and redistributes them through direct donations to people in need as well as through micro-enterprise programmes that create jobs in Haiti, Honduras and other developing nations.
Singapore lighting company Million Lighting partners the charity for shoe drives in Singapore as part of its corporate social responsibility. Soles4Soles said on its website that during their last shoe drive in April, 100,000 pairs of shoes were collected, bringing the total from the three shoe drives co-organised by the two organisations to 200,000 pairs. 
For more regular donations, you can drop off new and used shoes in good condition at The Salvation Army's collection bins at eight locations island-wide, to be sold at Salvation Army's thrift stores. Sales from the stores contribute to the charity's efforts to help the underprivileged. 
The Singapore Council of Women's Organisations also runs a thrift shop, with proceeds going towards its shelter for women and children who are victims of domestic violence and other SCWO initiatives. 

NEXT STEPS

Looking forward, Mr Swaminathan suggested that there could be policy-level interventions such as expanding requirements for producer responsibility, like those the Government intends to introduce to make manufacturers and retailers of electronic goods take responsibility for the disposal and recycling of their products. 
Manufacturers, on their part, can improve the design of shoes to use more sustainable materials and reduce the complexity of shoes so they can be made with fewer parts. One way they can do this is through industrial 3D printing, he said. 
The social entrepreneur also mooted the idea of new business models for selling sustainable footwear, such as footwear as a service. 
"Can there be a second-hand ownership or marketplace for shoes, if we can find a great way to address hygiene challenges?"