Singapore Airlines Group to cut about 4,300 positions as COVID-19 batters aviation industry
The number of employees affected, however, may be reduced to about 2,400, after factoring in measures like a hiring freeze and voluntary departure schemes.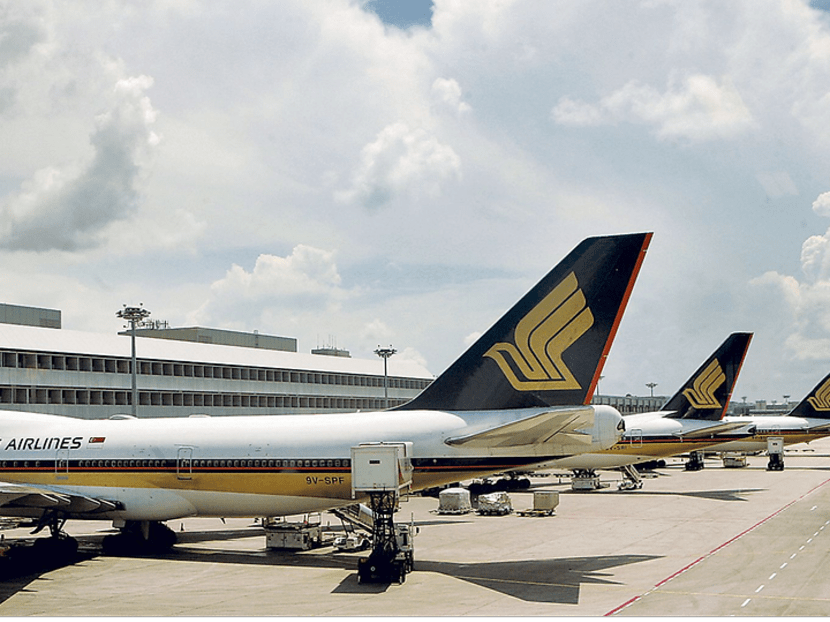 SINGAPORE: Singapore Airlines (SIA) Group announced on Thursday (Sep 10) that it will cut around 4,300 positions across its three airlines as the aviation industry continues to be hit by the impact of COVID-19. 
However, the number of employees affected may be reduced to about 2,400 -"mitigated" by measures like the recruitment freeze implemented in March, the early retirement scheme for ground staff and pilots, as well as a voluntary release scheme for cabin crew, it said.
"Collectively, these measures have allowed the Group to eliminate some 1,900 positions," said SIA.

"As a result, the potential job cuts across the Group may be reduced to around 2,400 in Singapore and across SIA's overseas stations," it added.

"Discussions have begun with our Singapore-based unions. The Group will work closely with them to finalise the arrangements as soon as possible for those affected, and try to minimise the stress and anxiety on our people."

In a media release, SIA Group said the decision was taken in light of the "long road to recovery for the global airline industry due to the debilitating impact of the COVID-19 pandemic", adding that there is an "urgent need" for its airlines to adapt to an uncertain future.
SIA had announced in March that it would reduce flight capacity by 50 per cent. 
It expects to continue operating at under 50 per cent of its capacity at the end of this financial year compared to pre-pandemic levels, noting that industry groups have forecast that passenger traffic will not return to previous levels until around 2024.
"Relative to most major airlines in the world, the SIA Group is in an even more vulnerable position as it does not have a domestic market that will be the first to see a recovery," it said on Thursday.

"In order to remain viable in this uncertain landscape, the Group's airlines will operate a smaller fleet for a reduced network compared to their pre-COVID operations in the coming years."

In his message to employees, SIA CEO Goh Choon Phong said nobody could have predicted the "devastating impact" of COVID-19 on the global aviation industry.
"From the outset, the SIA Group's priorities were to ensure our survival and save as many jobs as possible," he said, adding that the company had "significantly reduced" expenditure by deferring non-critical projects, and by working with suppliers to reduce costs, reschedule payments and adjust aircraft delivery streams. 

"Given the expectation that the road to recovery will be long and fraught with uncertainty, it has come to the point where we have to make the painfully difficult decision to implement involuntary staff reduction measures," he said.
Mr Goh added that having to let go of valuable and dedicated employees is the "hardest and most agonising decision" he has had to make in his 30 years with the company. 
"The next few weeks will be some of the toughest in the history of the SIA Group as some of our friends and colleagues leave the company," said Mr Goh in his message.
"We will conduct this process in a fair and respectful manner, and do our best to ensure that you receive all the necessary support during this very trying time," he added.  

GOVERNMENT WILL DO ALL IT CAN TO SUPPORT AFFECTED WORKERS

In a Facebook post on Thursday night, Transport Minister Ong Ye Kung said the Government will do all it can to support the workers affected by SIA's job cuts. 
"What we have dreaded all these months has happened," said Mr Ong. 
"SIA will be reducing its global workforce. Some 2,400 staff based in Singapore and overseas will be affected, the vast majority being foreigners.
Factoring in hiring freezes and early retirements, SIA will be reducing total workforce by 4,300," he said.
"We know how badly SIA is hit by COVID-19," said the minister, noting the support measures the Government has rolled out over the past few months and how the aviation sector has "received the strongest support".  
"SIA has also raised significant capital with the support of its majority shareholder. They have delayed this workforce reduction as long as they can, but with air travel decimated by COVID-19, this has unfortunately become inevitable," said Mr Ong.
"The Government will do all we can to support the affected workers," Mr Ong added. "We will work with NTUC and industry partners to replace the workers in jobs, help them transit to other industries or enrol them in suitable industry attachment and traineeship programmes.
"I am sure their skills are much needed elsewhere too. More importantly, we will continue to press on, to restore air travel in a safe manner, to get SIA planes back up in the sky and revive our air hub."
NTUC TO WORK WITH SIA GROUP ON TRAINING OPPORTUNITIES
In a media statement on Thursday, the National Trades Union Congress (NTUC) said that two unions - the Singapore Airlines Staff Union (SIASU) and Scoot Staff Union (STSU) - had worked with the management over the past six months on measures to "mitigate retrenchment as much as possible".
"Regrettably, these efforts were insufficient to avoid it completely and overcome the severity and prolonged impact of the COVID-19 pandemic," said NTUC. 

It noted that both staff unions had ensured that the retrenchment exercise was fair, taking reference from the NTUC Fair Retrenchment Framework and other tripartite advisories. 

NTUC said it will continue to work with SIA Group on training opportunities for its remaining workforce, as well as to offer assistance to those whose incomes have been affected.
"NTUC stands in solidarity with the affected workers during this trying time and stands ready to assist in any way we can," said the labour movement.

Download our app or subscribe to our Telegram channel for the latest updates on the coronavirus outbreak: https://cna.asia/telegram