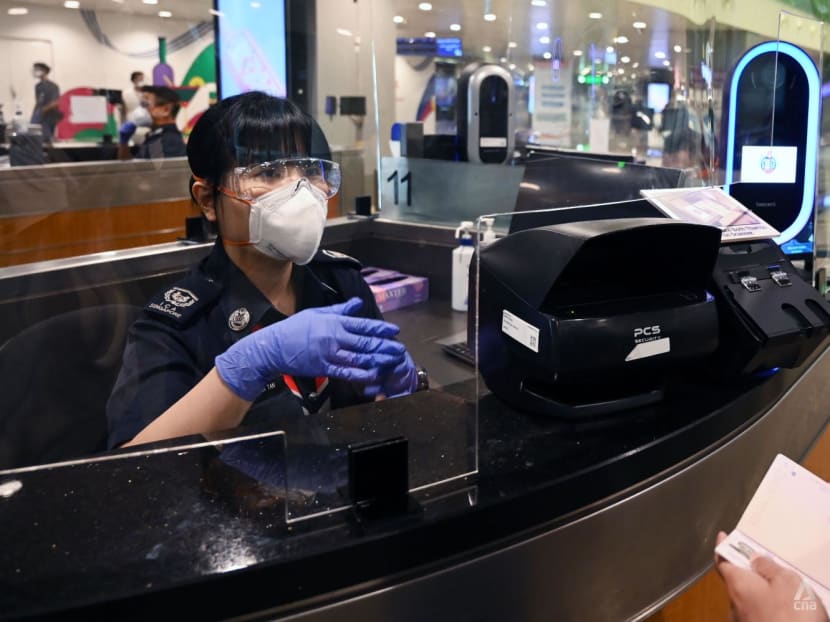 SINGAPORE: Sat behind her counter at Changi Airport Terminal 3, Immigration and Checkpoints Authority (ICA) Checkpoint Inspector 1 (CI1) Gina Tan is not just on the lookout for security threats.
She also now helps to guard against an invisible enemy, a virus with no respect for borders.
And as Singapore adapts to the constantly changing nature of the global pandemic, ICA officers like CI1 Tan have had to deal with changes aplenty.
"Then, the clearance was more straightforward. You just have to assess the traveller and establish their intent of coming into Singapore, and whether they are genuine travellers (who are) really coming to Singapore on travel or work," said CI1 Tan, who has worked in the role for six years.
"Now due to COVID … more document checks are required now as compared to the past."
But one thing has not changed. She still needs to deal with annoyed passengers from time to time.
She recalls encountering a foreign air crew member who was unhappy when asked for documents at customs.
While the man eventually produced the document, he was not pleased with the delay, said CI1 Tan.
"He was out there making noise. But I told him that, if you produce this document earlier to the officer at a counter, you wouldn't be delayed. So he was scolding and saying this was a waste of time, why do you need to check?" she recalled.
On other occasions, CI1 Tan has had to deal with Singaporeans who did not understand why they had to submit a health declaration before entering the country. 
"So they actually say: 'Hey, why do I have to submit? You know when I was in Europe, it was much easier. I didn't even need to wear (a) mask, now I come back to Singapore, I am a Singaporean and I have to do this, this is nonsense," she recalled.
"I just have to tell them this is what everyone has to do. Even foreign visitors or residents have to do this and for the safety of everyone in Singapore."
When dealing with such individuals, it is important to keep one's cool, CI1 Tan said.
"If you meet more of such people, you just find no point being angry with them. They also get angrier then things get worse. No point, just let them be," she explained.
REQUIREMENTS FOR ENTERING SINGAPORE
When arriving at Changi Airport, travellers will disembark at specific terminals based on the category of the country they departed from. They will then proceed to designated arrival halls where officers such as CI1 Tan will assist with immigration clearance.
Prior to arrival, travellers need to submit their health declaration online. The submission of this declaration is one of the entry requirements for Singapore.
Travellers are encouraged to submit this before they arrive and can do so up to three days beforehand.
Foreign visitors will also need to submit arrival information and details of their trip via the SG Arrival Card, an e-service available online.
"In the event that they do not submit and arrive in Singapore, it actually takes (additional) time (to do so)," explained CI1 Tan. 
At the immigration counter, travellers have to produce the travel documents, such as their passport, and any relevant documents that are required for entry.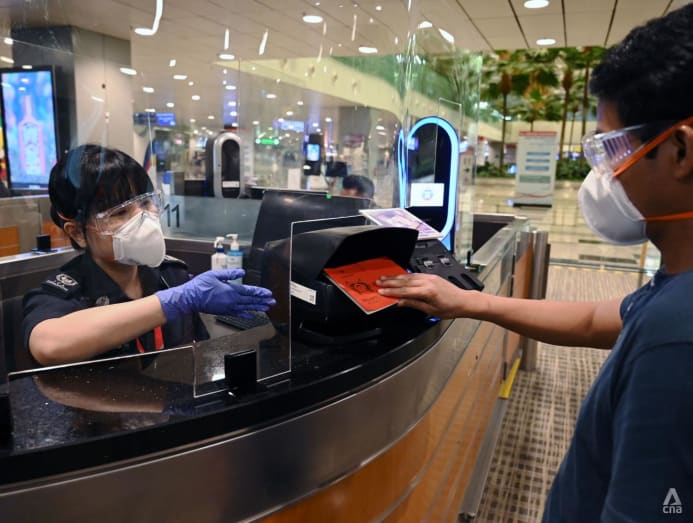 "For those who are travelling on the vaccinated traveling lanes (VTLs) … the more important documents will be their vaccination certificate, because we have to check to make sure that they are fully vaccinated," said CI1 Tan.
When checking vaccination certificates, officers must ensure that the travellers are fully vaccinated with WHO Emergency Use Listing (EUL) COVID-19 vaccines, have received two doses of the vaccine and got the second dose at least 14 days before arriving in Singapore. 
"ICA verifies the authenticity of foreign digital vaccination certificates against the databases of trusted digital certificate issuers. These include certificates issued using the Smart Health Card or EU Digital COVID Certificate standards," said an ICA spokesperson in response to CNA's queries.
"ICA is working towards recognising additional types of trusted digital certificates as we gradually reopen our borders to more vaccinated travellers."
After clearing this step, visitors are issued stickers. The stickers come in various colours which allow ICA's airport partners to identify these travellers and to ensure they follow the different post-clearance measures. 
It is vital that the correct stickers are given out to the correct individuals.
"Imagine they're supposed to go to the dedicated facility but we give them the wrong sticker and they go back home, it also poses a threat to the community," said CI1 Tan.
ICA officers also need to keep abreast of the constantly changing classification of countries and travellers. And so, prior to going on duty, they are updated at pre-shift briefings.
"It's not easy because it keeps changing," said CI1 Tan. "In the past it was very straightforward …  But now you have to remember: 'Ok this country falls under which category and make sure proper clearance is given and the correct sticker is given."
And with the pandemic continuing to rage on, the job of an ICA officer is not without risks. Just last year, a large COVID-19 cluster was linked to the airport.
Measures have been put in place to keep officers safe. They cannot be cross-deployed during shifts to other immigration halls and they are also instructed not to intermingle. Meals are to be taken at designated areas, with food catered for officers. 
When on duty. CI1 Tan is required to wear an N95 mask, goggles or a face shield, and gloves.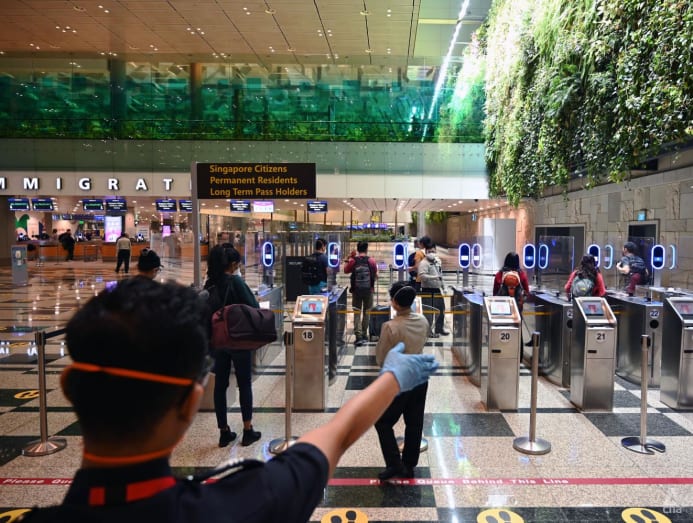 On her end, she also makes sure she takes added precautions as she has a 3-year-old daughter at home.
"Whenever I get home, I will make sure I sanitise everything (such as) my phone, my bag and make sure my daughter does not come near me when I get back home," she said.
"For my daughter, she's closer to me. So of course when she sees me, she will call out 'my mama' but I have to tell her no. Then my mum will come and carry her away ... For kids at that age it is very difficult."
A NEW CHALLENGE
While the volume of travellers entering Singapore has drastically decreased compared to pre-pandemic times, the opening of VTLs means that ICA officers such as CI1 Tan will soon be dealing with higher traffic.
And ICA has rolled out a series of measures to speed up the process for travellers and bolster the safety of officers as more arrive.
Among other measures, automated lanes at Changi Airport were reopened late last month. 
These lanes are for selected Singaporeans, permanent residents and long-term pass holders who arrive on VTLs. It will extend the use of the lanes to the rest of Singapore residents, permanent residents and long-term pass holders from Nov 15.
Checkpoint counters have also been re-designed. Instead of handing over passports to officers, visitors will scan their passport biodata page on the passport scanning machines at these counters.
Manual counters have already been retrofitted at Changi Airport Terminal 4 to enable the self scanning of passports. The re-design and retrofitting of these counters will be progressively introduced at all counters at Changi Airport from this month.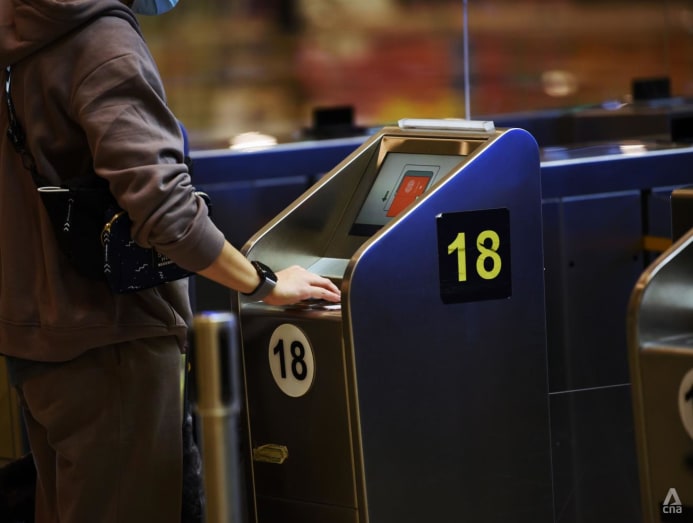 "With the reopening of our borders, I would expect an increase in the traveller load ... These actually pose a new challenge for us as more complex measures and checks are in place," said CI1 Tan. 
"So officers at the counter will have to be more vigilant and careful when processing clearance."
And this could mean long queues and impatient travellers, she added.
"Of course, in times like these, we'll expect long queues, we are bound to meet travellers who are difficult and not understanding.
"Why is it so difficult? Why are you taking so long? … But this should not hinder our security checks to safeguard our borders."
But there are also those who recognise the tough tasks ICA officers face, said CI1 Tan.
"Recently I just encountered this traveller ...He was saying that this is a very tedious job, you guys … actually have a lot of things to check, how do you manage to keep track of all the things that you need to check?" she recalled.
"At that point of time, I felt appreciative that someone actually understands what we are going through, (and) appreciates what we are doing for them.'
Looking ahead, CI1 Tan feels confident.
"We cannot let go of any positive case that (will be) detrimental to the safety and security in our community," she said. "I have faith in all ICA officers that we are able to go through this challenge together."