69 new locally transmitted COVID-19 cases in Singapore; new cluster at an NKF dialysis centre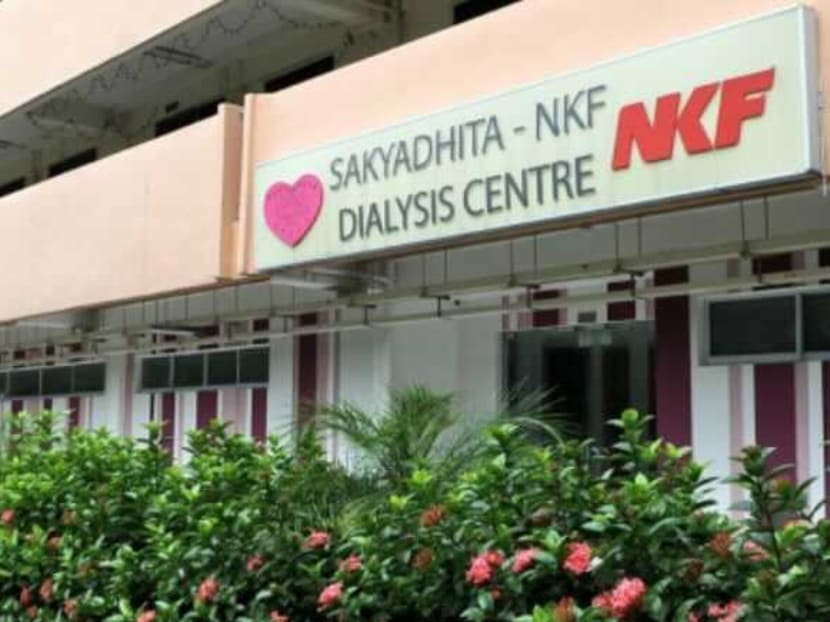 SINGAPORE: Singapore reported 69 new locally transmitted COVID-19 infections on Monday (Aug 9) and a new cluster at the National Kidney Foundation (NKF) Dialysis Centre Sakyadhita, which is located at Block 19 Upper Boon Keng Road.
Of the new local infections, 20 have no links to previous cases. 
Thirty-nine infections that were linked to previous cases were already in quarantine, and the remaining 10 were detected through surveillance testing, said the Ministry of Health (MOH). 
Among the new COVID-19 cases are two seniors above 70 years old who were unvaccinated or partially vaccinated, and at risk of serious illness, said the ministry.
There were also three new imported cases, who had been placed on stay-home notice or isolated upon arrival. One was detected upon arrival in Singapore while two cases developed the illness during their stay-home notice or isolation.
In total, Singapore reported 72 new COVID-19 cases on Monday.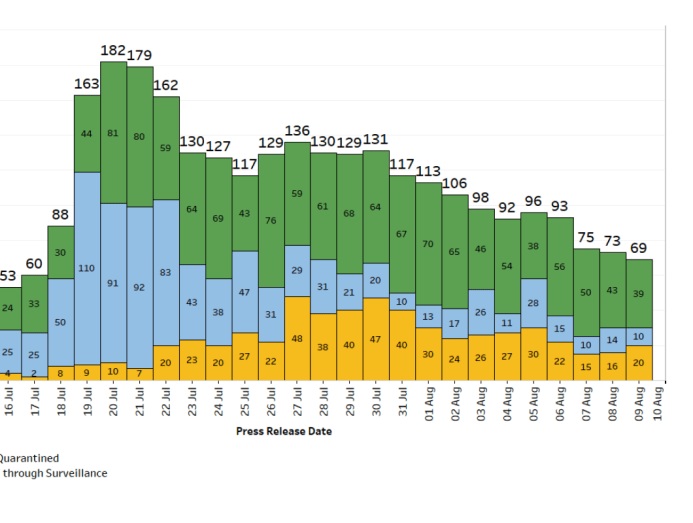 The NKF dialysis centre cluster is the only new COVID-19 cluster reported on Monday, with a total of three cases linked to it.
Another two cases were added to the Jurong Fishery Port/Hong Lim Market and Food Centre cluster, bringing it to 1,148 cases in total. It remains Singapore's largest active cluster.
As of Monday, there are 131 active clusters in Singapore.
10 CASES IN CRITICAL CONDITION
A total of 527 cases are still in hospital. Most were well and under observation, said MOH. 
There are 35 cases of serious illness requiring oxygen supplementation and 10 in critical condition in the intensive care unit (ICU). 
Seven of these 45 cases are fully vaccinated. Of these, five required oxygen supplementation while two required ICU care as they had underlying medical conditions. 
Thirty-four people above 60 years old, of whom 28 are completely unvaccinated or partially vaccinated, have fallen very ill, said MOH.
70% OF SINGAPORE'S POPULATION FULLY VACCINATED
As of Sunday, 70 per cent of Singapore's population has completed the full vaccination regimen, having received two doses of the COVID-19 vaccines under the national vaccination programme. 
About 79 per cent of the population has received at least one dose.
"Full regimen refers to individuals who have received both doses of the vaccine or one dose for vaccinated recovered individuals," said MOH. 
In addition, 131,497 doses of the Sinovac vaccine have been administered as of Sunday, covering 81,709 individuals.
"There is continuing evidence that vaccination helps to prevent serious disease when one gets infected," said the Health Ministry. 
Over the last 28 days, 99 local cases required oxygen supplementation, were admitted to ICU, or died. Sixty were unvaccinated, 28 were partially vaccinated and 11 were fully vaccinated.
UPDATE ON MASS TESTING
In a separate update on mass COVID-19 testing at several Housing Board blocks across Singapore, MOH said several cases were uncovered as a result of swabbing operations.
One person at 237 Bukit Batok East Avenue 5 tested positive, while three tested positive at 51 Chin Swee Road. 
As for residents at 556 Ang Mo Kio Avenue 10, two tested positive.
All residents at 683 Tessensohn Road had negative results in the mass testing exercise.
TRENDS FOR LOCAL CASES
Overall, the number of new cases in the community has decreased from 835 cases in the week before to 526 cases in the past week. 
The number of unlinked cases in the community has also decreased from 261 cases in the week before to 149 cases in the past week.
As of Monday, Singapore has reported a total of 65,836 COVID-19 cases and 42 fatalities from the disease.