Singapore to expand COVID-19 vaccine booster programme to cover those aged between 50 and 59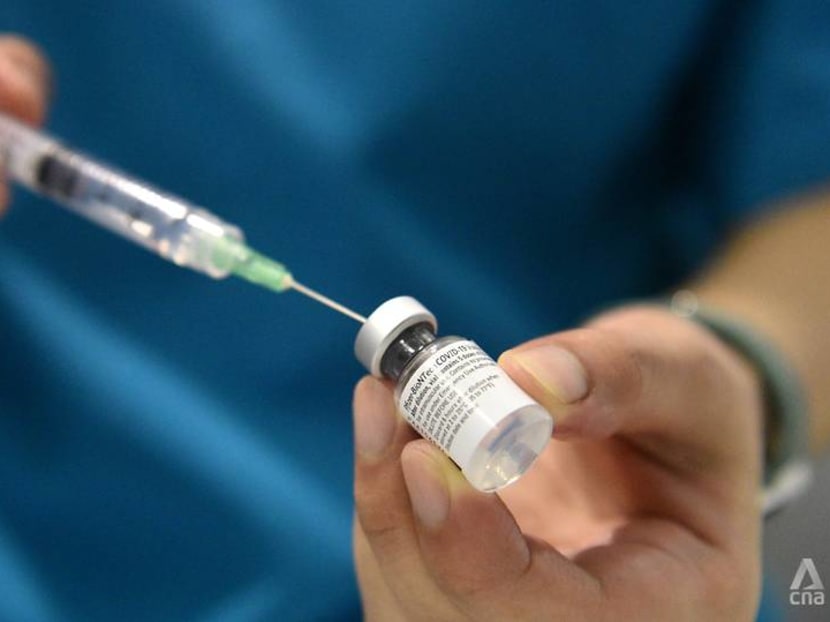 SINGAPORE: Those aged between 50 and 59 who completed both doses of the COVID-19 vaccine at least six months ago will be offered an mRNA booster shot from Oct 4, the Ministry of Health (MOH) announced on Friday (Sep 24).
Currently, Singapore only offers COVID-19 vaccine booster shots to those aged 60 and above, as well as those who are moderately to severely immunocompromised, and residents of aged care facilities.
The decision to include those aged between 50 and 59 comes after recommendations from the Expert Committee on COVID-19 Vaccination.
This group of adults have a higher risk of underlying co-morbidities and hence a risk of severe illness as compared to younger persons, said MOH.
"As many would have completed the full regimen of their primary course of vaccination earlier in the year, their levels of protection could have decreased over time," the ministry said.
"Boosting the immunity of members of our population will ensure continued high levels of protection against severe disease," it added.
Those eligible for the vaccine booster shots will receive an SMS with a personalised booking link.
They will be able to book their appointment at any vaccination centre, polyclinic, or participating Public Health Preparedness Clinic (PHPC).
To date, 56 per cent of seniors who have been invited for their booster shots have either booked an appointment or already received their booster dose. As of Thursday, almost 91,500 seniors have received their booster dose.
LOWER MODERNA VACCINE DOSAGE FOR BOOSTER SHOTS
Following recommendations from the expert committee, MOH said that vaccination sites carrying the Moderna vaccine will from Saturday begin administering the vaccine at a dosage of 50mcg for booster doses.
This is half of the 100mcg dose used in the primary vaccination course, said MOH.
MOH said the expert committee had recommended a lower dosage, given evidence that a 50mcg dosage is "sufficient to boost immune response significantly".
It added, however, that there were "no safety concerns" for those who have already received 100mcg of the Moderna vaccine for their booster dose.
The 100mcg dose of the Moderna vaccine will continue to be used for the two-dose primary series vaccination regimen, and three-dose enhanced primary series for immunocompromised persons, said MOH.
As for the Pfizer-BioNTech/Comirnaty vaccine, MOH said there is no change in dosage for both the primary series and the booster dose.