Planning a trip? What you need to know about Singapore's latest border measures and new VTLs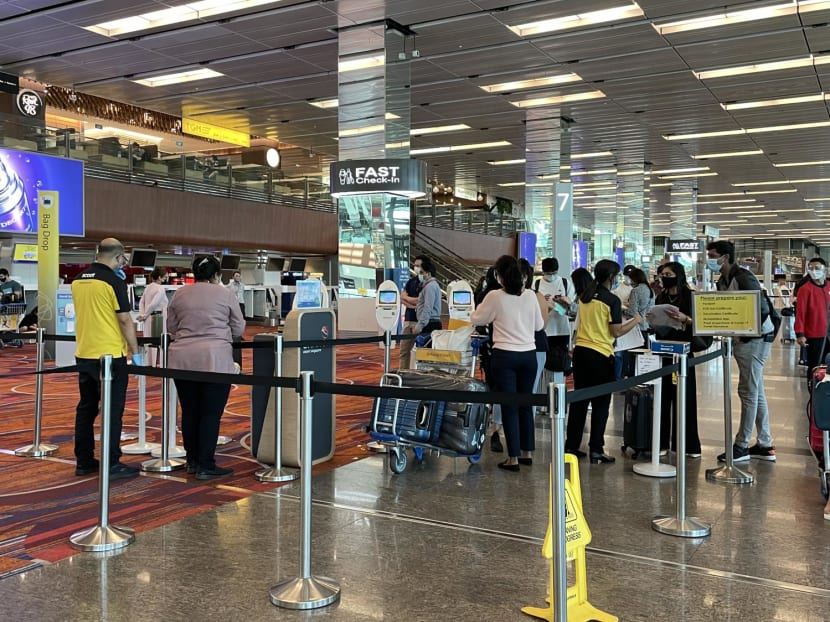 SINGAPORE: Border measures in Singapore will be simplified to facilitate the arrival of travellers who are less likely to become severely ill with COVID-19 and burden the country's healthcare system while they are here. 
"As Singapore's incidence rate is now comparable with most overseas destinations, imported cases are unlikely to affect the trajectory of local cases," said the Ministry of Health (MOH) on Wednesday (Feb 16). 
Singapore also announced the launch of new vaccinated travel lanes (VTLs) with Hong Kong and other regions on Wednesday. VTL quotas are also set to be restored and progressively increased. 
Here's what you need to know:  
HONG KONG VTL
As a Category I region, travellers from Hong Kong, including those who are unvaccinated, have been able to enter Singapore under a unilateral opening arrangement.
This arrangement will cease at 11.59pm on Feb 24 following MOH's review of the COVID-19 situation there. 
A new one-way VTL will replace it, meaning travellers from Hong Kong will now have to be fully vaccinated to be able to enter Singapore quarantine-free.
Air travel pass (ATP) applications for travel from Hong Kong will close at 11.59pm on Feb 17. 
Travellers with travel history to Hong Kong and who have valid ATPs can enter Singapore until 11.59pm on Feb 24. All ATPs for entry into Singapore from Hong Kong after this time will be rescinded.
Travellers with travel history to Hong Kong will be able to apply for a vaccinated travel pass (VTP) to enter Singapore from 10am on Feb 22 for entry on or after Feb 25.
FIVE MORE VTL COUNTRIES, MORE LINKS TO THAILAND
Previously announced VTLs with Qatar, Saudi Arabia and the United Arab Emirates, which were deferred amid the emergence of the Omicron variant, will be opened from Feb 25.
Travellers from these countries can apply for VTPs from 10am on Feb 22.
New VTLs with Israel and the Philippines were also announced on Wednesday, with two-way quarantine-free travel between Singapore and these countries to be established on Mar 4.
VTP applications for Israel and the Philippines open at 10am on Mar 1.
The VTL for Thailand will also be extended beyond Bangkok to include flights from all cities in Thailand, said the Civil Aviation Authority of Singapore (CAAS).
"Airlines that plan to operate from more cities from Thailand under the VTL may submit their plans for designated flights to CAAS for approval," the authority said.
MALAYSIA LAND VTL QUOTAS TO BE REINSTATED
In an effort to slow the spread of the Omicron variant, Singapore cut the quota for its land VTL with Malaysia by 50 per cent in December.
This quota will be fully reinstated from Feb 22, the Ministry for Trade and Industry (MTI) said. Sales for additional bus tickets from Feb 22 have commenced.
"As the imported cases are now unlikely to affect the trajectory of local cases, the Ministry of Trade and Industry will be restoring the VTL (Land) quota and streamlining the border measures for VTL (Land)," MTI said.
The streamlined measures are the same as those that apply to air VTLs.
SEA VTL WITH BATAM, BINTAN 
Two-way quarantine-free travel between Singapore and the islands of Batam and Bintan will be possible from Feb 25 when Singapore launches sea VTLs.
Indonesia currently allows travellers from Singapore to travel under its travel bubble to Nongsapura International Ferry Terminal in Batam and Bandar Bintan Telani Ferry Terminal in Bintan, without the need for quarantine.
Under the sea VTL, the usual rules apply - travellers to Singapore must be fully vaccinated and they must have a physical or digital proof of vaccination recognised by Singapore authorities.
Two COVID-19 tests will be required. The first, before departing Batam or Bintan, and the second, upon arrival in Singapore.
FEWER CATEGORIES 
Existing Categories II, III and IV will be combined into a single General Travel category. Fully vaccinated travellers arriving via VTL arrangements can continue to enjoy quarantine-free border measures. 
Travellers from Category I countries or regions, such as Macau, Taiwan and China, can continue to enter Singapore without going through quarantine. Hong Kong, which is currently a Category I, will be reclassified to the General Travel category from Feb 25.
There will also be a new Restricted category for countries or regions with developing COVID-19 situations that may call for stricter border measures to be imposed on arrivals. There are no countries or regions in this category now, said MOH. 
In view of the shorter incubation period of the Omicron variant, the duration for stay-home notices will also be standardised to seven days across all country or region categories. 
This will take effect for travellers arriving in Singapore from 11.59pm on Feb 21.
SIMPLER REQUIREMENTS FOR VTL TRAVELLERS
From 11.59pm on Feb 21, the enhanced seven-day testing regime for VTL travellers arriving in Singapore will be discontinued.
In addition, Category I and VTL travellers will no longer need to perform on-arrival polymerase chain reaction (PCR) tests at Changi Airport.
Instead, they will have up to 24 hours from their entry to take a supervised self-swab antigen rapid test (ART) at one of the testing centres located across Singapore. 
Except for going for the swab test, travellers are required to isolate at their place of accommodation until they have tested negative. They should also take private transport when travelling to and from the test centres. 
The travel history requirement will be reduced from 14 days to seven days for VTL travellers. 
They must have remained only in one or more of the VTL countries or regions, or a Category I country or region, in the last seven consecutive days prior to their departure to Singapore. 
Vaccinated long-term pass holders will also no longer have to obtain a VTP or an entry approval to enter Singapore.
From 11.59pm on Feb 21, only short-term visitors and work permit holders eligible to travel via VTLs will have to apply for a VTP to travel to Singapore on a VTL flight.