Welcome to Singapore: Up to 6 million visitors expected this year as recovery gains momentum
Singapore received 1.5 million visitors in the first half of 2022, an increase of nearly 12 times compared to the same period last year.
SINGAPORE: Visitor arrivals to Singapore are expected to increase to between 4 million and 6 million this year as global travel picks up pace, said the Singapore Tourism Board (STB) on Thursday (Jul 14).
The projection comes amid the easing of COVID-19 related border restrictions globally, and pent-up demand for travel.
Latest figures showed that Singapore logged 1.5 million visitor arrivals in the first half of the year, nearly 12 times more compared to the same period in 2021.
Indonesia, which accounted for 282,000 arrivals, was the top source of visitors, followed by India (219,000), Malaysia (139,000), Australia (125,000) and Philippines (81,000).
Together, they accounted for 56 per cent of Singapore's visitor arrivals between January and June 2022.
STB also said that the average length of stay for visitors more than doubled in the first half of 2022 – at about 7.1 days compared to 3.4 days in 2019.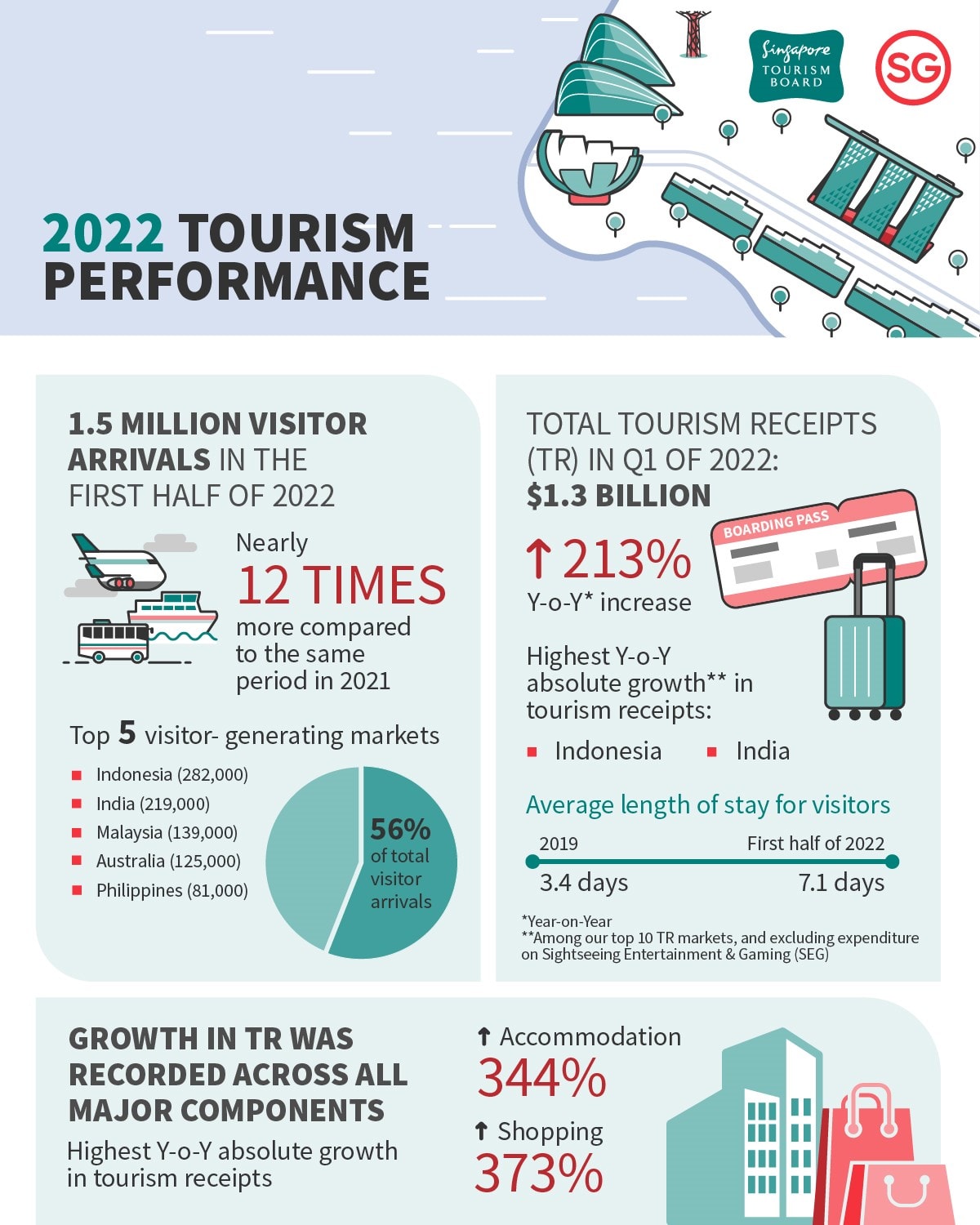 "STRONG PENT-UP DEMAND"
Singapore's tourism industry has been battered by the COVID-19 pandemic.
With borders around the world closing and authorities putting up travel restrictions to curb the spread of COVID-19, Singapore's visitor arrivals plummeted more than 80 per cent year-on-year to 2.7 million in 2020, and plunged further to 330,000 visitor arrivals in 2021. 
In 2019, Singapore hosted a record 19.1 million visitors, and tourism receipts amounted to S$27.7 billion.
The tourism board said that it continues to expect that tourism flows will recover to pre-COVID levels by the mid-2020s.
"The encouraging growth in visitor arrivals and tourism receipts signals strong pent-up demand, and underscore Singapore's continued appeal as a vibrant and attractive destination for leisure and business travellers," said STB chief executive Keith Tan.
"While the pandemic is certainly not over yet, we are confident that Singapore's very rich calendar of events, as well as new and refreshed tourism offerings, will continue to attract visitors for the rest of 2022 and beyond."
Singapore's roster of events includes the Formula 1 Singapore Airlines Singapore Grand Prix 2022, Tour de France Singapore Criterium and Sail Grand Prix. 
Tourism receipts reached an estimated S$1.3 billion in the first quarter of 2022, a 213 per cent year-on-year increase over the same period last year. Visitors from Indonesia were the top spenders, followed by India and China.
Looking ahead, STB said that the tourism sector may face some headwinds for the rest of the year because of the volatile global political and economic environment, as well as the evolving health situation.
"STB will continue to develop the tourism sector with new offerings and refreshed concepts to strengthen Singapore's appeal as an attractive destination."