Singapore urges Myanmar to cooperate with ASEAN, 'gravely concerned' with situation in country: PM Lee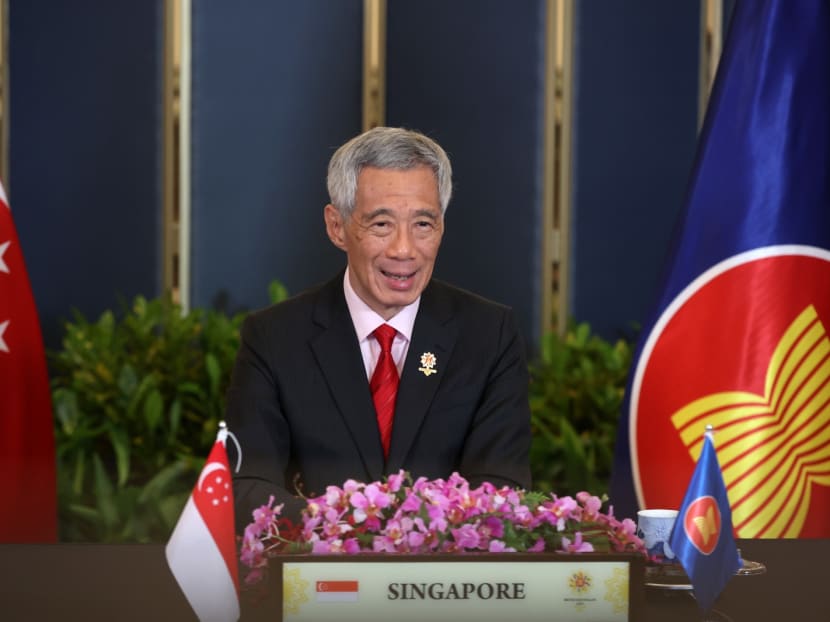 SINGAPORE: Prime Minister Lee Hsien Loong on Tuesday (Oct 26) urged Myanmar's military authorities to cooperate fully with the Association of Southeast Asian Nations (ASEAN)'s envoy as the ongoing turmoil in the country continues.
Speaking at the 9th ASEAN-US summit which was held virtually, Mr Lee noted that Singapore remains "gravely concerned" about the situation in Myanmar, including the ongoing violence. 
"We are disappointed by the lack of tangible progress in the implementation of ASEAN's five-point consensus," he added.
According to a statement from the current chair of ASEAN - Brunei - in April this year, leaders from the bloc of countries had reached a consensus on five points - ending violence, constructive dialogue among all parties, the appointment of a special ASEAN envoy to facilitate dialogue, the provision of humanitarian assistance and a visit by the envoy to Myanmar.
Among the points of consensus, ASEAN leaders called for an "immediate cessation of violence" in Myanmar, adding that all parties shall exercise "utmost restraint".
However the junta ruled out allowing an envoy to meet deposed leader Aung San Suu Kyi, who is on trial for multiple charges since her elected government was overthrown in a Feb 1 coup.
Earlier this month, ASEAN said it would invite a non-political representative from Myanmar, rather than the leader of the country's military junta to this week's summit.
In a statement, Brunei said a non-political figure from Myanmar would be invited to the Oct 26 to 28 summit, after no consensus was reached for a political representative to attend.
The junta later accused ASEAN of departing from its principles on consensus and non-interference. It refused to agree to send a politically neutral Myanmar representative.
While ASEAN is providing humanitarian assistance through the ASEAN Coordinating Centre for Humanitarian Assistance on disaster management, Mr Lee also thanked the US for announcing an additional US$180 million in humanitarian assistance for those affected by the Rakhine State and Rohingya refugee crisis.
Along with leaders from the ASEAN bloc, US president Joe Biden was also in attendance at the meeting.
Earlier in the day, Mr Lee had also touched on issues pertaining to Myanmar at the 39th ASEAN Summit.
When it comes to Myanmar, Singapore strongly supports ASEAN's efforts to assist Myanmar in a positive, peaceful and constructive manner, said Mr Lee.
He noted that progress to implement the consensus has been "slow".
"This has real consequences for the people of Myanmar and ASEAN's credibility as a rules-based organisation. We thus strongly urge the Myanmar military authorities to cooperate with the special envoy fully and expeditiously," he said.