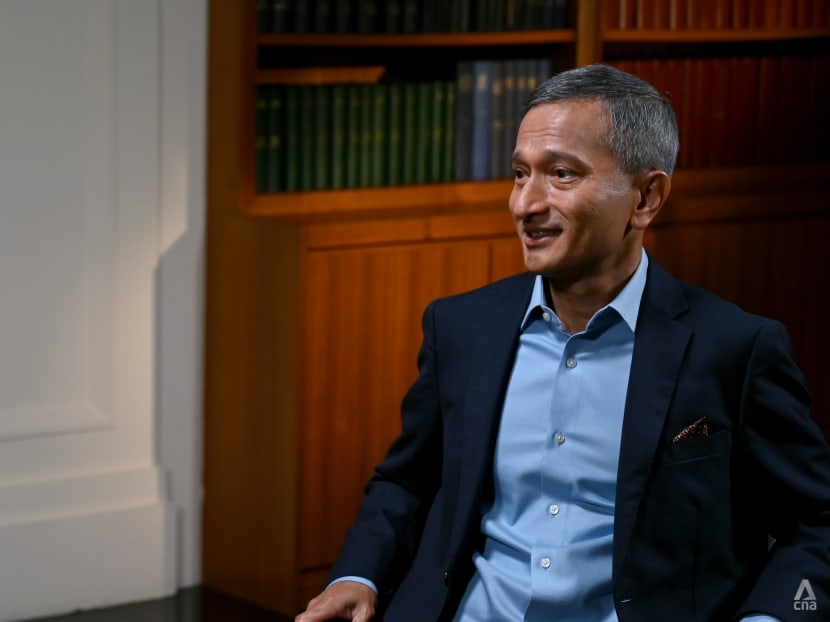 SINGAPORE: The relationship between Singapore and the United States has always been "on track", said Singapore Foreign Affairs Minister Vivian Balakrishnan ahead of US Vice President Kamala Harris' visit to Southeast Asia.
"I think it's worth emphasising the point that through successive administrations, both Democrats and Republicans, we've actually had excellent relations with them," said Dr Balakrishnan in an interview airing on CNA on Sunday (Aug 22).
He said that there has been a "steady tempo of meetings and interactions" through the administrations of presidents Barack Obama and Donald Trump, including state visits and the Trump-Kim Summit in 2018, but the COVID-19 pandemic disrupted such interactions.
"To be honest with you, diplomacy does need face-to-face interactions. You need to look into people's eyes. You need to have some time, sometimes just to relax and have a one-on-one conversation," he said. 
"The visit by Vice President Kamala Harris is a very welcome, important visit."
Ms Harris, the US' first female vice-president, is visiting Singapore from Sunday to Tuesday before leaving for Vietnam. This is her first visit to Asia.
Dr Balakrishnan said that the diplomacy practised by the Joe Biden administration is "more conventional".
"They try to engage multilaterally. They engage quite systematically with allies, their partners and other stakeholders," he said. 
"I think it's quite in keeping with that tone and that pace for her to reach out to Southeast Asia and in particular Singapore, a city-state right in the heart of Southeast Asia; Vietnam – another emerging mid-sized major country in Southeast Asia. I'm sure she'll be covering other parts of the world in due time."
Dr Balakrishnan emphasised that on Singapore's part, its engagement with the US in terms of policy implementation, its economic account, on defence and its diplomatic engagement diary has been "very good" and "consistent".
"America remains the largest foreign investor in Singapore," he said, adding that the US has more invested in Singapore than in India, China and Korea combined.
"Many people are often surprised at that, and there are more than 5,000 American companies here ... they have been a conduit for technology, for networks, for trade, for access." 
Singapore has also had a free trade agreement with the US since 2004, and has strong defence ties with the country - the US Navy has become the largest foreign user of Changi Naval Base, and Singapore troops train regularly in America.
"The result of that is that there (are) very close institutional and personal links between our leaders, and including our military leadership and theirs. And, I would say, a very large reservoir of trust and goodwill," said Dr Balakrishnan.
When asked about the US' return to multilateralism, Dr Balakrishnan said that former president Donald Trump was an "unconventional" president who represented the concerns of a significant segment of domestic political opinion in a polarised America.
"We understand that polarisation makes it difficult for the United States to present sometimes a consistent narrative through different administrations. But I think we just have to learn to adapt and this is par for the course."
He added: "We do believe that America has been a constructive, significant presence and a significant pillar of the formula for peace and prosperity in Southeast Asia."