Tackling that itch: Demand for help with skin issues on the rise in Singapore
More awareness is part of the reason behind the increase, according to dermatologists.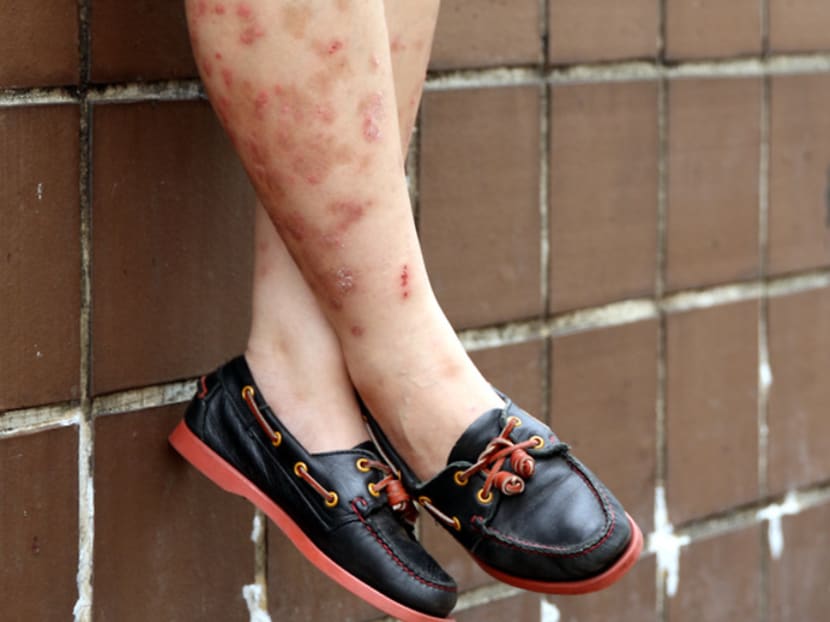 SINGAPORE: It all started 16 years ago when Madam Sally Lim, 43, moved into her newly renovated home in Choa Chu Kang.
A week later, red itchy rashes started popping up on her arms and neck. Her condition got worse over the months with the skin on her body and face flaking. A smelly fluid also oozed from her armpit and neck which were scratched raw because of the itch.
Doctors she consulted diagnosed her with eczema, apparently triggered by the fresh coat of paint in her newly renovated flat. She received steroid injections for her condition.
"They worked wonderfully. My skin was even better than normal. But it only lasted a short while," she told Channel NewsAsia. 
Over the years, Mdm Lim tried many other treatments in the hopes of managing her eczema better. However, she still suffers from outbreaks about three times a year which can last for months each time, and she has to take oral steroids to keep them in check.
​​​INCREASED AWARENESS, CHANGES IN LIFESTYLE
Mdm Lim, a patient at the National Skin Centre (NSC), is one of many in Singapore suffering from skin conditions. Whether it is for eczema, acne or pigmentation disorders, the demand for dermatology services is rising.  In 2016, NSC had 304,000 outpatient clinic attendances, up from 263,000 in 2008.
In order to meet the rising demand, a new building - scheduled to open in 2022 - will be added at the NSC in Novena which will boost capacity by 50 per cent, NSC said during the building's groundbreaking ceremony in April this year.
Dr Lynn Chiam, a dermatologist at Mount Elizabeth Novena Hospital, attributed the increase in demand to a combination of factors. This includes a greater awareness of skin problems and treatments available. In addition, the use of many different skin products at the same time can create problems.
Travelling overseas frequently exposes an individual to different climates and conditions which can also trigger skin problems, Dr Chiam said.

Senior consultant at NSC Associate Professor Chua Sze Hon echoed similar views. He said the greater awareness of skin diseases has led to more people consulting dermatologists.
"Patients now seek more effective management to relieve the burden of skin diseases in their lives rather than to suffer in silence," he said.
Assoc Prof Chua said that the impact on sufferers can be "very significant".
"For example, severe eczema and psoriasis often result in reduced self-esteem, sleep disturbance, loss of concentration at school or work, social withdrawal, depression, increased leave from school or work," he said, adding that caregivers may be faced with fatigue looking after the needs of sufferers as well.
Dr Chiam said that research has shown that skin diseases can impact a person's quality of life more significantly than other medical conditions, as it is visible to other people.
Mdm Lim admits it has not been easy dealing with her eczema. She has been approached by strangers asking about her skin condition and whether it is contagious. She has also received unkind comments from family members, which she said "hurt the most".
"They would ask me: 'Why are you so dirty? You must have been eating anyhow,' and commented that my face is disgusting because of the red and black patches I had," Mdm Lim said.
ECZEMA MOST COMMON SKIN CONDITION IN SINGAPORE
For the past three years, eczema has been the most common skin disease treated at the NSC.
There were 18,405 new cases last year. The next most common condition – benign skin tumours – saw 6,846 new cases, according to figures from the centre.
In fact, the incidence of eczema in Singapore is one of the highest in the world, said Dr Chiam.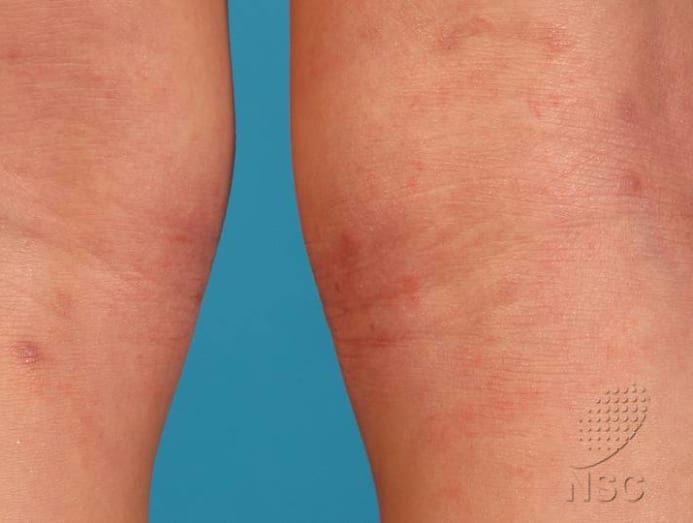 This could be attributed to Singapore's hot and humid weather, leading to excessive perspiration which can affect the skin's barrier function, she said. Over-washing with soaps can also be detrimental to the skin barrier, she said, adding that with an impaired skin barrier, eczema can result. House dust mites that thrive in hot humid weather are also common triggers of eczema, she added.
MISCONCEPTIONS EXIST DESPITE AWARENESS
While there is increasing awareness of skin diseases, Assoc Prof Chua stressed the importance of continuous public education as there are still misconceptions.
He recalled the case of a 14-year-old boy whose parents were convinced that his rashes were due to a food allergy after they "researched" on the Internet.
They imposed food restrictions on him, but it did not help his skin condition. As his condition worsened, the teenager became socially withdrawn.
He was diagnosed with eczema when he was eventually brought to NSC for a consultation. His condition improved with treatment.
Mdm Lim agreed that public education is important. She herself has borne the brunt of such misconception.
"Many people had the misconception that the condition is contagious, can be easily managed and can be cured permanently," she said.
Some also think that seafood is the main cause of her condition which is also not true, Mdm Lim said. In fact, food is not a common trigger for eczema, Dr Chiam said. She added that the most common allergen in Singapore is dust mites. The condition is also not contagious. 
Mdm Lim said she manages her condition with the understanding and support of her husband.
"Getting support from loved ones is very important," she said.