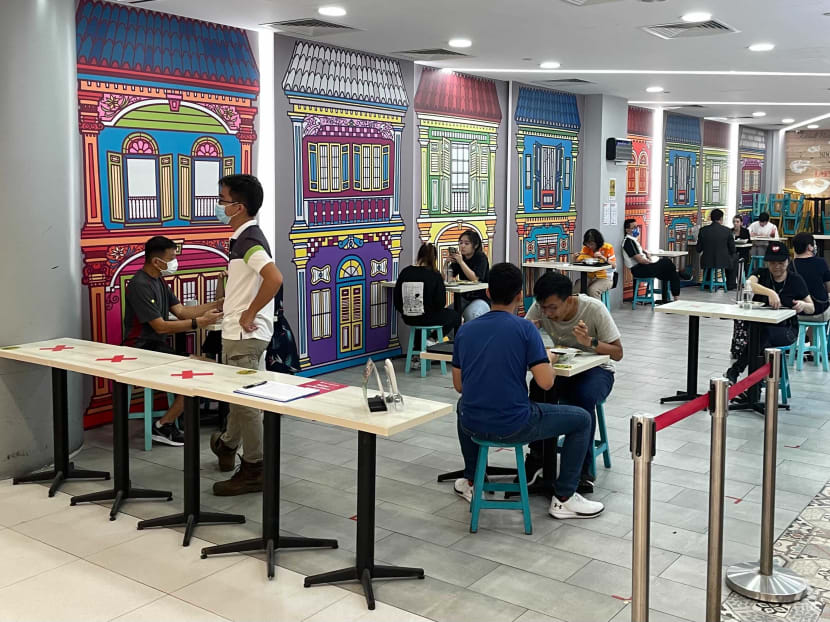 SINGAPORE: Singapore will extend its current COVID-19 restrictions for another month as more time is needed to stabilise the situation, said the Ministry of Health (MOH) on Wednesday (Oct 20).
The restrictions under the Stabilisation Phase, which started on Sep 27 and was originally scheduled to last until Oct 24, was implemented to reduce the strain on the country's healthcare system. It has now been extended to Nov 21.
Social gatherings were capped to a maximum of two while work-from-home became the default arrangement, among other measures.
"Unfortunately, given the continuing pressures on our healthcare system, more time is needed for the situation to stabilise," said MOH in a media release.
The measures will be reviewed at the two-week mark and adjusted based on the COVID-19 community situation then, it added. 
The current measures have helped to "moderate the rate of transmission", the ministry said, but daily case numbers are still rising and many vulnerable patients require intensive care.
The number of new COVID-19 cases in Singapore has hovered around 3,000 a day, and hit a high of 3,994 on Tuesday.
SITUATION TO BE REVIEWED: LAWRENCE WONG
Finance Minister Lawrence Wong told reporters on Wednesday that with the healthcare system under pressure, it is "not simply a matter of having extra beds or purchasing new equipment".
"Our medical personnel are stretched and fatigued. While we are trying to reinforce the team, it will take time for these reinforcements to come in. At the current situation, we face considerable risk of the healthcare system being overwhelmed," Mr Wong said.
"That means that we do have to continue with the stabilisation measures beyond Oct 25 for another month."
However, this does not mean that "measures will have to remain frozen or static throughout this entire month", said the co-chair of the country's COVID-19 task force.
"We will continually review the situation in the coming weeks to see if there is any scope for calibrated easing and in instances where the risks are acceptable ... we will consider moving first on these measures," he said.
89% OF ISOLATION BEDS FILLED
The number of unvaccinated seniors who have been infected has also risen to about 100 a day. 
With that, more infected people – about 10 per cent of COVID-19 patients – are being admitted due to more severe symptoms or co-morbidities, MOH said.
Of the 495 cases with severe illness in the past few days, 54.7 per cent were unvaccinated and the rest were vaccinated but had co-morbidities.
There are about 1,650 isolation beds and 200 ICU beds for COVID-19 patients in public hospitals. About 89 per cent of isolation beds and 67 per cent of ICU beds, including those for non-COVID-19 patients, have been filled. 
At the same virtual press conference, Health Minister Ong Ye Kung told reporters that queues have formed for beds for COVID and non-COVID patients at certain hospitals.
MOH is doing whatever it can to "support and bolster" the hospitals, said the minister, adding that if necessary, more ICU beds will be opened up although that will be "at the expense of further degradation of normal service and normal medical care". 
Non-urgent and non-life-threatening care treatments have been reduced to alleviate the pressure on public hospital capacity and manpower. Manpower is also being beefed up and private hospitals have been mobilised.
"Our hospitals and healthcare workers will need the help from the rest of Singapore to keep caseload steady, not overwhelm the system, so that we can continue to do our best to give proper medical care to all patients COVID and non-COVID," he said.
INFECTION NUMBERS STABILISING: ONG YE KUNG
Mr Ong said there has been progress in Singapore's transition to living with COVID-19.
He highlighted three "positives", including the number of cases stabilising over the last two weeks.
He said the figures on Tuesday – which included about 3,500 local community infections – showed the usual "post-weekend spike". The latest figures for Wednesday are still being finalised, but "appear to have moderated" at "slightly above 3,000" local community cases.
"So we have to monitor the trend over the next few days to understand where is the trajectory ... of the transmission. The important thing is, it is no longer doubling every few days like what we have seen in late September and early October," said Mr Ong.
The task force co-chair added that the top-line infection numbers are now less important. "What is critical is how the top line translates into the bottom line of how many patients fall seriously ill and need hospital or ICU care or die."
This is where authorities are seeing a second positive – a higher percentage of infected people with no symptoms or mild symptoms. 
This percentage used to be about 98 per cent and has now risen progressively over the last 28 days to 98.6 per cent. The remaining 1.1 per cent requires oxygen supplementation, with 0.1 per cent needing intensive care.
The third positive is that the number of infections among vaccinated seniors has been falling.
"At its peak which is early October, we get 1,000 vaccinated seniors being infected in a day. Yesterday, this has fallen to 279," Mr Ong said.
He attributed this to several factors such as seniors cutting back on their social activities and receiving COVID-19 booster shots.
However, there are also three "negatives" in Singapore's COVID-19 situation – there is no sign of cases falling, hospitals continue to be under pressure, and infections among unvaccinated seniors are still high.
"As more people get boosted, as individuals who are vaccinated catch the virus and experience only mild flu-like symptoms, the antibodies and the immunity in our society will build up over time. And when that happens, you will see cases falling, and then we can open up social-economic activities without cases rising very rapidly. 
"And then we will have achieved a new equilibrium with the virus and that is what we are working towards."