These people make dying patients' last wishes a reality
Healthcare workers in palliative care tell us what patients typically wish to do as they are on their deathbeds, and what some of the things they say are.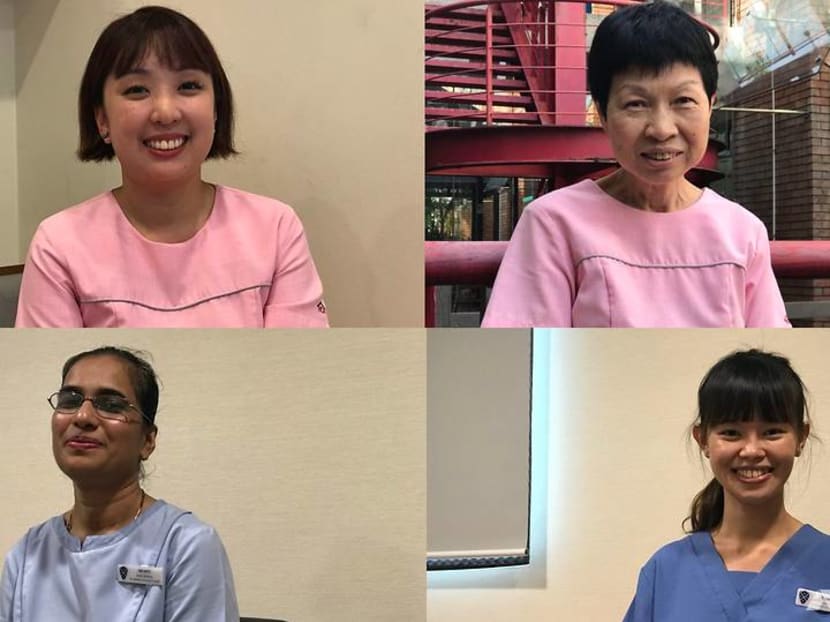 SINGAPORE: Most just want to be near their family, while others may have more unconventional wishes, like taking an overseas trip, or holding their very own art exhibition.
But when patients near the end of their lives, it's important that the utmost be done to ensure that they can go gently into that good night, those working in palliative care whom Channel NewsAsia spoke to stressed.
The key, they say, is to do it as quickly as they can, because their patients' days are already numbered.
Whether it is wishes fulfilled, or last words spoken, these are some of their stories.
 "MY HEART BREAKS EVERY TIME A PATIENT DIES": NICOLE PENG, HCA HOSPICE CARE
It might seem strange or morbid to some, having to deal with death or work with dying patients on a daily basis. But palliative care nurse Nicole Peng is attracted to the intimacy of the experience.
"We do home visits, so we get to speak to patients at our own pace, at their comfort level and at their own familiar environment," said Nicole, who is with HCA Hospice Care. "I realised that most of the time when they are in their familiar environment they are more open and comfortable."
She works primarily with terminally ill children through HCA Hospice Care's pediatric programme Star PALS, where teams of doctors, nurses, social workers and counsellors work together to help children in the comfort of their homes.
And it is in the comfort of their homes, she says, that patients are willing to tell her about their last wishes. Most of them typically want to be free of pain, and to spend their last days at home with their family members with them.
But she has received several unusual requests from patients she said and one of them came from Sharon, a nine-year-old girl with bone cancer who wanted to star in a personal music video.
"Initially, we thought she could do a catwalk in a wheelchair, but she decided that she wanted to do a music video, so we brought her to the River Safari to do it," she said. "Her favourite artist was Britney Spears."
Another memorable request came from Khairul, a 19-year-old art student with colon cancer who wanted to have his own art exhibition. "He became my friend, and one day, he told me he was very sad that this had to happen to me," she recalled. "So I asked him what his wish would be."
"He worked very hard, did some new paintings, and came up with a theme for the exhibition, which was Hope," she said, adding that she was grateful for the help of her team members in making the exhibition happen.
"The public exhibition was at NAFA, and one of the MPs even came to attend it," she added.
"He passed on one or two months later."
But the intimacy of nursing patients in their own home and getting close to them also means a deeper emotional bond for Nicole, who admits having to deal with grief when her patients passed away. "My heart breaks every time a patient dies," she said. "By the time they are about to say goodbye, my heart will usually be very broken, so I can't say much, but I will always hold their hands very tightly."
"My youngest was a baby just a few days old, and I remember I was choking with grief."
Despite the grief, Nicole is certain that she is in the right place. "To be human, our heart has to be broken at some point of time, and we need to love and be loved," she said. "So here in palliative care, I know I am being human."
"I DON'T NEED WORDS TO KNOW HOW THEY FEEL": CAROL TOH, HCA HOSPICE CARE
When patients know they only have a few months to live, their biggest fears are usually related to death and going into the unknown, according to palliative care nurse Carol Toh. So she always makes it a point to lend them a listening ear, and let them express their fear.
"We don't tell them what to do, because everyone has different fears. We usually ask them how they feel about it, and when they talk, we know where they are coming from," said Carol, who is from HCA Hospice Care. "The more they talk about it, the more they realise this is part and parcel of the life cycle, and they get a release at the end."
In general, Carol noted that when it comes to patients' last wishes, there are usually two groups: The first will just want to die quietly, in dignity and without being a burden to anyone, while the second will want to see all their relatives and old friends before they die.
"We usually talk, and I will ask them if they have any unfinished business," she said. "Because if they have any wishes, I will encourage them to do it earlier rather than later."
She recounted one instance when an elderly man wanted to return to Melaka to visit a big plantation he owned there, meet the caretakers and say thank you. "He told me, and he told his son and his daughter-in-law," she said. "But he was already bed-bound and not even eating, and the son was in a dilemma as to how to make it happen."
"I told the son that the longer he delayed, it will be zero chance already. So one weekend, we really pushed for it."  
Working together with the patient's son and daughter-in-law, Carol and her team made the arrangements for the patient to make the trip. This included preparing things like letters for customs clearance, and arrangements in case the patient passed on in Malaysia. "I had to keep assuring them not to worry, and to call me if anything happens or you don't know what to do," she said. "So with that, they went, took a stretcher and brought him around the plantation."
"He suddenly had more energy and was more alert."
The patient passed on the next morning, she said. "But his son told me he was smiling. That was the message to me, that he has finished all that he wanted to do."
"Usually towards the end, patients are very weak and they have lost the ability to talk," she added. "But they will give me a last look, or stretch out their hand to hold mine just one last time, no matter how frail, drowsy or tired they are."
"I don't need words to know how they feel."
WORKING AS A TEAM TO MAKE THINGS HAPPEN: LIM HWEE HWEE AND SINI ANTO, ST ANDREW'S COMMUNITY HOSPITAL
For occupational therapist Lim Hwee Hwee, it was not just any other excursion.
A dying patient had expressed a wish to pay her last respects to her late mother, who was at Mount Vernon Columbarium, and the palliative care team at St Andrew's Community Hospital swung into action to make it happen.
"She told the doctors, and they conveyed it to us," said Hwee Hwee. "So before the visit, we wanted to find out more information about how wheelchair-accessible the place was."
"She told us there was a flight of 13 steps she had to conquer every time she goes there, and at that time she was not very mobile," she added. "But she was very determined."
Hwee Hwee and a colleague practiced stair-climbing with the patient in the hospital, assisting her and holding her up as she mounted the stairs. But thankfully, as they went by car to the columbarium, the patient did not have to climb any stairs.  
"We just had to push the wheelchairs to the urn, where we met her brother, who brought some fake flowers to offer to the mother," she said. "So we let them spend a few moments with their mum."
But making this visit happen, she stressed, was truly a team effort, with nurses, therapists, and even doctors chipping in. The patient's doctor, she added, had driven her to the columbarium for the visit.
Senior Staff Nurse Sini Anto remembered showering the patient on the day of the visit, giving her pain medication to ensure she would be comfortable throughout, and even helping her choose a suitable outfit to wear for the visit.
"She was so happy when she came back," she said. "She told us she never thought she would have the chance to pay her last respects to her mother."
"She passed on a few days after that."
It is evident that teamwork underpins much of what they do in fulfilling patients' wishes. But both also stressed the importance of each of them doing the best they can, especially given that the patients they work with know their days are numbered.
"We are not sure if we will see our patient tomorrow," said Sini. "So if I am on this shift, I will do my best to do whatever I can to make them more comfortable, even if it's little things like wetting their mouths and giving them small sips of water."
"We know that when they pass on, we have done our best, so we are fulfilled."