Same shower gel at a cheaper price? How some toiletries shops are undercutting their bigger rivals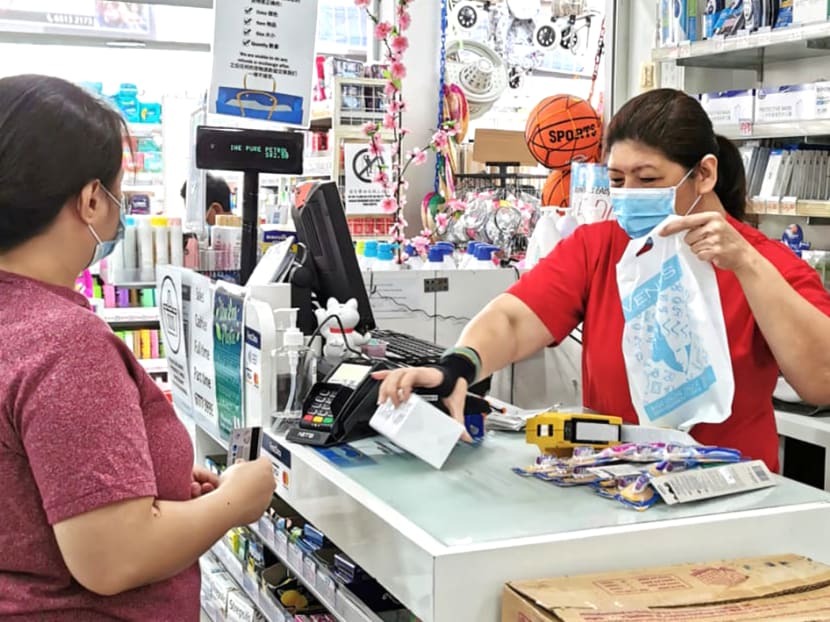 SINGAPORE: A decade ago, local beauty store British Essential's low prices might have raised eyebrows and even questions about the quality of its products.
But today, the brand has become a genuine alternative to bigger pharmacy chains for many consumers, who are looking to get more bang for their buck especially amid the COVID-19 pandemic.
The company, which has a network of seven shops, has seen a growing demand for its products, according to the company's CEO Christopher Lim.
"Right now, especially during this COVID-19 season, everybody is on a budget ... so our (store) concept is actually quite welcomed at the moment," said Mr Lim, adding that the company plans to open more outlets.
In the shops, consumers can find a wide range of beauty and personal grooming products at a discounted price. For instance, a 200ml bottle of shower gel costs as little S$0.90, compared to a price tag of $2 at major pharmacies and supermarkets.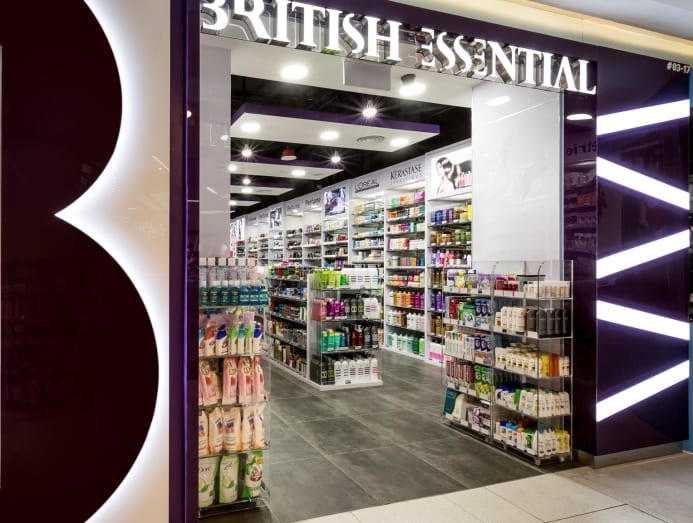 It's a similar case at personal and household products retailer Venus Beauty, which operates 29 outlets islandwide.
The company's director Danny Lim shared that the store's products are typically priced between 20 and 30 per cent lower than bigger retailers.
He added that while demand for cosmetic products has dropped amid the pandemic, the company is still seeing a healthy demand for daily essentials such as hand soaps and even healthcare supplements.
But with every product priced so low, how do these shops manage to pay wages, rent, earn profits and even expand to more outlets?
BUYING IN BULK
For smaller retailers like Venus Beauty and British Essential, ordering a high volume of items is key to their business strategy as it allows them to achieve economies of scale. This refers to the cost advantages that suppliers get, meaning that with increasing scale, the cost per item is cheaper.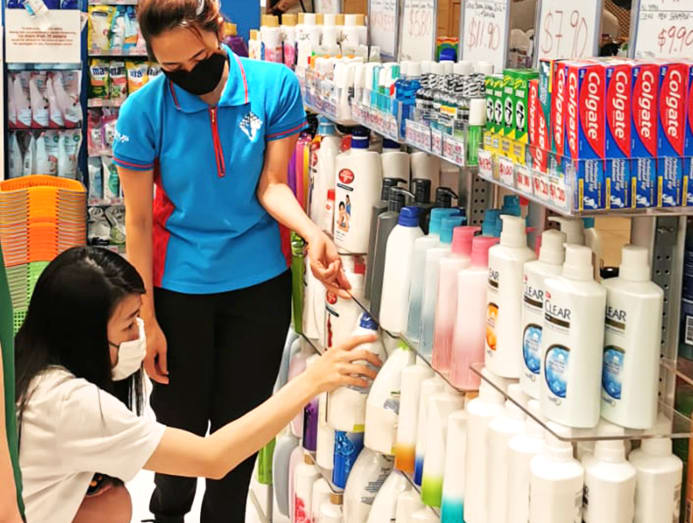 While major pharmacies and supermarkets typically order items by the dozens, these companies import items in bulk, with quantities measured by pallets or even containers. One pallet can easily hold between 600 and 1,200 products, depending on the size of the item, according to British Essential's Mr Lim.
"When we bring in a big quantity (of goods), the cost will be lower so we give the same concessions to the consumer," he said.
Sales of the products have to move fast to clear the large quantity ordered, he added.
"That is why we prefer to pass on all the benefits that we get to the consumer because it's the only way that we can consume our quantity."
Venus Beauty brings in between three and five containers of fast-moving items such as shower gel each month. According to the company's director Danny Lim, it takes about a week to clear a container worth of stocks.
He added that the company has a network of international suppliers that import products into Singapore in bulk, which helps to save on costs.
Consumers are also able to purchase products on wholesale terms, allowing them to enjoy bigger discounts.
"Certain things in other countries are a lot cheaper than Singapore, even if you just buy it off the shelves instead of buying wholesale," said Mr Lim, adding that Venus Beauty brings in products from places including Europe, US and Korea.
"For instance, if you want to buy a Japanese item, it will be expensive if you buy it off the wholesalers in Singapore, so what we do instead is to buy directly from the (overseas retailer) and then bring it in," he said. "We cut out the middleman."
COST VS QUALITY
A common concern among shoppers about products that are priced significantly lower than major shops, is that they might be of a lower quality or have minor defects.
However, Associate Professor Stephen Phua from the National University of Singapore's law faculty said in some cases, the price differential may simply be due to the actual components in the products and may not actually be inferior.
"Different countries may have different technical or regulatory standards which may result in a price differential," he said.
"For instance, one country might have stricter and more rigorous regulatory laws for certain products and as a result, the manufacturer may have to use a certain type of ingredient or have a higher content, which could therefore increase the cost of production," he added.
"So therefore, when two things come in on the shelves, they look identical and they're both genuine products, it's just that they are priced differently."
Small beauty retailers CNA spoke to also rejected claims that their products are of a lower quality compared to those sold in bigger stores.
Venus Beauty said it regularly inspects the quality and condition of the products supplied to them.
"If the product is of low quality and efficacy isn't there, we don't sell it at all," said Mr Lim. "We either return it to the supplier or we just throw it away – we don't put it on the market."
He added that the company also tries to source products from the same factories or places of origin that local suppliers get their products from.
"Essentially, we're bringing in the same things. But if let's say we have to choose something that is not similar, we would buy the products from places such as Europe, US or Korea," he said.
"Consumer expectations in those countries are not low, so even if the products come with a different packaging, it's not likely to be seen as an inferior product."
For British Essential, which has been in the market since 2003, figuring out which products work and which don't involves mostly trial-and-error as well as customer feedback.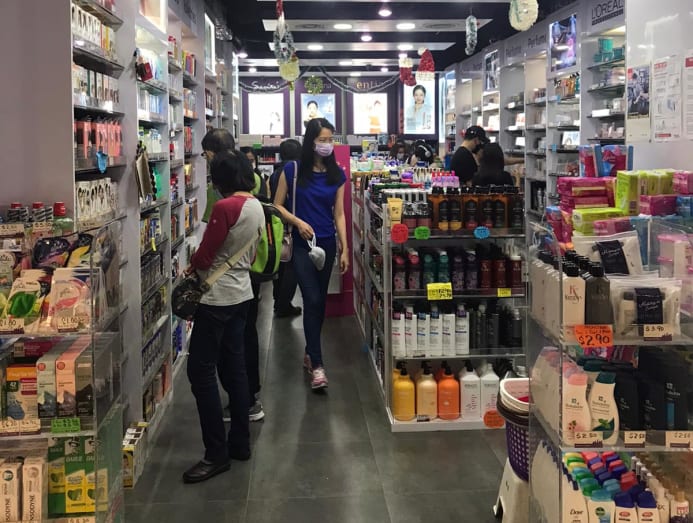 "Previously, people would think that because our prices are so cheap, it may not be authentic. But now, especially because we've already been in the market for so long, people know that all our products are very authentic," said British Essential's Mr Lim.
"Consumers are also very smart now because they can just check prices online to compare. It's become very transparent," he said.
"We are not the cheapest and we are also not the expensive one, so we welcome customers to check the prices. If they are really expensive compared to our competitors, we try to accommodate them by adjusting our selling price."
Product differentiation is another strategy adopted by smaller retailers.
Beauty Language, which has 29 retail stores, said it has differentiated itself from competitors over the years by bringing in quality products from US, Europe, Australia, Korea and Japan at an affordable price.
"Our main customer base prefers products that are more unique, meaning products you can only find in stores overseas as well as new products," said the company's director Jacelyn Loh.
"So we differentiate ourselves by launching between 20 and 30 new products every month, as well as exclusive brands that you can't find anywhere else in Singapore."
But while these shops may be able to capture good demand from consumers – especially those who are more sensitive to price changes – they face challenges such as supply disruptions and a limited range of products, said Associate Professor Sarah Cheah from NUS Business School's Department of Management and Organisation.
"Retailers who are not the authorised sellers of a particular product or those who use parallel imports may not be able to secure as wide of a range of goods as a regular department store," she said.
"If it's a relatively expensive item that is currently out of stock at the store, consumers may consider checking the store a few more times. But if they actually need it urgently, the likelihood is that they will just go to a regular supermarket to get it."
Still, Assoc Prof Cheah said such businesses have a strong value proposition and will continue to thrive in Singapore's market.
"These shops have been around for quite a long time, and people who have supported them will probably continue to support them because there will always be a good appetite for cheaper deals," she said.
"Many people are sensitive to price differentials and it's also become a lot easier for people to do price comparisons and to be able to make decisions quite quickly due to the Internet."