Meet Uncle Raymond, the TikTok sensation who gets people dancing with him around Singapore
He usually reveals his next location in the comments section of his TikTok videos. Then fans, both young and old, show up to dance. CNA caught up with him after one such session. 
SINGAPORE: In April this year, a lanky man in his 50s went viral on TikTok for filming himself dancing at a traffic junction in Ang Mo Kio. 
Since then, Raymond Lin – or more affectionately known as Uncle Raymond – has amassed more than a million likes on the social media platform for his seemingly spontaneous dance videos. 
Every day, the TikTok sensation and poster child for active ageing picks a few locations, among which are certain MRT stations, shows up and films the same dance with fans. He then immediately uploads these videos onto his quickly growing TikTok page, @raymondl88, much to his fans' delight. 
But seasoned fans understand that finding him is part of the fun, akin to an Easter egg hunt. They camp on his TikTok channel, hoping to find answers to his next location in the comments section. 
On Thursday (Jun 16), CNA showed up at Paya Lebar MRT station's Exit A, where Uncle Raymond had said in the comments section of an earlier TikTok video that he would make an appearance around 5pm.
"HE'S ONE OF A KIND" 
Up to half an hour before Mr Lin arrived, young fans were already spotted milling around Paya Lebar MRT. 
When he finally showed up, armed with a backpack and wearing one of his signature polo T-shirts, many of them unabashedly approached him to ask for a selfie. Braver ones requested to film his signature dance with them for a TikTok video. 
The 10-second dance has animated moves that resemble the Great Singapore Workout – an aerobic routine performed to a catchy tune that was introduced to Singaporeans as part of the National Healthy Lifestyle Programme in the early 90s.  
It features a couple of punches in the air, enthusiastic arm-swinging and an energetic jump to round off the choreography, paired to an upbeat cover of Faye Wong's Century of Loneliness – and fans adore it.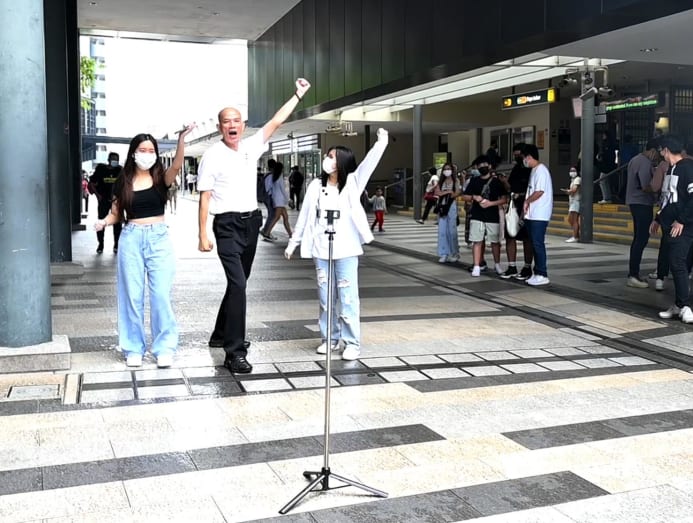 Ten-year-old Austin Sum was ecstatic when CNA spoke to him after his interaction with Mr Lin. 
It was his first time seeing Uncle Raymond in person as he had "no time" to catch the TikTok star at his other locations.
"I feel like I want to help him make content, and make him grow. I support him because he makes people happy," said the Primary 4 student. 
Asked what he thinks of people who might judge his hero for his antics, Austin was quick to his defence. 
"He's just making people happy. He's not weird. He's brave for dancing with people," he replied emphatically.  
Likewise, another fan, who only gave her name as Haniz, said she "doesn't care" if people judge Mr Lin and his fans for filming their dance videos in public, as "having fun is what matters". 
"I'm not a TikTokker, but ever since his TikTok videos, he has helped me build confidence also, like I really want to dance and sing," the 24-year-old student said. 
"I feel like he makes his own dance steps and it's very unique. He's one of a kind. No one else is doing this."
HE WILL MAKE TIME FOR FANS
Since his TikTok fame, he has even danced with frontline healthcare workers and Health Minister Ong Ye Kung, whose equally impassioned moves rival Mr Lin's. 
But fame hasn't gotten to Mr Lin, who still makes time for his regular fans. The youngest fan he's danced with is three years old, while the oldest is 68. 
"Since doing that video with Minister Ong, more people know about me. I've been dancing more. But no matter how busy I am, I will show up at MRT stations to dance with my fans. I will schedule some time every day to do this," he told CNA in a Mandarin interview after his 10-minute session ended at Paya Lebar MRT.
When the Chinese national, who became a Singapore permanent resident in 1998, first started dancing, he chose to dance in public simply because he prefers exercising outdoors rather than at home. 
"Around April, I told Lily (my friend from TikTok) that we should use TikTok more. But what should we do? Sing? Lip-sync? We can't do either. So we ended up choosing dancing," he said.
"When we dance outside, the feeling is even better than dancing at home. To be frank, it also gives us better (social media) views."
But when Mr Lin first chose the song, he admitted he hadn't put much thought into it. 
"It's a bit of a melancholic tune, but I used a more upbeat cover of the track, so there is an unexpected twist," he said. 
The fitness enthusiast, who is often seen in his iconic red polo T-shirt in videos, added that his "simple attire" was for ease of movement. 
"I like exercising, so I like simple attire like polo tees. At first it was just the red and yellow polo tees, then slowly I added a white tee and a blue tee," he said. 
"If you can move, just move. Don't sit around all day," he added. 
"Throughout this entire journey, I have learnt how to be happy and how to make other people happy. I've also been able to keep myself fit. That's the most important."
Occasionally, however, Mr Lin runs into trouble. On Tuesday when he danced outside Waterway Point in Punggol, he was stopped by a security guard, but the TikTok star reminded his fans that the security guard was only doing his job. 
"When you start dancing initially, people might think that you're weird. But once you shed those inhibitions, as long as you don't bother people, dancing outside actually livens up the atmosphere," he said. 
APPEALING TO OLDER FANS TOO 
While Mr Lin might face detractors, his popularity evidently spans generations. Even older office workers on their break hung around waiting to get a photo with him. 
When 43-year-old Zach Leong initially caught onto his dance videos via his four children, he didn't quite understand the appeal even though he found Mr Lin "interesting". 
But Mr Leong's children "challenged" him to take a video with Uncle Raymond as their dad "always goes for challenges". 
On Thursday, the owner of Baker's Heart said he ended work at 4pm in Tai Seng, which is near Paya Lebar, so he decided to make the trip down. What he didn't expect was actually looking forward to dancing with Mr Lin. 
"While I was driving, I kept playing the video non-stop. Whenever I stopped in traffic, I practised his moves," Mr Leong told CNA, laughing. 
"To be frank with you, before I came down to look for him, I also went to a toilet cubicle to practise. … So people come down prepared (to dance) already." 
After interacting with him, Mr Leong, whose joy was palpable while speaking to CNA, now understands the draw of the TikTok sensation. 
"You will have haters and fans. But those who like him like him precisely because he's weird. His weirdness attracts people's curiosity. Anyway, he's not weird at all. He's so friendly, so approachable," he said. 
"There is nothing wrong with wanting to gain popularity, because you can see that people who come down to meet him bring so much joy with them and they also leave happy."