Convincing the doubters: Why some younger people are reluctant to get the COVID-19 vaccine
While the focus has been on getting older people to get vaccinated against COVID-19, there are also some younger people who are reluctant to get the jab. CNA speaks to hesitant individuals, including some who have now decided to get the vaccination.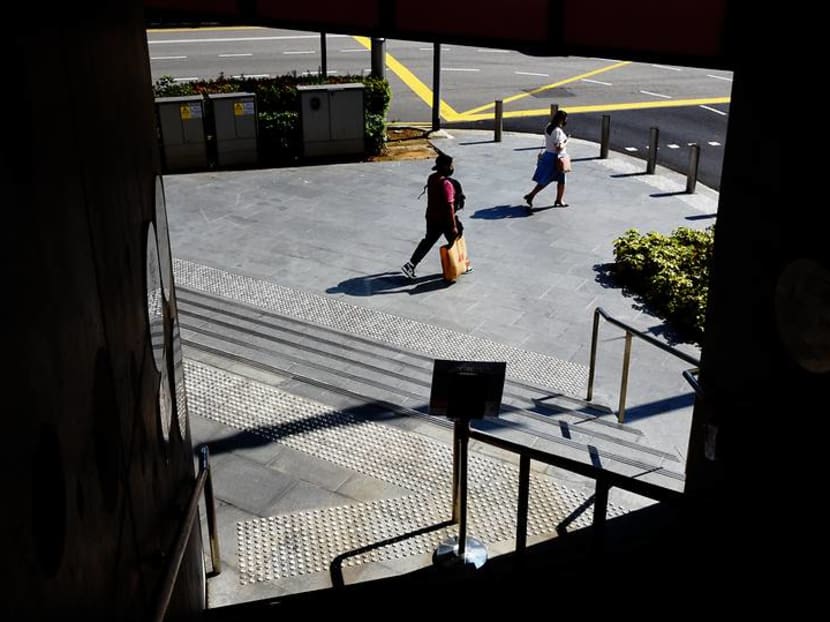 SINGAPORE: Kenneth Pek, 33, has been holding out against getting the COVID-19 vaccine.
He told CNA that he had initially decided against getting jabbed because of his two heart conditions: Wolff-Parkinson-White Syndrome and a mitral valve prolapse. 
However, the announcement by the Ministry of Health (MOH) last Saturday that only fully vaccinated people can enter shopping malls or dine-in at hawker centres and coffee shops has resulted in a change of mind.
Under the new measures, the father-of-two would not be able to take his children, aged seven and two, to their enrichment classes in a mall – unless he has a letter from the school. 
"It will cause a lot of inconvenience for my family," he said. "All our plans revolving around attractions, revolving around going even to a shopping centre to buy things, are all being disrupted based on their new measures.
"The Government's message to everyone is that if you're not vaccinated, you can't do anything in Singapore ... You can't even go into the shopping centre to dabao (take away food)."
Mr Pek said he has some friends who are medically certified unfit to receive the COVID-19 vaccinations, and he is concerned about how they will cope when the new measures kick in.  
"They went to rush to buy groceries, whatever essentials that they can over the weekend, because they have no idea how long they can't even step into the shopping centre," he said. 
"There should be some guidelines which help them as well."
GETTING VACCINATED, BUT RELUCTANTLY
Under the new rules, exceptions will be made for children aged 12 and below, people who have recovered from COVID-19 and those who are unvaccinated but have a valid negative pre-event test result.
Unvaccinated people seeking medical and childcare services will also be allowed to enter if they can show proof such as a medical appointment or letter from the pre-school.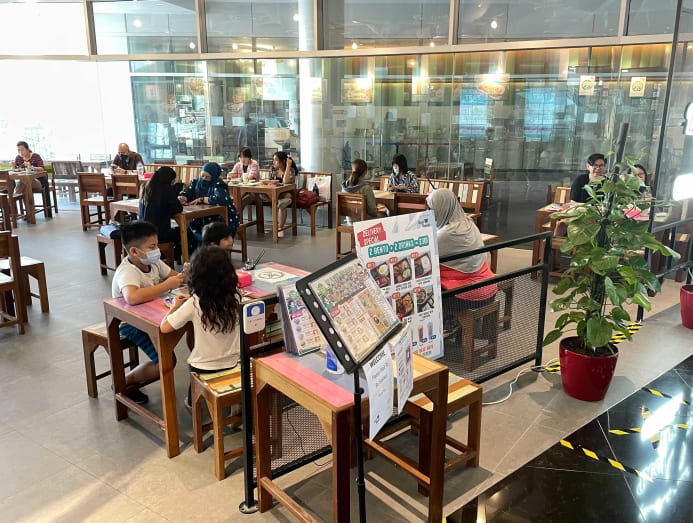 Still, the inconvenience of the new measures was the turning point for Mr Pek. 
After the announcement on Saturday, he booked an appointment for his first dose of the Pfizer-BioNTech vaccine. His wife is fully vaccinated and had earlier tested positive for COVID-19. 
Although he has decided to get vaccinated, Mr Pek is still hesitant about the vaccine's efficacy and side effects, especially with his heart conditions. 
"No one knows what are the actual side effects until later on," he said. "With my current condition like that, it is definitely a scary sign that, what if I take the vaccine, what if something gets triggered?"
While Mr Pek's doctors told him that he could take the COVID-19 vaccine, Mr Pek thinks that patients should be evaluated on a case-by-case basis. 
"They cannot generalise. As you can see, yes, the percentage of it happening is low but it does happen. What if I am the one that it happens to?"
The expert committee on COVID-19 vaccination announced on Jul 28 that people who are severely immunocompromised were eligible to be vaccinated. 
Data showed that the vaccination was safe and could provide protection against infection and severe disease among immunocompromised people, who are at increased risk of complications if they are infected, the committee said at the time.
"NO BENEFIT FOR ME"
While much attention has been paid to the unvaccinated elderly due to the greater health risks, younger people are not out of harm's way. At least 10 people under the age of 60 have died of COVID-19 in Singapore.
Still, both Mr Andrew Lee, 38, and his wife are unvaccinated against COVID-19. 
Mr Lee said he "doesn't need (the vaccine)" right now as he lives a "low-risk" lifestyle. This includes not dining in at F&B outlets and only taking away food for his family, and only visiting open spaces such as parks. 
As a finance professional, he works from home. He also has no underlying medical conditions that could lead to complications if he contracts the disease, he said. 
"I don't need to dine out. I don't need social gatherings currently in this COVID-19 situation … In short, there is no benefit for me to take the vaccine at the moment," he told CNA. 
Mr Lee and his wife have three children – two in primary school and one in kindergarten. When asked about whether they would consider getting the vaccine to protect them, he said he trusts that the schools are safe with proper sanitisation measures in place.
He said he hopes to get through the pandemic "entirely without vaccination", but stressed that he's not anti-vaccination. 
"I'm not anti-vaccination; I believe people who need it should take it," he said. 
"I'm not foolish to say that I totally don't want to take it. It's just that at this moment, I don't need it. But if the situation comes where I need to take it, then I'll take it.
"Let's say my company says I need to be vaccinated before I go to work, which I highly doubt so, then I'll take it. It is ... a last resort that I have to take."  
In the meantime, Mr Lee said he has to figure out how to live with the inconveniences that the new measures will bring.
"My youngest one is in Kindergarten 2. How is he going to go to his (enrichment class alone)?" Mr Lee told CNA over the phone on Sunday, before the announcement that unvaccinated caregivers would be able to accompany children to tuition centres.
Not being allowed to enter malls will also affect his route to work if he needs to go to his office in Raffles Place, as he usually cuts through Marina Bay Link Mall to get there. 
"I mean, okay, I can go one big round, go above ground, cross the traffic light … But (the mall) is a masked setting, which is low risk. I'm not sure why there is (this) restriction," he said.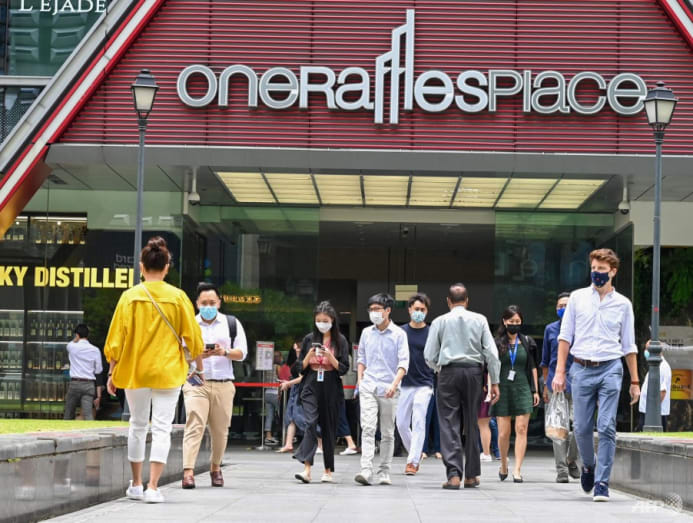 Mr Lee also pointed to what he said was the lack of clear communication from the authorities as a reason he hasn't got the vaccination. 
"Previously, unmasked settings were high risk, that's why dining establishments had restrictions," he said. But new restrictions on the unvaccinated entering malls "don't make sense" and reinforced his views that the Government's direction "is not 100 per cent clear". 
Mr Lee said the Government "has been portraying unvaccinated people as people who don't listen", but there are also unvaccinated individuals like himself who are "logical" and "who analyse the whole situation and make a decision". 
"Ultimately, if the Government wants to open up (the country), cases will go up. People will get sick, vaccinated or unvaccinated. People still need to go to the hospital," he said.
"(The Government) need not restrict the unvaccinated (under the premise) of trying to protect … because I don't see the protection. Because if I get COVID, it is still home recovery."
MORE EDUCATION NEEDED, SAY EXPERTS
While Singapore's vaccination rate is one of the highest in the world at well above 80 per cent, experts said there is still a need to increase it further, including among younger people even though they have a lower risk of complications from COVID-19.
For instance, Dr David Lye, director of the Infectious Disease Research and Training Office at the National Centre for Infectious Diseases (NCID), said in a CNA podcast that there is the possibility of "long COVID".
Data from US and Europe is showing that months after infection, some people still see the effects of the disease.
So, it's a simple choice over choosing "the virus over the vaccine", Dr Lye said. "Choose the vaccine."
Health Minister Ong Ye Kung said in a video posted on Facebook on Tuesday that those who are young and unvaccinated, "don't take for granted that you are safe".
"Our data shows that if you are in your 40s, one in 100 ends up in ICU. And if you are in your 50s, two in 100 unvaccinated people also end up in ICU."
About 15 per cent of people in Singapore remain unvaccinated, noted professor of infectious diseases Laurent Renia, from the Nanyang Technological University's (NTU) Lee Kong Chian School of Medicine.
"There are no magic numbers – the higher the better, especially for the elderly and people with comorbidities who are more susceptible to the severe form of the disease. It is desirable to have more people vaccinated but it is time to really learn to live with the virus," he added. 
Even though those holding out may need a personal trigger to change their minds about getting vaccinated, experts say more education about vaccine safety could help nudge them in that direction. 
"Vaccine data on safety has to be presented, side effects have to be disclosed and explained," said Prof Renia.
"People have to be reminded that vaccines are drugs, and as such, side effects may occur in a small fraction of persons. People should remember that aspirin or paracetamol can also have severe side effects in some people." 
CONCERN ABOUT SIDE EFFECTS
More information could be helpful for those with a similar outlook to a 29-year-old woman who wanted to be known only as Fiona.
So far, she has had one shot of Sinopharm, a non-mRNA vaccine that is not under Singapore's national immunisation programme. She said she experienced side effects, including flu symptoms, after the first jab.
Upon a visit to the accident and emergency department at a hospital, she was informed that her flu symptoms were due to the vaccine. Two days after the jab, she had a sore throat that was later diagnosed as tonsillitis.
Fiona is worried about getting her second jab, as she would "rather die from COVID-19 than suffer from adverse side effects due to vaccination".
But after the new vaccination-differentiated measures were announced, she said she felt frustrated and sad. 
A 47-year-old woman who wanted to be known as Sarah said her legs started to swell two weeks after her first dose of the Moderna vaccine. A doctor diagnosed her with varicose veins but she wondered if it was one of the side effects of the vaccine. 
"How would I know it's the vaccine and not just varicose veins? Maybe I wouldn't have had this problem until maybe 10 years later, but because I took the vaccine it has maybe hastened everything. And because there's really no way of establishing this, everything is just pretty arbitrary and left to chance," she said.
"I just feel that the authorities are very quick to say, well, this has nothing to do with the vaccine, and they do not take into consideration that maybe there is a relationship," she told CNA. 
TAKING THE PLUNGE
Despite her initial hesitation, Fiona said she eventually opted to get vaccinated as unvaccinated people "will continue to face discrimination". 
She said it is also unfair that non-mRNA vaccines are not offered at vaccination centres.
"There are people who are now partially vaccinated or unvaccinated because they have been waiting for the non-mRNA vaccine that they want. Some or most of them would be fully vaccinated now if the Government had let people choose a non-mRNA vaccine," she said. 
People who opted for Sinovac, Sinopharm, AstraZeneca and other COVID-19 vaccines under the World Health Organization's (WHO) emergency use list were considered fully vaccinated from Aug 10 in Singapore. 
Prior to that, only those who received mRNA vaccines (Pfizer-BioNTech and Moderna) under the national immunisation programme were considered fully vaccinated.
Sarah has also taken her second dose of the vaccine, after the doctor gave her the go-ahead to do so. This was partly because her workplace may soon restrict unvaccinated people from entering.
"To me, it wasn't about being able to go on holidays, it wasn't about any of that. Because I would not go for a holiday even if I'm vaccinated. I don't trust that vaccination would protect me from getting COVID." 
Noting that there was "a lot of pressure" from the community, workplaces and the Government to get vaccinated, she added: "We were not told that you must do it, but you're highly encouraged to do so, and that's basically why I felt pretty compelled."
ANTI-VACCINE VS VACCINE-HESITANT
While more people who were reluctant to take the vaccine are now doing so, the likelihood is that there will be those who continue to reject getting jabbed. Groups still exist on platforms like Telegram where so-called "anti-vaxxers" share concerns about the vaccines and encourage one another not to buckle under the pressure to get injected.
Prof Renia stressed that there are differences between anti-vaxxers and those who are hesitant to take the vaccines. 
Anti-vaxxers are against vaccines, even those that are approved for the childhood immunisation programme and have shown their efficacy, he said.
"Vaccine hesitancy is mainly due to the fact that mRNA vaccines use a new technology, for which we have no long-term data on safety," he said. "That's why people are less hesitant to receive vaccines using inactivated viruses or are waiting for protein-based vaccines, which are more established and validated platforms."
Infectious diseases expert Paul Tambyah, president of the Asia Pacific Society of Clinical Microbiology and Infection, said Singapore needs to reach out to unvaccinated people to understand why they are choosing not to be vaccinated.
These individuals must either be persuaded to get vaccinated, or the Government should ensure that they are monitored closely to detect disease early so that they can be treated in time to prevent complications, he added. 
"We don't really have a choice about living with the virus as the numbers keep rising despite the restrictions," said Dr Tambyah.
For those anti-vaxxers who spread conspiracy theories and false information online, there is not much the authorities can do, added Prof Renia.
"There is little you can do to prevent people from believing in crazy theories. The only way is to educate. If you try to block it, they will be comforted in their beliefs."