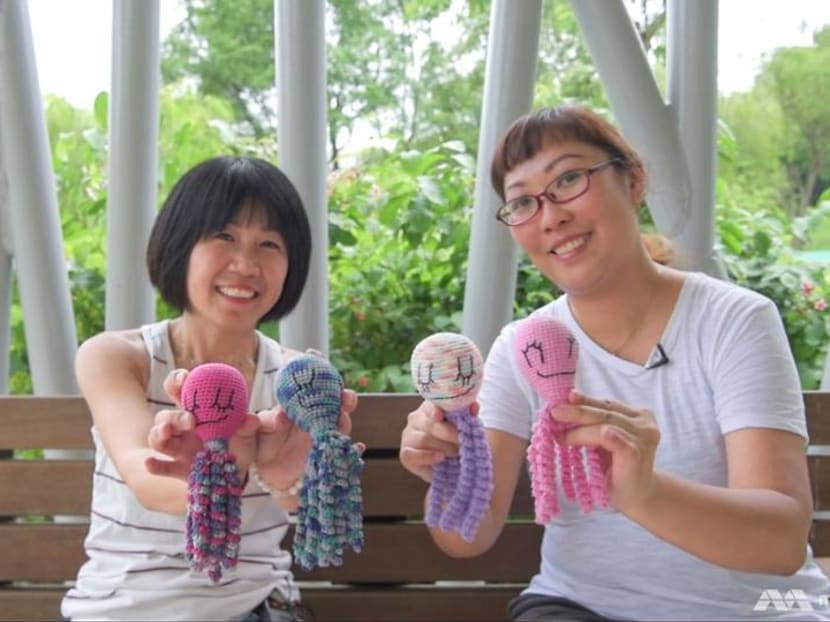 SINGAPORE: Civil servant Michelle Neo's crocheting hobby took a serious turn last September. One of her friends had given birth to a baby prematurely and an idea she had been toying with - making octopuses for such newborns - popped into her head.
The 43-year-old was inspired by articles online about the "Octopus for a Preemie" movement.
It was borne out of the Danish Octo Project by a group of volunteers in Denmark which produces crocheted octopus toys for premature babies. The group says the tentacles of octopus toys resemble an umbilical cord and "remind babies of their time in the womb".
Since its inception in 2013, the Danish Octo Project has made 29,000 for preemies - babies born before 37 weeks of pregnancy - in hospitals across Denmark. The initiative has also spread its arms worldwide with people in 38 countries taking part in the "Octopus for a Preemie" movement.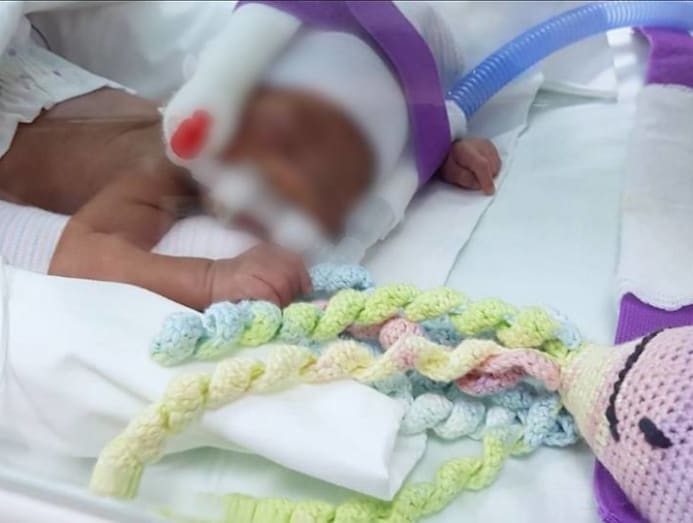 Said Ms Neo of her first octopus for a preemie: "I had so many worries when I first started. Does it really work? What if anything happened to the baby? What would happen to me?"
Her friend accepted the toy readily, and it prompted Ms Neo to offer more crocheted octopuses for free via a private support group on Facebook for parents of premature babies.

Ms Neo recalls she crotcheted at every chance that she had thereafter. Parents came, one after another, looking for anything that could possibly help to soothe their babies, she said, noting that "not every (premature) baby will survive".
"One mother was so desperate, she did not even mind taking one of my first few pieces even though it was not at the appropriate standard," Ms Neo said, referring to recommendations on the type of yarn and stuffing for the toy.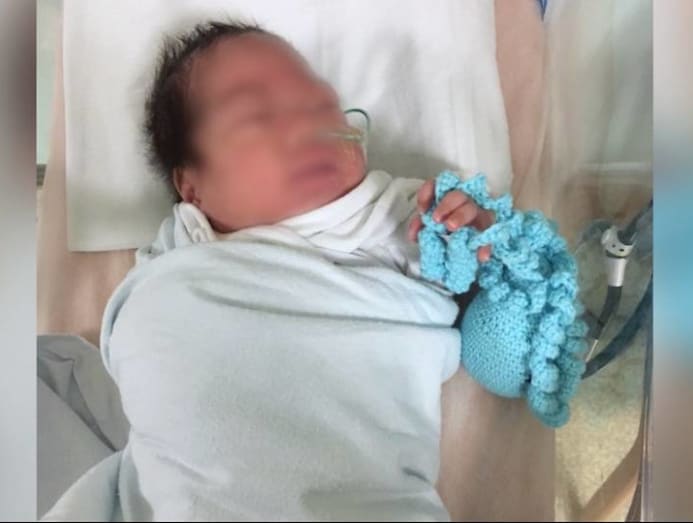 Premature babies sometimes have underdeveloped organs, which can lead to a range of complications such as breathing difficulties, heart problems and infections. They depend heavily on breathing and feeding tubes for support.

"When the neonate, a newborn child, has to be delivered prematurely, they are exposed to different temperatures, light, sounds and a lot of handling for critical life-saving procedures. This can cause discomfort and pain," said Dr Vidya Ramasamy a specialist in Paediatric Medicine and Neonatology with Raffles Children Centre.

As the tentacles of the octopus simulate an umbilical cord - which establishes the connection between the mother and child - it may give the child a sense of being comforted, added Dr Ramasamy.

However, Dr Ramasamy pointed out that specific care must be taken to clean the toy and that it may not be advisable for cases where a baby is in an incubator or is very prone to infection.

According to the doctor, some tertiary neonatal units in Singapore have begun this therapy, but proper clinical studies are still to be done.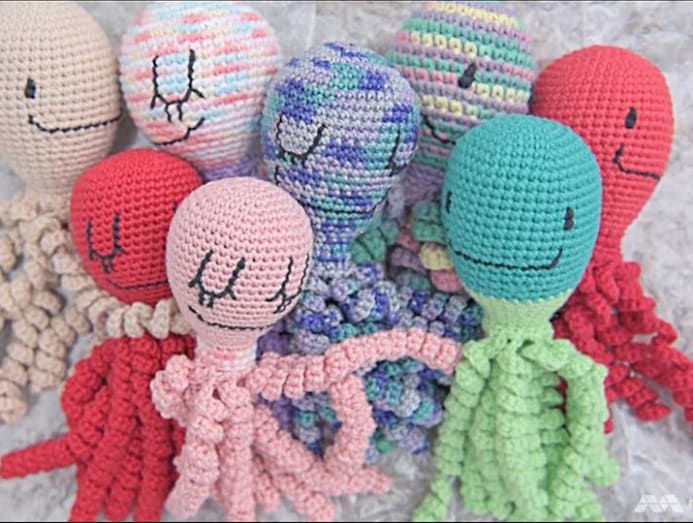 Still, some who have received such octopus toys are convinced they are effective. Ms Connie Lim's twin boys were born premature at 26 weeks and often cried non-stop. Their heart rates were irregular as well. 
Scouring the Internet for ideas on what she could do for her sons, Ms Lim was about to order an octopus toy from abroad for S$50 when she chanced upon Ms Neo's offer. 
Her boys stopped tugging at their feeding tubes and seemed less fitful when resting with the toy. "I've seen it work on my boys and I hope that more premature babies will be able to receive the octopus," she said.

Another mother of a premature baby, Ms Lim Yuling, said that the octopus was especially helpful when she could not be with her son around the clock. She was also unable to swaddle her child due to the many tubes around him.

"He would be afraid of the slightest movement or any loud sounds. Having the octopus to hold on to helped him to sleep better and his breathing rate stabilised," she said. "This initiative provides mental support for both the parents and the baby during their rough journey."

"I was not able to reach one little warrior on time," said Ms Neo, welling up. She's made it a drill to produce and deliver one toy a day, on a first-come-first-serve basis. Once she puts her son to bed, over lunch, and on the way to work, she takes the time to crochet, she said.

"Any time I can do it, I will. But at that point, too many parents reached out to me. By the time the toy was done, the mother told me I could pass it on. Her child was already with the angels.

"I started to blame myself and I became desperate to do more."

That was when she decided to solicit help through Facebook. Six of her friends came on board and the page Handmade with LOVE Octopus - for Preemies was set up.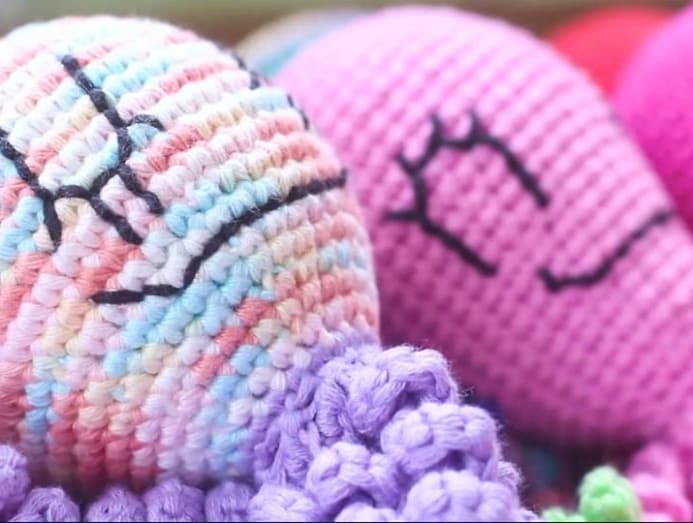 One of them is Ms Jess Lee, a close friend of Ms Neo's. Despite having no experience at crochet, she plunged into the project after seeing how hard her friend was working. She learnt from Ms Neo and in her spare time, watched tutorials online.

Soon after, she found herself committed to crocheting at least 30 of 80 octopuses that the group wanted to donate to a local hospital.

"We know that when a baby is not doing well or needs some help to grow up healthier, we feel the need to come up with something that we can contribute to them," she said.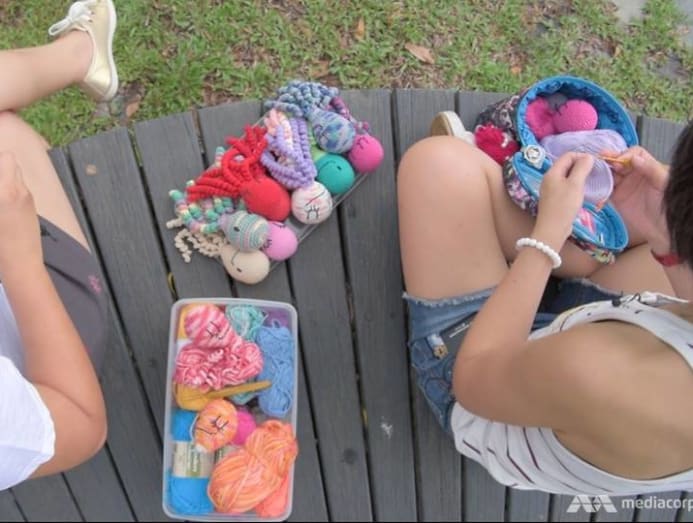 Today, the volunteers continue to crochet regularly to ensure a ready pool of octopuses for any parent of a preemie who reaches out.

Two hospitals – which the group declined to name – accepted the toys and the group recently collaborated with infant clothing retailer, Tiny Babies, to include a crochet octopus in care packages the company offers to babies warded in neonatal intensive care units. 
At least one of the hospitals has ordered a second batch, and Ms Neo and friends aim to get more tie-ups sealed. "The hospital is the frontline as they are the first to reach out to the babies," she said.
"We know that these octopuses are not going to bring miracles. But at least (the babies and the parents) know that there is support from the people around them."