'No choice': Some stallholders in Singapore say they may close temporarily following Malaysia's chicken export ban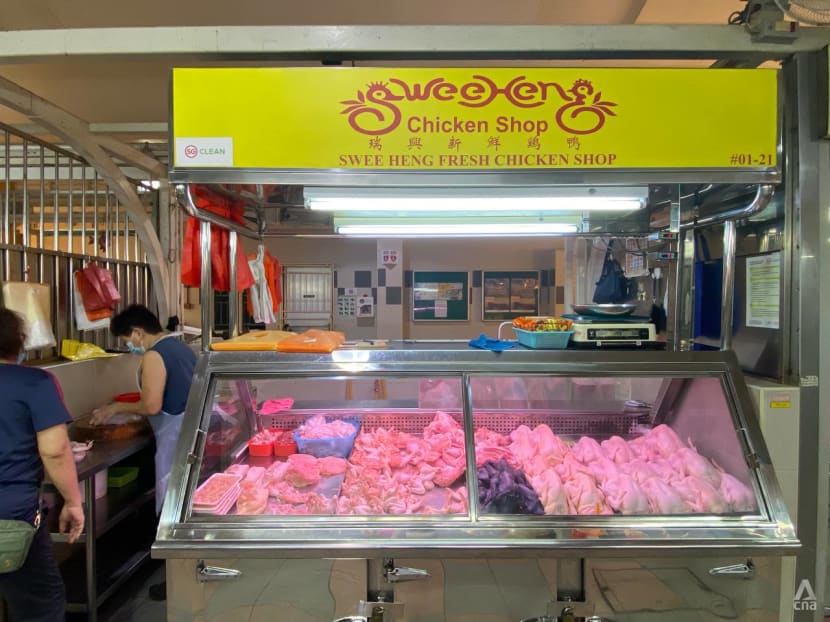 SINGAPORE: Your go-to fresh chicken stall at the neighbourhood wet market might close, at least for now, due to Malaysia's impending curb on the export of chickens, according to stallholders CNA spoke to on Tuesday (May 24).
Malaysia's Prime Minister Ismail Sabri Yaakob had announced a day earlier that his country will curb the export of chickens from Jun 1, among other measures to address the domestic supply shortage.
It is "a short-term measure" to halt the export of up to 3.6 million chickens per month, until domestic prices and production stabilise, he said. 
According to the Singapore Food Agency (SFA), about one-third of Singapore's chicken supply is imported from Malaysia. Other major sources include Brazil (49 per cent) and the United States (12 per cent).
SFA also said on Monday after the announcement, that it will work with stakeholders to activate supply chains to increase imports of chilled and frozen chickens from alternative sources, or draw from poultry stocks. 
While it is unclear how Malaysia's ban on exports will impact chicken supplies and prices in Singapore, stallholders at wet markets CNA spoke to said they are concerned.
STALLHOLDERS MIGHT PUT BUSINESS ON PAUSE
Chicken prices have already increased over the past month. According to data from the Singapore Department of Statistics, the average price for a whole chilled chicken cost S$7.21 per kg in April this year, up from S$6.60 per kg in March. 
Chilled chicken wings also rose from S$8.75 per kg in March to S$9.45 per kg in April. 
The impending export ban from Malaysia has several stallholders in Singapore worried, as it might result in a further increase in price, driving customers away. 
At Bukit Merah View Market, Mr Mohamed Basheer, stallholder at Halnaz Frozen Goods, said his business is already affected by rising food prices. But the 42-year-old has tried not to increase his prices by too much. 
"Because selling price (if) I increase, customer run already. Somemore, Sheng Siong, FairPrice, little bit already increase, so the (wet) market seller (is in a) very difficult (position) now," he told CNA. 
Mr Basheer, whose stall sells halal meat including chicken, said some customers have not been happy, and have complained about "expensive" prices. 
"(But I tell them) no choice. (Everyone else) increase already, that's why I also increase," he added.
CNA heard similar sentiments from 58-year-old stallholder Peh Ah Lai of Fu Lai Fa, another stall in Bukit Merah View Market.  
"If there's no chicken import, of course it will affect my business. ... I can't say anything when customers complain. We have no choice. It's not that we want to (increase prices)," Mr Peh told CNA in Mandarin.
"There are fewer customers now, but it can't be helped," he added, and shared that he also does free delivery around the Bukit Merah area. 
If Mr Peh is lucky, he could sell out around 10am, but if not, then he usually closes his stall around 2pm. He said he has noticed an increase in leftovers currently. 
"(But) if we don't increase prices, there's no way we can make a living," he said.  
Elsa Ho, who is semi-retired, complained about the rising prices while queuing at Mr Peh's stall. 
"The price has really increased a lot. For eggs, the price has risen from S$2 to $3. The percentage (increase) is very high. It's terrifying. ... It's really no way to survive," the 59-year-old told CNA in Mandarin. 
Still, she regularly patronises Fu Lai Fa and said she will continue to do so because they sell organic chickens.
Meanwhile, at Swee Heng Fresh Chicken Shop in Beo Crescent Market, stallholder Mdm Ng Kwee Huey wasn't aware of Malaysia's plans when CNA approached her on Tuesday morning.
She asked how long the curbs will last, as her supplies come from Malaysia.
"If there are no chickens coming in from Malaysia, then we will stop selling for awhile," she told CNA in Mandarin, adding that the price for a chicken thigh is roughly S$3 now, as compared to S$2.50 in the past. 
"The cost is already so expensive. If I can stop selling, I will stop selling. It's easier to not sell temporarily than try to sell something so expensive." 
Likewise, at Tiong Bahru Market, another stallholder who only wanted to be known as Ah Mei, said her supplier also hadn't informed her of the news yet. But she heard from another stallholder that "there might not be any chickens coming in next week", she said in Mandarin.
When CNA visited her stall just before 8am, she was already packing up. This is the norm for her, she said, since she only buys a "limited amount" as she manages the stall alone. 
Even with good sales, the 70-year-old said that she "doesn't know what to do" with the upcoming halt in export. 
"(At the moment,) for many regular customers, I don't sell too expensive to them, so that should get them to come back to me. ... If there are no chickens, I'll take a break. My son is also selling chickens, also from Malaysia, at Yew Tee," she said. 
At another stall in Tiong Bahru Market, Mr Stanley Yeow said the suspension of exports from Malaysia would "definitely" affect not just him, but the "whole of Singapore". 
"All the chickens that you buy from the market are from Malaysia. If (my suppliers) have 10 (chickens), I sell 10. If they have 100, I sell 100.
"If they have zero, I'll rest. It's that simple," the 52-year-old stallholder of Wei Ji said. 
He added that there are jobs and livelihoods at stake, so "it won't be forever, maybe two or three days, one week".  
SOME CUSTOMERS "NOT REALLY" AFFECTED 
On the other hand, other customers queuing for fresh chickens at wet markets said the suspension would "not really" affect their life.
One customer, Mdm Jenny Ng, who declined to give her age, said her family only eats the meat occasionally. She buys it from a stall at Beo Crescent Market "whenever she needs it". 
"(If the stall stops selling chickens,) I will go elsewhere to find it. This stall is just near to my house, so I come here when I'm buying food (at the market) to eat," she said. 
Another customer in line at the same stall at Beo Crescent Market was a 42-year-old pre-school teacher, who declined to give her name. 
"I think with the increasing price ... just eat less," she said, adding that she only visits the stall about once a week. 
Over at Tiong Bahru Market, a 49-year-old customer, who only gave his name as Mr Huang, said he last bought chicken three months ago. His family doesn't cook a lot, and they also don't eat it much.
But while the impending shortage of chickens might not affect his expenditure directly, he noted it will have a broader impact on demand for other food products. 
"There will be a chain reaction," he said.