'I was struggling to get up in the morning': Postpartum depression and the importance of seeking help
KK Women's and Children's Hospital (KKH) saw a 47 per cent increase in patients with postnatal depression between April 2021 and March 2022, compared with the same period two years before.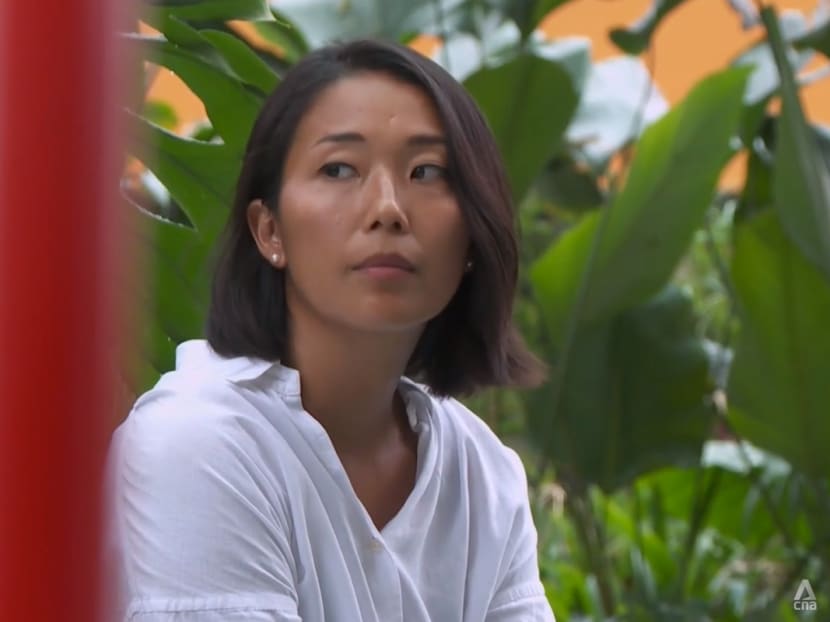 SINGAPORE: After giving birth to her second daughter about a year ago, Ms Paula Iqueda found herself mentally, physically and emotionally exhausted.
Her older daughter was just about one-and-a-half years old and was having trouble adjusting to having a sibling. She was competing for her mother's attention, which Ms Iqueda now had to split between her toddler and newborn.
Despite help from her husband, Ms Iqueda found herself overwhelmed.
"I would cry very often. Every day, I would have had some type of crisis, I would have a breakdown and I had this guilt that was building up and I just couldn't get rid of it," she told CNA.
"We were suspecting I had depression because I was struggling a lot. I was struggling to get up in the morning. I was struggling to get out of the house. I was struggling to see any type of hope," she added.
Ms Iqueda was formally diagnosed with postnatal depression after a visit to her gynaecologist. However, even after her diagnosis, Ms Iqueda did not seek help.
"I had this taboo in my own mind, this prejudice of 'no, this is normal. It's going to pass. Every mum goes through it'," she said. A few weeks later, she realised she needed professional help urgently, as she was wishing she would die.
"It was really hard for me to say it out loud because it just made me so sad to have such little regard for my own life," she said.
Her condition got better after she saw a psychiatrist at KK Women's and Children's Hospital (KKH).
POSTPARTUM DEPRESSION
Ms Iqueda is not alone in her struggle. KKH saw a 47 per cent increase in patients with postnatal depression between April 2021 and March 2022, compared with the same period two years before.
The postnatal period typically lasts for up to one year from the delivery of a child, said Dr Chua Tze-Ern, head of KKH Women's Mental Wellness Service at the Department of Psychological Medicine.
Many factors can increase the risk of depression for new mothers, said Dr Chua. Among them is the "sheer difficulty" of the journey, especially if it was made more challenging by obstetric complications, or ill physical health in either the mother or the baby.
She noted that both young and mature mothers may struggle more with the condition.
"Young mothers might be still studying (and) they may be dependent and simply not ready to have a baby yet, whereas more mature mothers might not have the energy to cope with a pregnancy and then with a new baby," she said.
She added that if the pregnancy was not planned, it might complicate their life plans and increase the risk of postnatal depression. History of depression is another factor. The prevalence of postnatal depression increased during the COVID-19 period, which came with "substantial" stresses, she added.
The diagnostic criteria for depression in new mothers is the same as with other segments of the population, Dr Chua said.
Symptoms include a persistent sense of sadness and negativity, inability to feel joy or interest in things that they used to do, and difficulty sleeping, eating, and moving around with the same ease and energy that they used to have.
Other symptoms include feeling guilty, even though there may not be reasons to, along with harbouring thoughts of self-harm or even suicide, she added.
"The confinement period is really important because it gives time to rest and recuperate from that experience. And it's even better if the family around her can show good support, and also chip in to provide care for the baby," said Dr Chua.
CONFINEMENT CENTRES OFFER MENTAL HEALTH SERVICES
To help women during the vulnerable postpartum period, confinement centres which look after the wellbeing of mother and baby after delivery are stepping up to the plate by offering mental health services.
Doctors from a telehealth platform esme.chat, which offers therapy services, train staff from one such centre, Singjoy, to identify signs of the condition.
"We had a chat and we realized that our vision is quite aligned in terms of providing support, early assessment, intervention and easy access to mental health," said esme.chat founder Dr James Wong of the partnership with Singjoy.
When a mother checks into the centre, an assessment is done, said Dr Wong. He added that the mothers will be contacted via the chat platform as well.
Another centre, My Queen Prenatal & Postpartum Wellness Centre, which is located on Sentosa and offers hotel stays, has introduced what it calls "wellness workshops". These include activities like yoga and soap making.
"We give them candle wax making, essential oil making, tea appreciation - something that they can take their mind away from the daily routine," said founder Teo Meiling.
The purpose is to let the mothers prioritise self-care, she said.
"Once they take care of themselves, then they can take care of the baby," said Ms Teo.
"We must also advise them that motherhood is not a sprint. It's a marathon."
Where to get help:
Samaritans of Singapore Hotline: 1767
Institute of Mental Health's Helpline: 6389 2222
Singapore Association for Mental Health Helpline: 1800 283 7019
You can also find a list of international helplines here. If someone you know is at immediate risk, call 24-hour emergency medical services.