SINGAPORE: Inflation is quickly emerging as a key challenge this year after hitting multi-year highs on the back of a "perfect storm" of external and domestic factors.
Latest official data showed Singapore's headline or overall inflation for December edged up to 4 per cent on a year-on-year basis from November's 3.8 per cent, hitting a near nine-year high.
Core inflation, which excludes accommodation and private transport, rose to 2.1 per cent on a year-on-year basis from 1.6 per cent in the previous month. This marked the indicator's highest reading since July 2014, according to Reuters.
The rapid rise in cost pressures came after a short spell of negative inflation in 2020 amid plunging demand during the COVID-19 pandemic.
The pick-up in inflation has spurred the Monetary Authority of Singapore (MAS) to make an unexpected inter-meeting policy move last week.
The central bank, which typically holds its policy meetings in April and October, said on Jan 25 it will "raise slightly" the rate of appreciation of the Sing dollar nominal effective exchange rate policy band.
Doing so effectively allows the Singapore dollar to appreciate, making imports cheaper and hence defending the purchasing power of Singapore consumers and businesses.
The MAS said its latest move "builds on the pre-emptive shift to an appreciating stance" in October last year when it also surprised markets by raising the slope of its policy band, and is "appropriate for ensuring medium-term price stability".
Rising prices in Singapore

| | | |
| --- | --- | --- |
|   | CPI-All items inflation | MAS core inflation |
| Jan 2021 | 0.2 | -0.2 |
| Feb 2021 | 0.7 | 0.2 |
| Mar 2021 | 1.3 | 0.5 |
| Apr 2021 | 2.1 | 0.6 |
| May 2021 | 2.4 | 0.8 |
| Jun 2021 | 2.4 | 0.6 |
| Jul 2021 | 2.5 | 1 |
| Aug 2021 | 2.4 | 1.1 |
| Sep 2021 | 2.5 | 1.2 |
| Oct 2021 | 3.2 | 1.5 |
| Nov 2021 | 3.8 | 1.6 |
| Dec 2021 | 4 | 2.1 |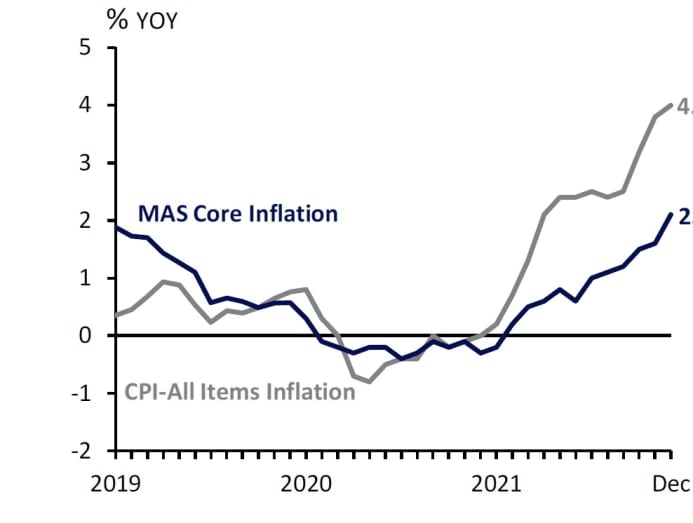 WHAT'S INFLATION?
Simply put, inflation measures how much more expensive a set of goods and services has become over a certain period.
A moderate amount of inflation is generally seen as a sign of a healthy economy. This is because as the economy grows, demand for goods and services typically increases which in turn pushes prices higher.
It is also not surprising to see inflation overshooting after a recession, said DBS senior economist Irvin Seah, citing how prices similarly surged in 2011 as the Singapore economy roared back to life after the global financial crisis. All-items inflation hit as high as 5.7 per cent that year.
But too high an inflation will dilute consumers' purchasing power and erode corporate margins, while stirring instabilities in the economy.
"When you look at MAS' pre-emptive policy stance, it basically says that the main concern in the immediate run is that inflation becomes unhinged," said Singapore Management University's (SMU) assistant professor of finance Aurobindo Ghosh.
With inflation remaining on an upward trend in December and the "bigger threat" of interest rate hikes overseas such as in the United States, the MAS wants to "address inflation head on so that other channels of growth are kept open", he added.
In Singapore, overall headline inflation has historically averaged at about 2 per cent, noted Mr Seah.
"Our estimate for full-year inflation this year is 3.8 per cent, which is almost double the historical average. Such inflation level is definitely not healthy for long-term economic growth," he said.
WHAT'S DRIVING INFLATION?
A variety of global events has exerted upwards pressure on prices here given how Singapore is a small, open economy that imports most of its needs.
These include the strong recovery in global growth and demand with the arrival of COVID-19 vaccines, a rally in oil and gas prices on the back of a supply crunch and recent geopolitical tensions, as well as pandemic-related disruptions to the world's supply chains.
Take the example of food. With Singapore importing more than 90 per cent of the food consumed by its population, supply chain snarls – ranging from production hiccups at farms and factories, shortage of shipping containers to port closures due to COVID-19 – have driven up freight rates, adding to the cost of imports.
Extreme weather events, such as the recent spate of floods followed by warmer weather in Malaysia, have also fed into a steady rise in global food commodity prices.
Higher energy prices drive up food production costs too. Natural gas, for instance, is used to create ammonia which in turn is a key component in many fertilisers.
Other imported consumer goods, such as cars and home electronics, have also seen prices head north amid a global chip shortage since early 2021. The supply shock was in part due to unexpected pandemic-fuelled demand from certain industries like smartphones and PCs, alongside complex multinational supply chains and long lead times.
In its biannual macroeconomic review published in October last year, MAS noted that the chip shortages could last for another year, meaning that prices of consumer electronics will remain firm.
In tandem, domestic-led price pressures are building up.
A tight labour market, partly due to COVID-19 border curbs limiting foreign manpower inflows, has led to wage increases. This, in turn, drives up the prices of services here such as in the food and beverage sector.
Firm domestic demand continues to prop up the local property rental market and certificate of entitlement (COE) premiums, nudging up accommodation and transport inflation.
Latest data also showed that a steep increase in airfares and COVID-19 testing costs under the vaccinated travel lanes were major contributors to the inflation bump in December.
"It's kind of like a perfect storm with all these things happening at the same time," said Asst Prof Ghosh.
MAS has said it expects the factors driving up global and regional inflation last year to "remain in play for a period". Domestic inflation will be exposed to these external pressures, alongside the tight labour market, it added.
With that, core inflation is set to rise between 2 and 3 per cent this year, while headline inflation will go up between 2.5 and 3.5 per cent, according to revised estimates.
HOW THIS AFFECTS THE AVERAGE SINGAPOREAN
The jump in living costs inevitably heightens the pressure for the average man on the street.
According to the Department of Statistics Singapore, housing and utilities (24.8 per cent), food (21.1 per cent) and transport (17.1 per cent) account for the top three areas of expenditure for households here.
Of which, transport inflation shot up by 8.8 per cent last year, compared with a 0.7 drop in 2020. Private transport inflation was a major driver, up more than 11 per cent on the back of increases in car and motorcycle prices, and pump prices.
Inflation in housing and utilities rose 1.4 per cent in 2021, reversing a 0.3 per cent decline in the previous year.
Quarterly-reviewed tariffs have risen over the course of last year and they will go up again in the first quarter of this year, SP Group and City Energy have said.
The abrupt exit of several electricity retailers from the country's Open Electricity Market last year also left tens of thousands of households with bigger electricity bills as they were transferred back to grid operator SP Group. These households can choose to switch to another retailer, but rates have gone up across the board amid soaring electricity prices and fuel costs.
Food inflation, another major spending category, increased by 1.4 per cent in 2021. 
Another area where households may feel some pain is in the repayment of loans, according to Associate Professor Yeo Wee Yong from the National University of Singapore Business School.
While monetary policy in Singapore is centred on the exchange rate, local interest rates are "not immune to changes in the overall economy" and may see upward pressure, he added. 
Bank loan rates may also be affected by rate hikes overseas. As such, floating-rate loans, such as that found in most mortgage loans, could see upward adjustments.
"This coupled with increasing prices and hence living costs, as well as the impending Goods and Services Tax (GST) hike if it materialises, mean that households need to plan their budget more closely ahead," said Assoc Prof Yeo.
HOW THIS AFFECTS BUSINESSES
Businesses that feel the heat from rising costs are likely those that do not have sizable market shares and are in highly competitive industries, said Mr Seah.
"When it's very competitive, you lose market share when you jack up prices," he added. "Unfortunately, many companies will have to absorb these price increases into their margins."
Several F&B operators told CNA that they have been reeling under rising costs on several fronts, such as food ingredients and wages. But their hands are tied when it comes to raising prices, for fear of losing diners while grappling with COVID-19 restrictions.
That said, inflation will eventually "hit everybody so the likelihood is that all companies will have to pass on the costs to consumers", said the DBS economist.
"Those that are more efficient, able to leverage technology and automation and hence be less reliant on labour, able to diversify their supply sources and keep costs low, will be the eventual winners," he added.
WHAT CAN BE DONE?
Economists are expecting further monetary policy tightening when the MAS meets for its scheduled review in April.
Apart from raising the slope of its policy band again to allow the Sing dollar to appreciate, the central bank may also change the mid-point of the band – a tool generally reserved for "drastic" situations – some analysts have predicted.
"The current pre-emptive move via the slope adjustment may not be sufficient to reduce imported inflation," said Maybank Research economists, who expect the central bank to do a "double tightening" move in April by re-centering its Sing dollar band and raise the slope for the third time.
Authorities have also moved to cool asset price inflation, noted SMU's Asst Prof Ghosh, pointing to the property cooling measures announced in December.
The Government has said that it has a "multi-pronged" strategy in place to tackle rising inflation.
This includes maintaining the competitiveness of Singapore's economy so as to keep creating good jobs that can bring sustainable wage growth for Singaporeans, said Minister of State for Trade and Industry Low Yen Ling in Parliament last month.
The Government is also diversifying its food import sources to reduce vulnerability to large price fluctuations globally, and ensure that food supply prices remain competitive, she added.
All eyes are also on the planned increase in GST.
Speaking in Parliament last month, Second Minister for Finance Indranee Rajah said the GST hike is not something that can be put off forever but its impact on Singaporeans can be delayed through policies such as the Assurance Package.
The S$6 billion package, first announced in Budget 2020, will help to stave off the impact of the GST hike by five years for the majority of Singaporeans and by 10 years for the lower-income, she said.
"Essentially, whatever the increase to the expenditure as a result of GST, the Assurance Package is designed to buffer them for that increase," Ms Indranee told Parliament.
"We will continue to look out for the low-income households and the majority of middle-income households."