Workplace anti-discrimination laws welcome, but changing 'embedded' mindsets critical, say observers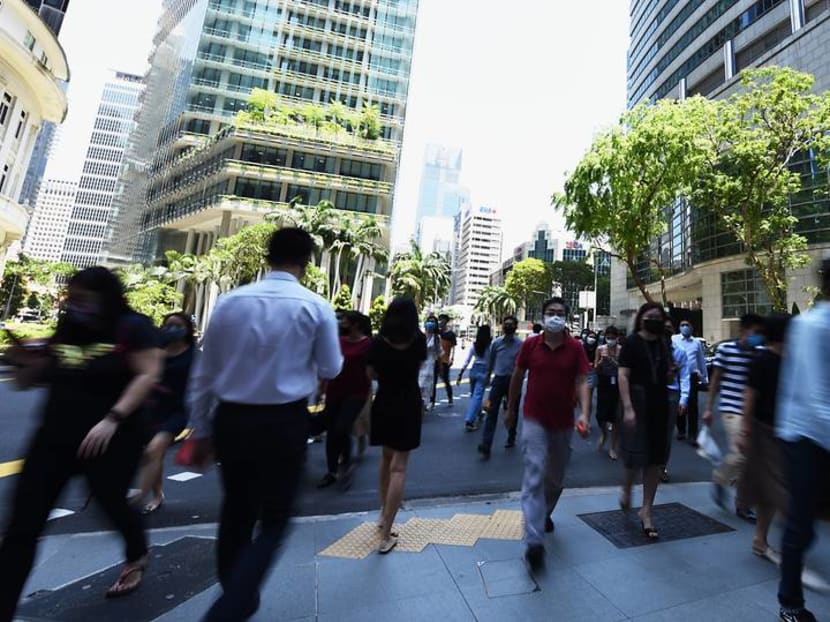 SINGAPORE: Maya remembers being passed over for certain projects because of gender stereotypes at a firm she worked at previously.
The communications executive, who did not want to use her real name, was told that men were better at advertising and creative work, and was put on other projects instead.
"I felt that it did hamper my growth," she told CNA. "Of course, it did impact the decisions in leadership as to what projects to hand over to me when I was just as capable as the other male creatives in the team."
Maya said she had no one she could bring this up to and was not sure that the human resources department would have had her back.
"You don't want to ruffle any feathers ... so it can be challenging to have some kind of voice when these situations arise," she said. "Can HR actually be trusted to advocate on your behalf or to mediate? It's challenging to navigate."
As an Indian woman, she has also faced slights due to her race, such as a supervisor at another firm who made it clear she preferred not to have lunch with her.
"When you have to deal with discrimination because of your gender and then, on top of that, there's racism ... it's a lot to deal with," she said.
On Sunday, Prime Minister Lee Hsien Loong said in his National Day Rally speech that Singapore will enshrine into law its current workplace anti-discrimination guidelines.
"Philosophically, writing TAFEP guidelines into the law is a major move. It signals that we do not tolerate discrimination at workplaces," he said. 
He also announced that a tribunal will be created to deal with workplace discrimination based on nationality, gender, race, age, race, religion and disability.
There are already guidelines against these forms of discrimination in the Tripartite Alliance for Fair & Progressive Employment Practices (TAFEP) but this will give the rules "more teeth", said Mr Lee.
A TAFEP spokesperson said it welcomes the Prime Minister's announcements.
"This builds on the work of tripartite partners over the years in developing guidelines for workplace practices to uphold fairness. The new legislation will expand the range of actions that can be taken against employers with discriminatory practices," said the spokesperson.
There have been no details yet on when the laws will be enacted and what the tribunal may cover. And for people like Maya, it's not clear yet what will change for them.
She said: "For me it's a question what exactly this legislation is going to address, because I think it does take everyone to do their part.
"In an organisation when you say, inclusion and diversity, how are you defining that? How does it translate to action within the organisation?"
"AGE-OLD CONCEPTS"
Ms Sabrina Ho, founder and CEO of Half the Sky, a career platform for women, said that "age-old concepts" regarding gender hierarchies are "embedded in the consciousness of society". 
"Women are not able to realise their full potential in their workplace simply because gender stereotypes dictate that they do not measure up to men," said Ms Ho.
Many companies tend to discriminate against women to avoid providing maternity benefits and also because of the assumption that pregnancy takes women away from their work, she said.
Another issue that needs to be addressed is the unequal pay between men and women at the same job level, she added.
Legislation can address some forms of discrimination, such as those related to pregnancy and maternity benefits, and unequal pay.
"However, when it comes to gender stereotyping, legislation may not easily address this for gender stereotyping in the workplace is rooted to structures in the society that reinforce ideas of gender inequality," said Ms Ho.
Mindsets and perspectives towards women in the workplace need to change, to provide a playing field "that provides equal opportunities to all genders", she added.
In January 2020, MOM imposed stiffer penalties for all forms of discriminatory hiring practices. Errant employers are barred from hiring new foreign workers or renewing existing ones for 12 to 24 months.
There were 507 complaints to TAFEP in 2019, according to its 2019/2020 annual report. The top three issues handled from Apr 1, 2019 to Mar 31, 2020 were fair consideration for Singaporeans (one in four), age discrimination (one in 10) and gender bias (one in 13).
Last year, AWARE's Workplace Harassment and Discrimination Advisory saw 67 clients who experienced discrimination.
The women's rights organisation said in a statement on Facebook that it welcomes the anti-discrimination legislation.
"We're glad for this much-needed action, which AWARE has previously called for," it said.
But it also posted some questions, such as what the enforcement powers of the new tribunal will be and what penalties will be meted out to errant employers.
"Workplace discrimination is often carried out subtly, which makes it hard for those affected to argue their case," said AWARE. 
"We hope the legislation will provide clear illustrations of different types of discriminatory behaviour and assure victims that they will receive adequate protection from retaliation from perpetrators."
LAWS ARE NOT ENOUGH
A spokeperson from the Singapore Indian Chamber of Commerce and Industry, said that racial discrimination in corporate settings is on the rise. 
"Concerns about the CECA and Delta variant are raising suspicions, and this could exacerbate the fragile situation," the spokesperson said, referring to the Comprehensive Economic Cooperation Agreement between India and Singapore.
But SICCI pointed out that education and advocacy are more important than "damage control".
"The law and tribunal are really for resolving disputes, not to address a more deep-seated bias … It is possible to enact clear rules, but they can also be circumvented and misinterpreted."
Mr Abhimanyau Pal, CEO of SPD, a charity serving people with disabilities in Singapore, said that enshrining into law the current workplace anti-discrimination guidelines is one of the Government's strongest measures in recent years to protect marginalised workers against discrimination.  
It could mean better treatment for those with disabilities at workplaces as employers must abide by fair and merit-based employment practices. But he also felt that the law alone may be inadequate in ensuring inclusive and fair hiring. 
"In times of job insecurity, such laws could offer persons with disabilities protection from workplace discrimination and unfair dismissal."
But this could also be a double-edged sword, said Mr Pal, as some companies may choose not to hire certain job applicants to avoid any run-ins with the law.
WHAT CAN LEGISLATION ACHIEVE?
That legislation may make some employers even more cautious about hiring certain demographics is a possibility, said Ms Linda Teo, country manager of ManpowerGroup Singapore.
"For the legislation to be effective, it has to go hand-in-hand with the current education to change mindset and attitudes towards inclusive work practices," she said.
But laws will provide a clearer framework on what is considered discriminatory, she pointed out. Both employers and workers will also better understand their respective responsibilities and rights, and what they need to do to be equitable and accountable.
"It will also provide affected parties with a legal basis to seek recourse should the situation call for it."
Implementing laws also shows the Government's tougher stance on workplace discrimination, which in turn will prompt employers to place more focus on ensuring they remain inclusive, said Ms Teo.
Mr Lee Quane, regional director for Asia at manpower solutions firm ECA International, said companies will need to establish more formal employee review processes based on objective indicators and keep accurate records of such proceedings.
"There will now be a greater onus on employers to prove that they are not favouring a particular group over others when it comes to recruitment and progression," he said.
HELPING FOREIGN WORKERS ASSIMILATE
For companies looking to employ foreigners in sectors where there is a shortage of local talent, such as in finance and IT, it may also become necessary for companies to show that they are trying to train and develop local employees in order to create a level playing field for all.
When hiring foreign workers, he recommends providing cultural training to foreigners as part of the onboarding process to help them assimilate. 
Companies should also encourage collaboration among employees by providing avenues for social interactions and other activities – a point that is often neglected when hiring foreigners. 
"This may result in foreign employees struggling to assimilate with their local colleagues, and gravitating towards others who are of the same nationality or share similar circumstances," he said. 
"Thus, adopting these initiatives will hopefully assist companies in retaining their core Singaporean workforce, while still making room for foreign talent where necessary."
Ms Teo said that building an inclusive workplace and hiring culture needs to start from the top.
"If the senior management has entrenched mindset, that will cascade down to the ground level. Building a diverse and inclusive workplace is not solely HR's responsibility, it is also the role of every hiring manager and their people," she said.