'Not something you'll usually see': Nostalgia and science made fun on Yakult's factory tour
Yakult Singapore resumed its free factory tour in August 2022 after it was suspended during the pandemic.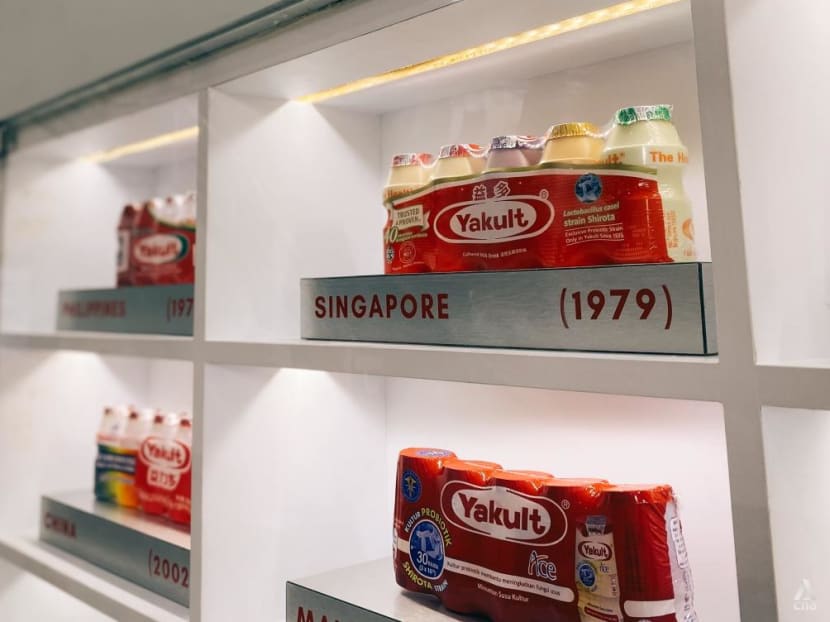 A bottle of Yakult was Ms Evelyn Chan's "post-dinner treat and indulgence" when she and her siblings were growing up in the 1990s. 
So when the 33-year-old heard about the Yakult factory tour from friends with children, she didn't hesitate to sign up with her four-year-old son. 
"We were curious about the production process. It's not something you'll usually get to see. I didn't come on the tour as a kid, though I wish I did," she told CNA. 
Like most factory tours in Singapore, such as the Tiger Brewery tour, the Milo discovery tour and the Khong Guan tour that showcases the manufacturing process of its biscuits, the Yakult factory tour provides an alternative activity for families and a behind-the-scenes peek at how a local favourite is made.
While some tours, such as the Khong Guan tour, haven't resumed after being suspended during the pandemic, Yakult Singapore reopened its doors to the public in August 2022.
Ms Chan was one of the lucky ones who managed to secure a slot on the popular tour at Senoko Avenue on the outskirts of Sembawang.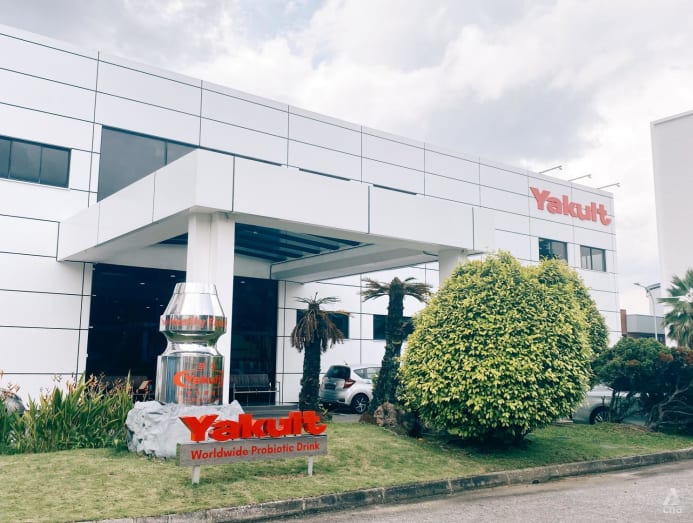 Getting a spot appears to be a game of fastest fingers first once they are released on the website.
"Once slots open, they fill up. We open slots exactly three months in advance. This morning, we opened up, and (within) only one day, (they're) gone," said Mr Yap Chi Ming, a microbiologist who conducts the factory tours, when he hosted CNA in December. 
According to Yakult's website, tour slots have been fully snapped up for the March and June school holidays this year. Tour slots outside school holiday periods are still available for February, March and April as of Jan 18. 
Held from Monday to Friday, excluding public holidays, each tour lasts an hour and a half. There are three sessions per day during school holidays, and two per day outside school holiday periods. All tours are free.
FROM CLASSROOM TO FACTORY
While Yakult was first introduced to Singapore in 1979, factory tours only began in 1987. 
Mr Yap, who is also the company's public relations officer, has hosted a range of visitors, from pre-school students to university researchers and recently, a steel company.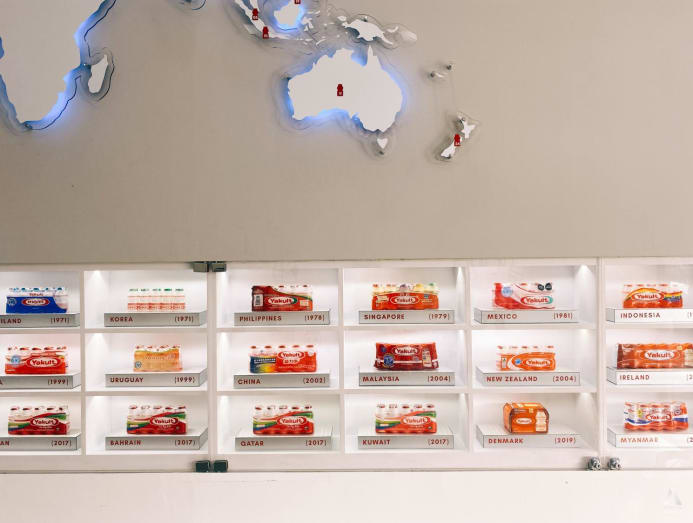 The tour unofficially begins when visitors get hit with nostalgia in the spartan lobby of the Yakult factory, where they wait to be ushered into a classroom for the first part of the tour. 
They are greeted with a wall of Yakult bottles in varied designs from around the world and a map depicting the 40 countries and regions that sell the popular probiotic drink.
A projector screen plays a loop of Yakult's advertisements from various countries, including Vietnam and Australia.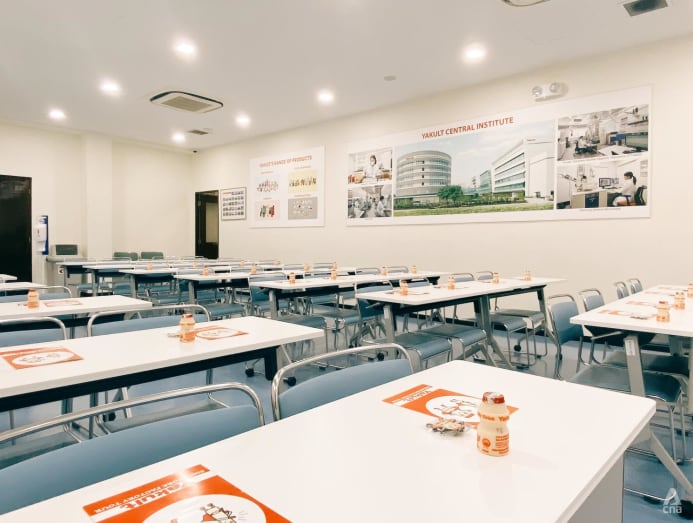 Visitors are then seated in a classroom, where Mr Yap talks about intestinal bacteria and "general knowledge" such as not biting fingernails or leaving food out in the open.
He then takes visitors down a corridor with glass walls that overlooks the production floor.
The glass walls were constructed to provide clear viewing for visitors and prevent contamination at the same time. But visitors are not allowed to take photos or videos.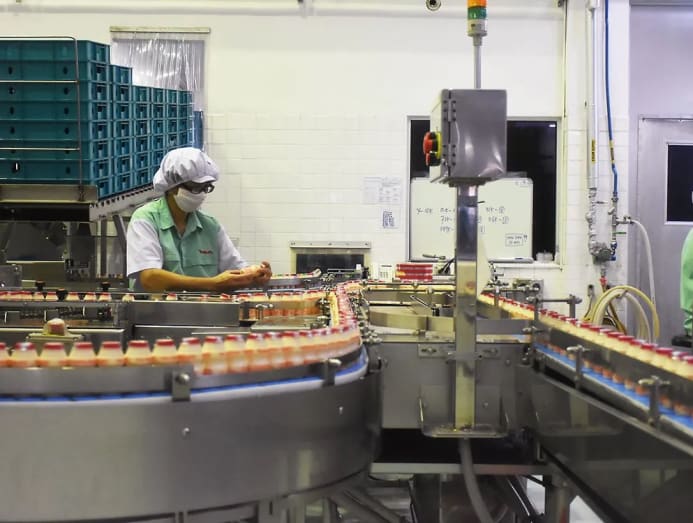 There are more than 10 steps in the manufacturing process, which happen like clockwork, said Mr Yap.
"If we want to build a factory in any country, we have a department to go to that country. So everything is the same – all operators are able to work in any Yakult factory, because the layout and flow, everything is the same," he told CNA.
First, the skim milk powder is dissolved in water around 50 to 55 degrees Celsius to make a milk solution in the dissolving tank. 
Then the milk is sterilised with heat before being transferred to a culture tank, where it is cooled to 37 degrees Celsius. The L. paracasei strain Shirota bacteria – a lactic acid bacteria strain – is added at this stage. 
After fermentation, the milk becomes sour and is transferred to a storage tank. Syrup is added to balance out the sourness of the milk.
The concentrated Yakult solution is then transferred to a mixing tank and diluted with sterilised water. Natural flavours and permitted colouring are also added.
This mixture is transferred to a filling tank. 
While the drink is being made, Yakult's plastic bottles are moulded by a machine. These bottles are sucked into a duct with a clean air blower and brought to the bottle storage tank.
The empty bottles are released onto a circular selector which places them in an upright position before being sent to the printing machine. 
The printing machine then imprints the Yakult logo and product information onto the empty bottles using "instant-dry" red ink. 
These printed bottles are then sent to the filling machine, where the Yakult mixture is stored. 
After being filled, bottles are sealed with an aluminum foil that shows the use-by date.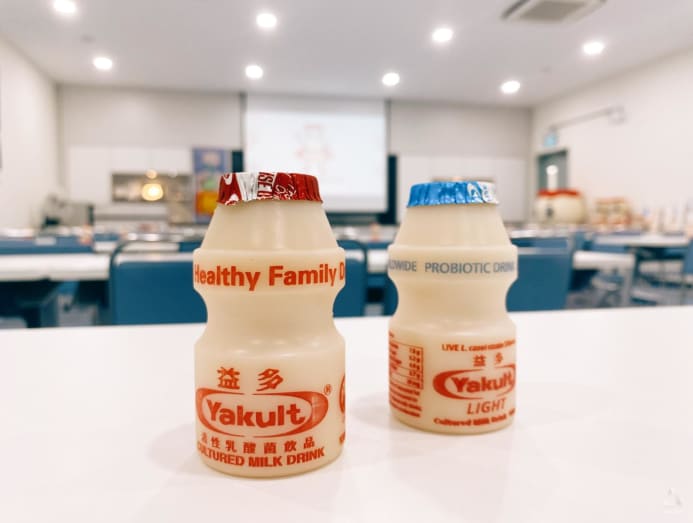 These finished Yakult bottles are then sorted into single bottles or a pack of five bottles that is shrink-wrapped. They are put into crates for the cold room, which has a temperature of 5 degrees Celsius, while awaiting delivery by direct sales or home delivery.
The latter happens in the form of door-to-door delivery by the Yakult lady – a familiar character for those who stay in Housing Board flats. 
After 26 years in the company, Mr Yap remains surprised at how much the brand means to people. 
"The most memorable part of the job is (hosting) the factory visit. You see different people every day. Honestly speaking, I like those who come with a hunger for knowledge – and there are a lot. You want to share more with them," he said. 
"I met one teacher who told me that she came on the tour as a student. And now she's bringing her own students here. You feel very happy because it really feels like they love this programme." 
Facts about Yakult in Singapore
1. Singapore is the only country that has four flavours of Yakult: Original, grape, apple and orange.
This could be due to "market demand", said Mr Yap. 
2. Singapore, along with Hong Kong, China and Taiwan, consume 100ml Yakult bottles – the biggest size of Yakult bottles.
Countries like Japan, Indonesia and Australia carry 65ml bottles, while others like Malaysia and South Korea carry 80ml bottles. 
3. Yakult Light – not to be mistaken for Yakult Ace Light – looks similar to the Yakult Original bottle except with a blue cap. 
It's sold exclusively via Yakult home delivery, and is only available in select schools and hospitals. 
Yakult Light also contains 10 billion L. paracasei strain Shirota, unlike Yakult Ace Light which has 30 billion and 30 per cent fewer calories. The latter only comes in 80ml bottles.
As for Ms Chan, who attended the tour with her four-year-old, she felt it was more suitable for older children. 
"My son was probably only excited and happy about being able to drink fresh Yakult," she said.
"But the tour was succinct, with enough information shared. We enjoyed the walk around the factory and seeing the machines and production line."