Young entrepreneurs rally to beat soaring Geylang bazaar costs
The old gotong-royong spirit returns and this time, it means business.
SINGAPORE: If you visit Tanjong Katong Complex this weekend for some pre-Hari Raya shopping, you could pop by 21 Sliders for their buttermilk fried chicken sandwich The Wrangler, or Hyde and Co for their crispy chicken rendang (yes, that exists now - thanks, MasterChef) - and you might win yourself a trip to South Korea.
The stalls are part of the TKC Collective, one of several business alliances forged for Ramadan to make the most of the Geylang Serai bazaar as stall rentals hit a record high.
"The tender value had been as low as S$300,000 for the past 10 to 15 years, but this year, it nearly topped S$3 million for the whole bazaar," Mr Mohamed Mustaffa Shah, owner of bazaar operator En Niche Events, told BERITAMediacorp. 
Food vendors appeared to be hit the most, with stalls located outside the Muslim Converts' Association costing about S$17,000 and those at the new Wisma Geylang priced above S$20,000, excluding utilities.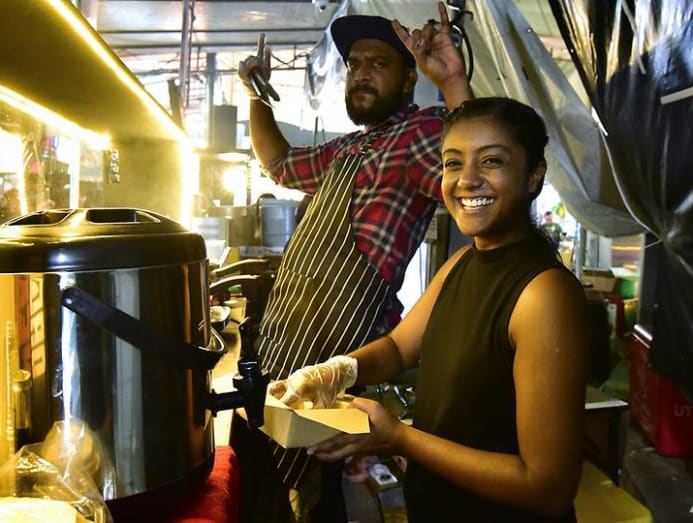 The eight businesses in the collective - which also include BrewUp, Fed by the Ravens, Island Hydeaway, Katoshka, The MNC Co and Rainbow Works - first met at the recent Prudential Marina Bay Carnival and GastroBeats events before teaming up for the bazaar, where they have their stalls in a row on the mallfront.
21 Sliders' managing director Rajidi Sharnan said they picked Tanjong Katong Complex because it offered some of the cheapest rents - about S$9,000 for a 3 ft by 3 ft stall. 
"After that, it was about promoting the location and pulling in the crowds together, and that was how TKC Collective was formed," said Mr Rajidi.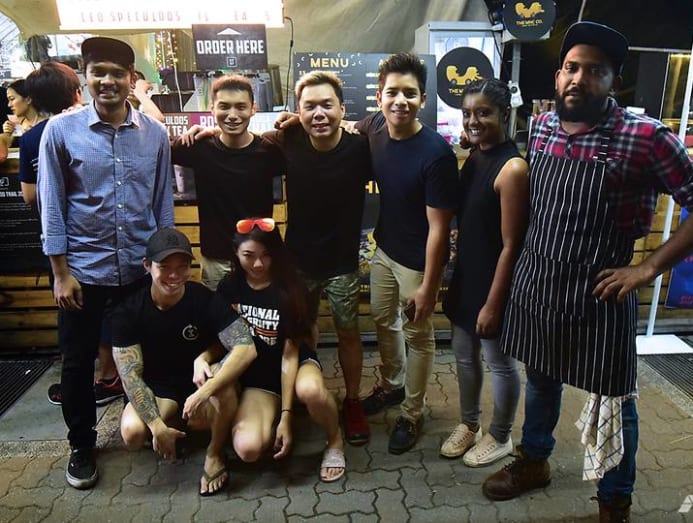 Customers receive a loyalty card that gets them discounts at participating stalls. Each time they purchase from a stall, the card gets a stamp, and a fully stamped card enters them into a draw to win a trip for two.
"Collaborating this way builds customer engagement," said Mr Rajidi. "There are also many business advantages - we share suppliers and influence with one another, and there's also a lot of cross-promotion."
Across the road at City Plaza, the vendor list reads like a who's who of the local arts and entertainment scene.
Wedding gallery owner and stylist to the stars Fatimah Mohsin works directly with the management of the nondescript mall along Geylang Road for her CelebRaya event, now in its second consecutive year.
Booths range from S$3,000 to S$4,500, and are more spacious and "exclusive" than at the main bazaar, said Ms Fatimah.
"Businesses don't usually go for City Plaza, but I like it because it's spacious and people can be comfortable," said Ms Fatimah, who on top of being the organiser also has a space for her home decor business, Propupstore. "We don't charge a lot, but the booths are nicely done, with lining, bistro lights and solid partitioning.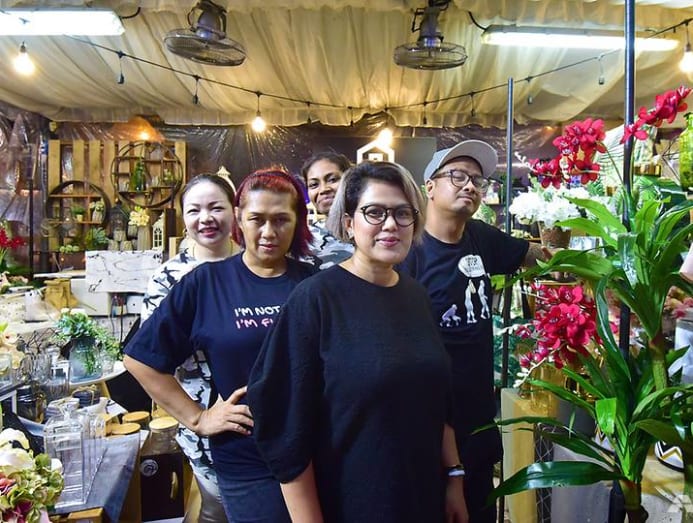 "It wasn't easy at first to get the brands I knew to come on board - I even lost my voice in the process! But eventually they did and many came back to do it again this year."
Ms Fatimah said she believes in the pull factor of the space, which also has parking facilities, as well as that of her partner vendors including local personalities like Adlina Anis, Nick Mikhail Razak, Norfasarie Mohd Yahya and Shahril Ishak. 
"People won't want to travel all the way here just to see one shop. And while the vendors are what you would call 'celeb brands', they're not one-hit wonders. They're in it for the long haul," said Ms Fatimah, who met many of them over the course of her work.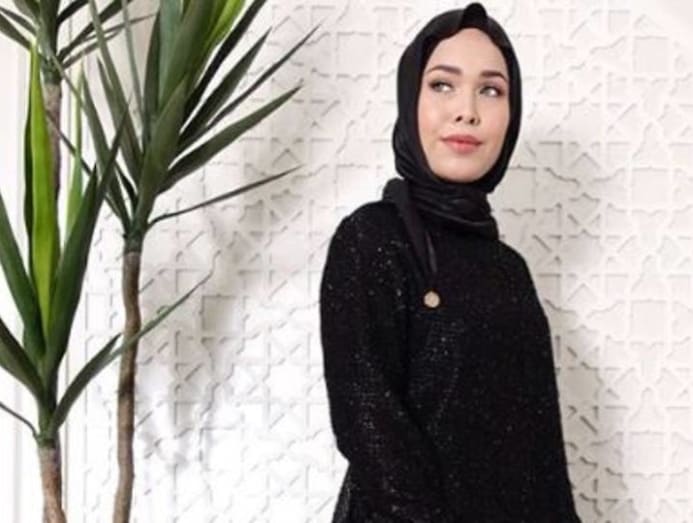 Ms Adlina, who runs a successful eponymous hijab label, sees the value of collaborating with like-minded businesses, having participated in the Geylang bazaar before. To her, it is like rekindling the old kampung spirit of "gotong-royong" - on a business level. 
"I've been doing this since 2012 and there was no such thing as a collective then," she said. "I'm glad there's progression. More and more brands are now able to take advantage of the season to test the market and do a bit of brand strategy without forking out too much money."
Peer support is at the core of Dahlia Mohd's business as co-founder of En Pointe, a multi-label boutique known for housing regional designers like Alia Bastamam, Nurita Harith, Syomirizwa Gupta.
At CelebRaya, En Pointe is also showcasing local independent labels "who simply cannot afford the time or money for a standalone store throughout the Ramadan weeks", she said.
Among them are Wardrobe, WearMeSG and Yasmeen Cole.
"We've been a successful platform for Malaysian, Indonesian and Bruneian brands so far, so why not do a localised version?" she added.
BRANCHING OUT 
Enterprising sisters Shereen and Toni Anwar have a total of seven stalls at the main bazaar food tents. Said Ms Shereen, stalls for WORD. and new brand Suap outside Wisma Geylang set them back more than S$20,000 each - about double of last year's rent.
"It's not that I'm not willing to pay the S$20,000, because the crowd is there. You can make money - it's just a matter of how much," she told Channel NewsAsia.
"We usually focus on Geylang, but because the rent is so high this year, we're having to spread ourselves thin. We also have stalls in the Tampines and Woodlands bazaars so we can try and cover the Geylang cost.
"We did well last year, but we knew we couldn't expect the same this year so we had to have a Plan B. Because let's face it - if you don't have snaking queues, S$20,000 is too much. There's also manpower cost and supplies to think about. Food is a lot of money," she added.
There are at least three major Ramadan bazaars in the heartlands this year, including the Hari Raya Bazaar at Our Tampines Hub and Bazaar Raya Utara in Woodlands.  
Independent events are also gaining ground. 
Farah Diana Events Management is gearing up for its festive bazaar Jalan-Jalan Makan-Makan, touted as the first of its kind at Marina Bay Sands. Running for three days from Jun 1, it will feature appearances by Malaysian artists like singer Dayang Nurfaizah and TV host Nabil Ahmad. 
It's a concept similar to CelebFest, an annual star-studded event organised by Rose Valley, which drew massive crowds at Suntec City earlier this month. 
LalooLalang, helmed by Singapore actress and host Huda Ali, will also return for the fourth time this Ramadan.
Ms Huda said about 100 vendors are participating in this year's edition - "slightly more than last year". The business owners range from 19 to 35 years old and nearly half are returning participants. Stalls start at S$450. 
"As organisers, we make sure their basic welfare is met. We respond as quickly as possible to enquiries and work hard to draw the spending crowd," said Ms Huda, who describes the recent influx of festive events as "healthy". 
"Halal butterbeer" brand Boo:Eh will be set up at five Ramadan events this year, including LalooLalang and the bazaar in Tampines. 
"Many businesses such as ours are active at pop-up events because we don't have a brick-and-mortar store. They are also easier to prepare for than the Geylang bazaar because they last only a couple of days," said one of its founders, Noraziana Mohamed. 
"These events are also the most exciting ones during the festive period because they are often themed or bring in overseas celebrities. There are always huge crowds because of their novelty," she added.