exclusive Sport
'I cannot believe it': Philippines' first Olympic gold medallist Hidilyn Diaz looks back on historic feat
Weightlifter Hidilyn Diaz made history when she became the first Filipino to ever win an Olympic gold. She speaks to CNA about the achievement.
TOKYO: It is a moment seared into the collective consciousness of Filipinos.
Hidilyn Diaz perched atop the podium - all 158 centimetres of her. Small in stature but big of heart.
The daughter of a tricycle driver is now a history-maker.
Before the strains of Lupang Hinirang waft through the arena, she snaps into a salute.
Hold back the tears, she tells herself. Hold back the tears.  But even if she doesn't weep, those back home will. 
She is a champion. She is their champion.
'I FELT LIKE I WAS A LOSER'
More than a week on from her triumph in Tokyo, Diaz finds what transpired surreal. 
The 30-year-old set an Olympic record in the women's 55-kg category en route to her victory, lifting a combined weight of 224 kg.
"I cannot believe it but that's the reality," Diaz told CNA from her hotel room in Manila where she was serving her quarantine.
"It's like goosebumps and I'm the one who did it. And I'm like: 'Lord, God, thank You. Thank You for giving me this opportunity.'" 
At the age of 11, Diaz got her first taste of the sport.
"I got curious when my cousins did it … I tried to do it and I loved it. I felt like I belonged; like I'm good with it and I wanted to do it more and more," she explained.
"This is the sport that made me strong. The other sports I was always weak and my cousins (were) always good, I didn't want them to be good, I wanted me to be good!" she said with a laugh.
But her mother was not too keen on her taking up weightlifting, added the bubbly Diaz.
"My mum didn't want me to do weightlifting because the sport is for men. And all of my cousins were men doing it," she said.
But Diaz's prowess won her over.
"My mum supported me after she saw I was doing good in weightlifting, I was able to get a scholarship, I was able to help them," said Diaz, who is the fifth of six siblings.
Weightlifting shouldered the family's burdens, she noted.
"We just ate three times a day and we are okay (with that). Sometimes we didn't eat, we could not buy food for six siblings … That's how it was," Diaz said.
"I could buy rice for my family every month and I could help with our family needs. But ... I was doing it for the opportunity to study, it was not because I loved it."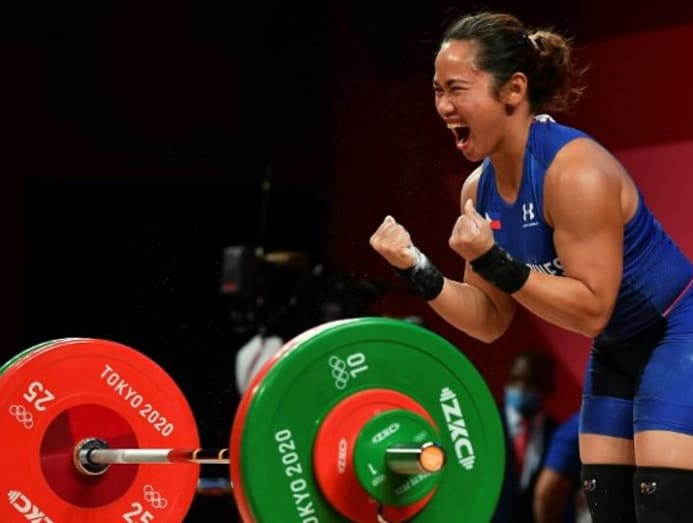 As she persevered, there were insecurities she had to battle and misconceptions that she had to face.
"I always wore a jacket and I didn't show my muscles ... Growing up, you come from Zamboanga, you just wanna hide because you're doing weightlifting, and I felt you like no one loves it," she said.
"When you do weightlifting, the misconception there is you won't get pregnant, you won't get tall, you won't marry anyone because you'll get so bulky or you'll get so big. You'll get a lot of muscle and no one's going to love you for having that," Diaz added.
Diaz was part of the national set-up from when she was 13, and competed at the 2008 Olympics and the 2012 Olympics.
It was in 2014 that she hit rock-bottom. Dealing with a bad knee injury, Diaz struggled.
"I had (an) injury and I felt like I am a loser," she said. "(But) I could not leave weightlifting like that."
But her faith in God kept her going, said Diaz, and she found the love for the sport.
"(I said) If I come back again to weightlifting, if God gave me (the) chance, I will use weightlifting to inspire other people, I will use weightlifting to show what I got," the devout Roman Catholic said.
"That time, every single day in training when I had (the) injury and the training was so hard and there's no progress in training, I didn't want to train anymore."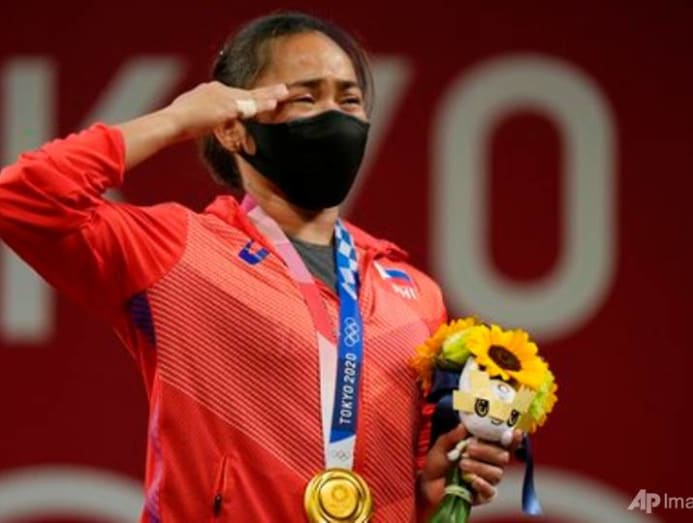 Another source of inspiration were the children in Zamboanga who had picked up the sport.
"When they do weightlifting, I see them smile and I cannot just quit because of injury," she recalled."I used them as my motivation when I was sad, like I would build a gym for them."
Two years later, Diaz clinched a silver in the Rio Olympics, and fulfilled that promise. 
"After five years I saw the result. There's a lot of athletes joining weightlifting there and (this was) giving them the opportunity to be in the national team, to represent (the Philippines), to have the scholarships in school. And I'm so happy for them," she explained.
"Giving back is making me more humble. It makes me more grateful in life, that's why I give back."
A GOAL IN HER HEART
Diaz's path to Tokyo, via the rural town of Jasin in Malaysia has been well documented.
She had decided to train in Malaysia early last year, but this training came to a halt due to the COVID-19 pandemic and the subsequent government lockdown.
So for more than a year, she trained in the makeshift gym of a village house.
"Even though we were in Malaysia, He (God) sent a lot of people that helped me … We thought we wouldn't survive but He sent a lot of people for us to survive," she explained.
"With all the lockdowns, it's really hard to trust, it's really hard to just surrender and to think positive. But when you have people behind you, and there are people who help you. I think it became easier."
And even after arriving in Japan for the Olympics, anxiety continued to swirl.
"I was so happy my team was here but I'm telling my team I can't be happy until my competition is done. I cannot be happy," said Diaz, pointing out that all it would take was one positive COVID-19 test to shatter her dream.
"If we tested positive then it would be the end of our preparation; the end of our dream - and just because of COVID. I can't accept it but what can I do? Every day we get tested … you're just wishing you won't test positive."
But Diaz had a goal in mind, one that she would never utter out loud.
Not before the Olympics. Not before she competed.
"My expectation was to win the gold. But of course, I cannot say it with everyone because I don't want to put pressure on myself, and on my coaches," she said.
"I just kept it in my heart."
A 'PRIVILEGE' TO SHARE 
Diaz is no stranger to dealing with fame. She experienced it after Rio, and she will have to deal with it now once again.
With the medal comes meetings, interviews and fatigue. But Diaz calls it a "privilege".
"It's my privilege to share my story, to inspire all the Filipinos out there - the young generation out there - especially during the pandemic. We really need it," she said.
"My life changed already since winning a silver medal at the Olympics … I just have to take it and use it for the good. To be a good role model for the kids, I just have to accept and learn new things and upgrade myself."
And she has an important message for those who look up to her.
"As long as you work hard and you look for ways for you to improve, and you love what you are doing … you can do it," she noted.
And at the start of our interview, the Olympic champion, ever so obliging, reads a congratulatory message from a friend of friend.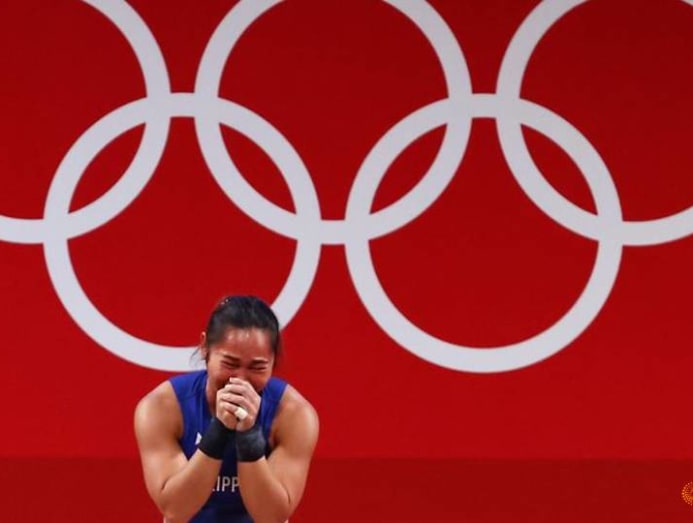 "You know what's even sweeter with Hidilyn's win? Filipino girls now have such a diverse spectrum of who to consider as their heroes, idols and models," it said.
"Little girls now have the opportunity to dream and reach for the stars in ways beyond what all the past generations of Filipino girls never had."
"I'm like: 'Wow'. This is what I have done for the Philippines," she added.
On Jul 27, 2021, Hidilyn Diaz just didn't hoist a world record weight, she lifted the spirits of 109 million. 
And while the gold belongs to her, the hope it brought belongs to all her people.
Catch the Olympics Games Tokyo 2020 LIVE with 14 dedicated channels on meWATCH. Sign in now at mewatch.sg/tokyo2020 and get into the action with Mediacorp, Singapore's Olympics Network.