They pay for their own jerseys and their coaches are volunteers. Meet the world No 1 women's tchoukball team
Singapore women's national tchoukball team is now the world's best. The team tells CNA how it got there, despite limited resources.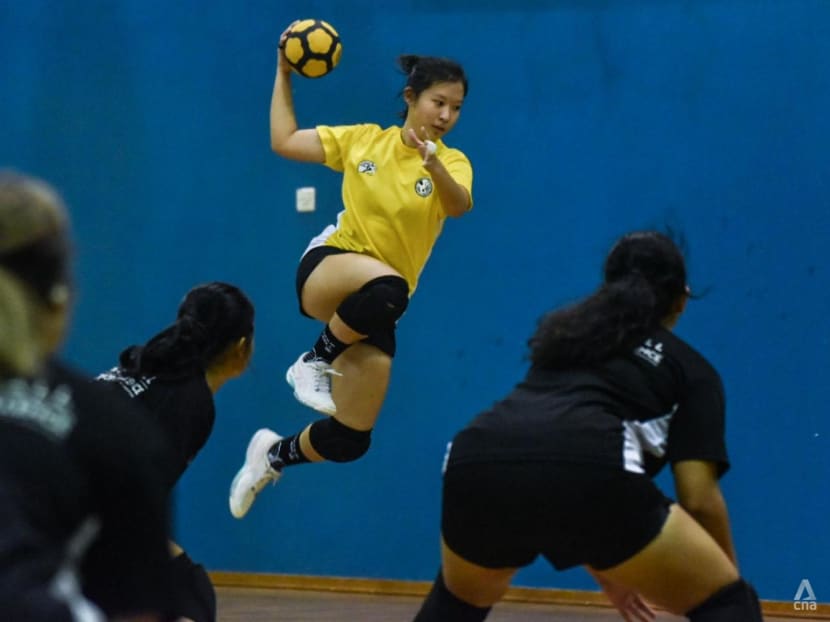 SINGAPORE: In a secondary school hall on a cool Wednesday evening, the world No 1 women's tchoukball team is being put through the paces.
Half an hour before training begins, the chatter of voices echoes off the walls. Court shoes are laced up, knee guards are slipped on, warm-ups are under way.
Given that they only have two venues islandwide where they can train for free, court time is limited and valuable. Every minute counts.
"Players know that with every time we are on court, we have to maximise it," team captain Irene Tan told CNA. "We share the court space with eight different squads, so there has to be a schedule with the different timings."
But this is nothing new. This is a team and a sport used to making the most of what little they have. 
"The heart and the passion are definitely very important," said Tan's team-mate Angie Ng. "The little resources have helped us to not take things for granted. We cherish every chance we are given."
Their coaches are volunteers, the athletes pay for their own jerseys as well as to play at tournaments abroad, and the association members fork out their own money to defray costs. 
Sponsorship helps keep things going, some take on ad-hoc coaching gigs or even repair equipment in their leisure time in order to raise funds, and parents of school-going players also chip in to help. 
Run by volunteers, the Tchoukball Association of Singapore (TBAS) is not a national sports association. It receives no government funding.
Yet on Jan 1, the women's national team became world No 1 for the first time, after pipping Chinese Taipei to the top spot in the International Tchoukball Federation's world rankings. Switzerland are currently third. 
This follows their victory over Chinese Taipei in the 9th Asia Pacific Tchoukball Championships in August last year.
"After that victory last year, the team worked hard and constantly did not let their guard down," said Tan. "I'm still in disbelief (at being number one)."
Their male counterparts are third in the world after Chinese Taipei and Italy.
"The secret ingredient is our passion for the sport," Tan said. "Without the help of the association, the coaches and (TBAS president) Delane's efforts, it wouldn't have been possible (for us) to get where we are today.
"We have developed a mindset to work with what we have, or even find other resources within our means to make things work for us."
WHAT IS TCHOUKBALL?
Created by Swiss biologist Hermann Brandt more than five decades ago, tchoukball's name came from the sound made by the ball rebounding from an inclined frame.
Played indoors, tchoukball involves two teams of seven players competing for points by rebounding a ball off an inclined frame. In front of each frame is a semi-circle with a 3-metre radius, marking the "forbidden zone" where players cannot enter.
In order to score a point, the ball must be thrown, hit the frame and bounce outside the "forbidden zone" without being caught by the defending team. However, the defending team scores a point if the ball bounces within the "forbidden zone" or if their opponents shoot and miss the frame. If the defending team catches the ball after it bounces off the frame, they can go on the attack.
Teams can attack both sides of the court, and defenders are not allowed to intercept the passes of the attacking team. Physical contact is not allowed.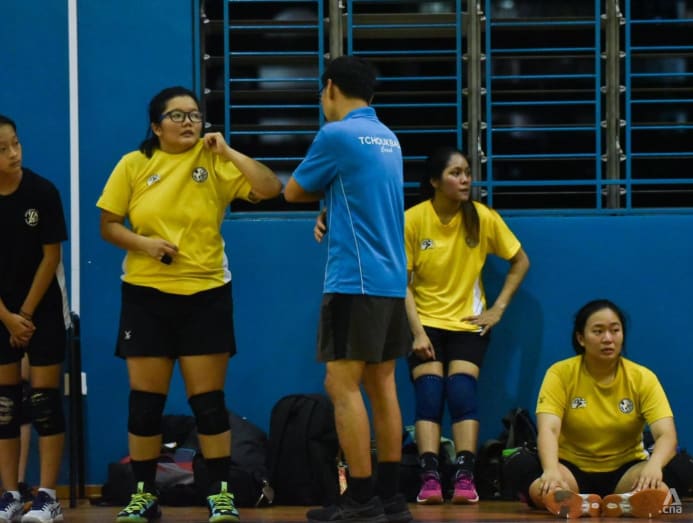 Tchoukball is a game of "threes" – the player with the ball can take a maximum of three steps, the player is not allowed to hold the ball for more than three seconds, and teams cannot pass the ball more than three times before taking a shot.
Games last for three periods of 15 minutes, with a maximum of 5 minutes' interval between periods.
The players and association members are "driven by passion", and this has helped them think of creative ways to sustain the team, said TBAS president Delane Lim. 
"Sometimes, limited resources are good because it forces us to think about different ways to train and improvise with our training."
With fewer resources also come fewer expectations, he said.
"Because there is no funding, whether we win or lose in the court, nobody can fault us. The fact that we are performing shows that our formula is working, but we are hoping that we can better the formula."
To raise the profile of the game, the association has had to think outside the box over the years. For instance, it has held competitions in schools and organised international competitions on home soil.
"We try to host international competitions in Singapore so our athletes do not have to (travel). It gives more opportunities … for them to train locally," Mr Lim said.
Players also get involved. Tan currently also helps as one of the coaches for the youth teams.
"At the end of the day, I hope that giving back to the association and the youth that are coming up will help to grow this sport and (they will) continue to fly Singapore in the near future when I retire," she explained.
REMAINING AT THE TOP
Looking ahead, the women's team will seek to remain top of the pile at the Tchoukball World Championships in Prague in August.
"(Being top in the world) is something that we constantly strived for ... But being able to achieve this goal right now doesn't mean we get complacent," said Tan.
"It's another step for us to really push ourselves further and remain at the top."
With the team's success, Mr Lim hopes that the sport will be eventually included in the National School Games.
"If tchoukball is not part of the National School Games then our talent pipeline will certainly be affected. And when the talent pipeline is affected, then we have to rely on our existing teams to sustain (things)," he said.
He is also lobbying for tchoukball to be a demonstration sport at the 2027 SEA Games in Malaysia, before becoming a medal sport at the next edition of the Games in Singapore.
Having more resources will also allow the national teams to take their performance to the next level, he emphasised. This could be in the form of subsidies for players who may not be able to afford to travel overseas.
Speaking in Parliament in 2017, then Minister for Culture, Community and Youth Grace Fu said that for national sports associations to qualify for funding, they have to be registered as a society and a charity, and meet SportSG's requirements.
Such associations have to maintain high standards of governance, and develop "multi-year plans with key deliverables aligned with SportSG's objectives", Ms Fu said.
Given that TBAS is a national federation for the sport and not a national sports association, CNA has contacted SportSG for clarification on the funding criteria and whether there are plans to fund the national tchoukball teams.
Increased funding would allow the teams to get new venues for training sessions, look into an exchange programme with rivals Chinese Taipei as well as invest in new technology, said Mr Lim.
"Over the years, we are quite thankful that we have supportive parents, supportive partners to come on board who believe in our cause and believe in the goal for tchoukball ... We are now a victim of our own success because in order for us to keep the sport at this elite level, the mode of operation we are currently in no longer becomes sustainable," the TBAS president said.
"So we need to look at a model or ecosystem that is more sustainable to ensure that the sport continues to perform at the elite level."
Read this story in Bahasa Melayu here.