Stussy's back in Singapore – want to see Cross Colours and other 90s fashion brands come back too?
Stussy's new store at Scotts Square prompted CNA Lifestyle's Genevieve Loh to take a trip down memory lane and look at the various 90s streetwear brands that impacted a generation.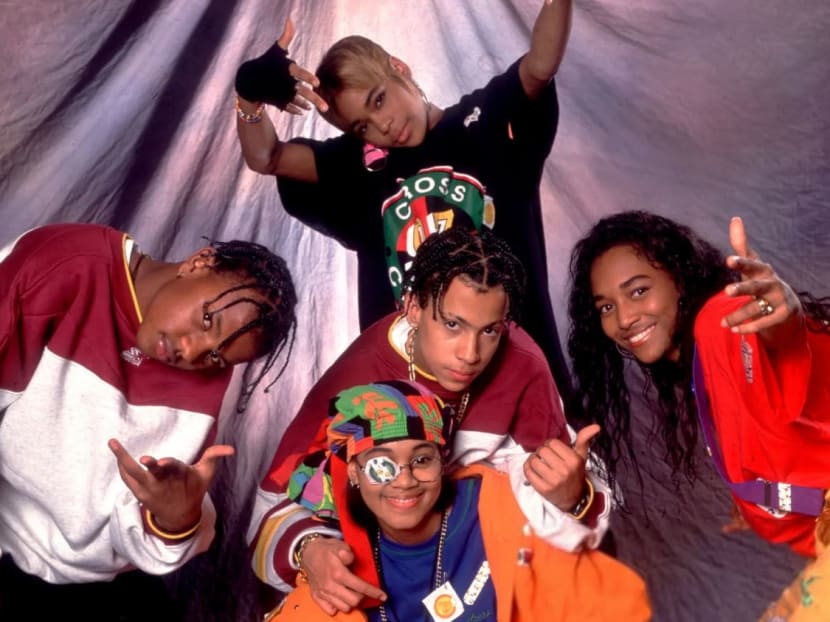 When cult streetwear brand Stussy reopened in Singapore with a brand new "Chapter" store at Scotts Road after a prolonged absence of many years, the Nineties teenage girl in this writer immediately took a trip down nostalgia lane and parked directly in reminisce avenue.
For those old enough to remember, Stussy was de rigueur apparel for every Far East Plaza-hanging, Fire disco-going, low-slung skater jeans-wearing Singaporean teen worth his or her salt. And the archetype of a quintessential and hugely successful 90s cult streetwear brand that stood the test of time.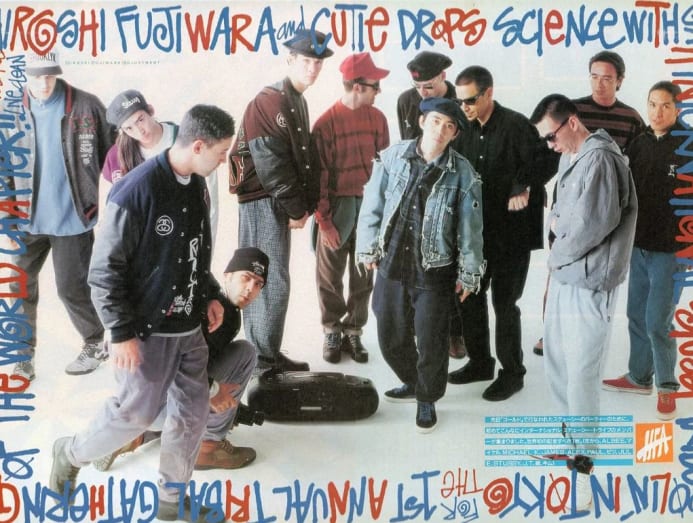 Though the brand dipped a little in popularity as the world headed into the 2010s and 2020s, the American brand started by surfer Shawn Stussy in the late 1980s has undoubtedly still managed to remain on the edge of streetwear and style.
Now with a new permanent home in Singapore offering heaps of spanking fresh Stussy gear, including limited edition collections, selected "Chapter" specials and Singapore-exclusive T-shirts and caps, Stussy has proven that its recent resurgence is not just a flash in the pan.
That said, while the 90s arguably belonged to Stussy, it was not the only cult brand that defined the decade.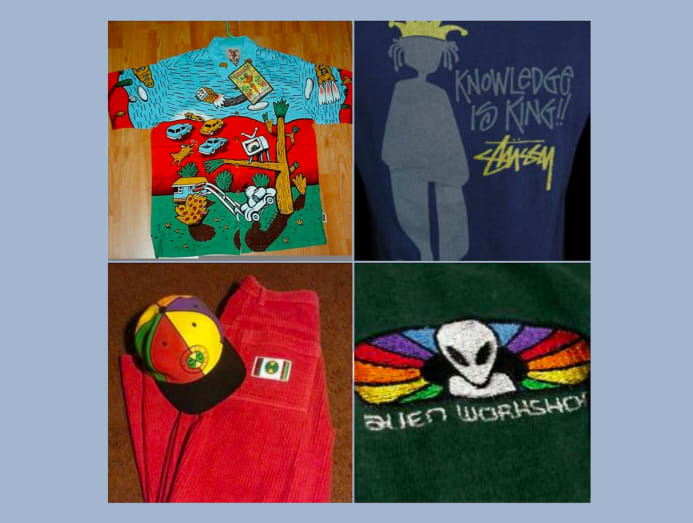 If you were a teenager in Singapore 30 years ago, you'll remember the brands. You had to have clothes from Cross Colours, Alien Workshop and BUM to be cool.
You'd have jeans emblazoned with the logo of Versace, Armani, MCM or the likes covering your derriere, as you paired it with your favourite Converse sneakers or those Doc Martens boots you convinced your parents to buy because they were guaranteed to last forever.
Complete with your Stussy/No Fear/Mambo tee, you were the epitome of 90s style. Doesn't it smell like teen spirit?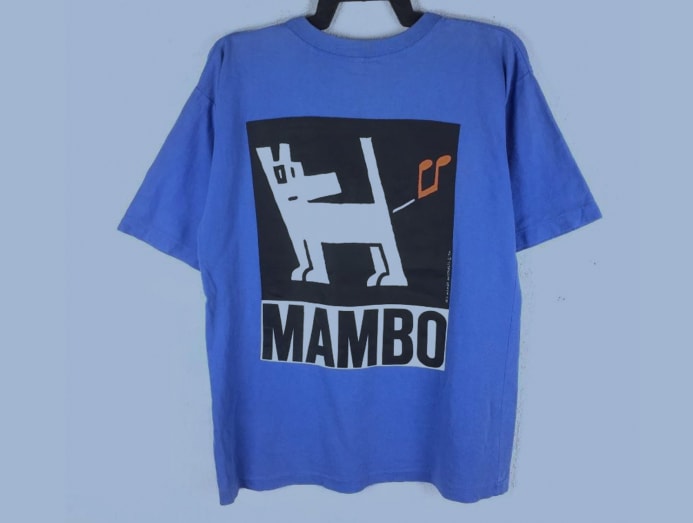 Ah, the sparkly, stretchy, shiny, irreverent 90s. It was a decade that was all about non-conformity and street/surf/hip-hop culture, but also polarising, questionable fashion trends that will always trigger a special kind of cringe-worthy wistfulness.
Needless to say, the fashion predilections of the 90s teenager leave much to be desired. But with the current fashion zeitgeist being one of nostalgia, many of these brands are coming back into the limelight. Which is why CNA Lifestyle thought it was time to take a look at some of the 90s streetwear brands that impacted a generation – and perhaps deserve another starring role in today's wardrobe.
So put on your baby cropped tee, pull up your pop socks and see if you fancy the return of some 90s-tastic gems.
CROSS COLOURS JEANS, JERSEYS, VARSITY-STYLE JACKETS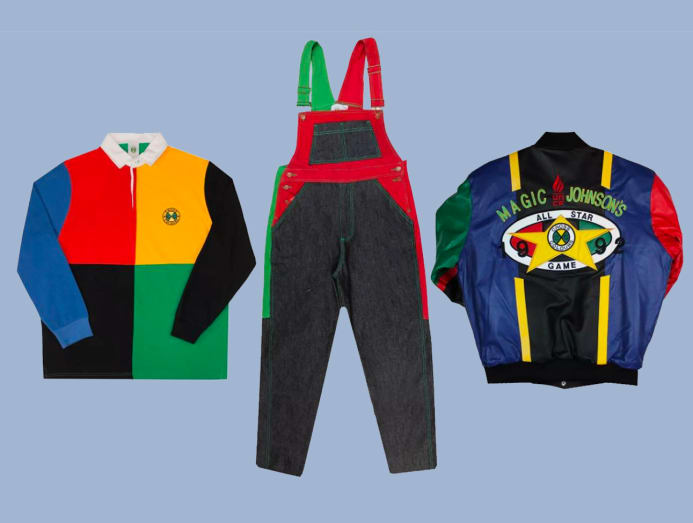 The Los Angeles brand was co-founded by Carl Jones and TJ Walker in 1989, and is often credited as being one of the first ever streetwear lines.
Armed with the tagline "Clothing Without Prejudice" and hawking a variety of colour-blocked apparel, the brand was a huge hit globally, thanks to celebrities Will Smith, Aaliyah, Tupac Shakur, TLC, Mark Wahlberg, Snoop Dogg and even Muhammad Ali, who all wore the brand throughout the 1990s and early 2000s.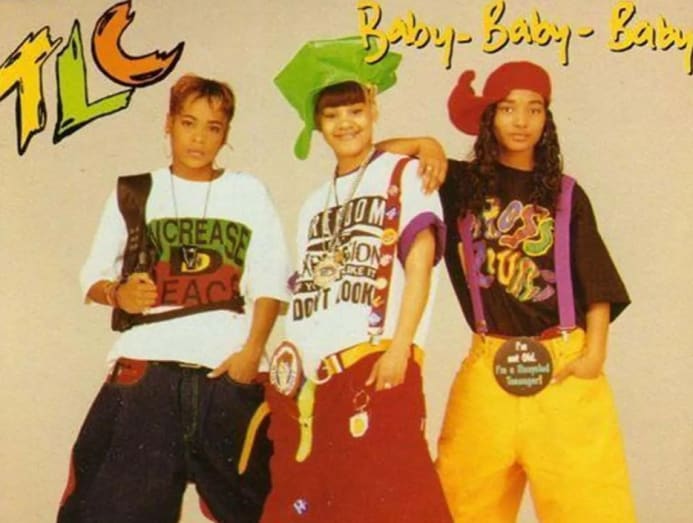 And who can forget teen rappers Kris Kross wearing oversized Cross Colours backwards on MTV?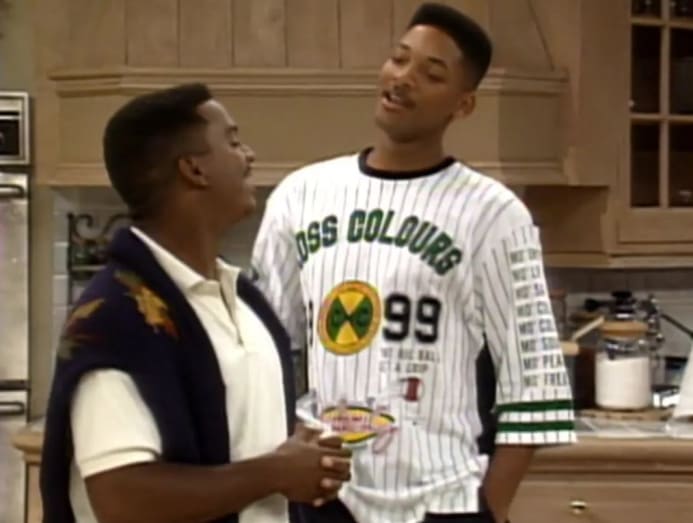 In 1994, the ubiquitous brand abruptly disappeared. But recent years have seen a resurgence of the label and its appeal to a new generation (Dua Lipa, Zendaya, Drake and Billie Eilish have been spotted wearing Cross Colours' jerseys, sweatsuits and hats onstage and off) who are looking for clothing to stand for something politically and culturally.
FUBU
Fubu's logo-heavy clothes were inescapable in the 1990s, a global fashion phenomenon driving a US$350 million-a-year business and boasting thousands of retail stores at its peak in 1998.
With a name that was an acronym for "For Us, By Us", it's no wonder the brand is celebrating 30 years in business. Indeed, Daymond John (more recently of Shark Tank fame), J Alexander Martin, Keith Perrin, and Carl Brown – the foursome who cofounded the brand back in 1992 – have admitted to the Wall Street Journal in an interview that the brand's public profile has faded in the past decades or so. But its legacy of a brand that is deeply interwoven with the culture of 90s hip-hop and rappers will forever remain.
In recent years, Fubu has been dropping capsule collections sporadically and even reportedly looking to launch a new streaming platform. Are we ready to once again don those slogan tees, hoodies and sweatsuits?
ALIEN WORKSHOP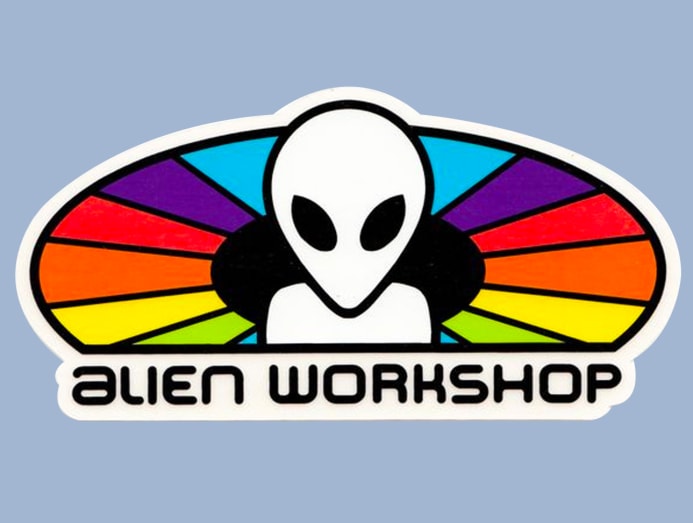 If your favourite T-shirt in the 90s had a logo of a little alien standing in front of a rainbow-coloured backdrop, then congratulations, you were an official fan of a skateboard brand that fully embraced its signature kookiness.
Weird and wonderful, Alien Workshop was formed in1990 in Dayton, Ohio, and produced skateboard decks, wheels, and other accessories.
Markedly different from the other California skateboard brands, it was proudly an outlier, describing itself in an interview as "full of weirdos, bad kids, perverts, vandals, potheads, vets, teenagers, Helter Skelters, the jam-ups, OCDs, manic-compulsives…and one clean-cut norm".
According to a 2017 report in Hypebeast, the brand has maintained its progressive aesthetic well into the Internet era when the company introduced Life Splicing, a video series that intercut skate footage with artistic videography techniques by several pioneering video artists.
The simple fact that the brand stayed true to its abstract messaging for oddness, paranoia and futurism was why it was so popular with kids in the 90s.
THE SONIA RYKIEL BAG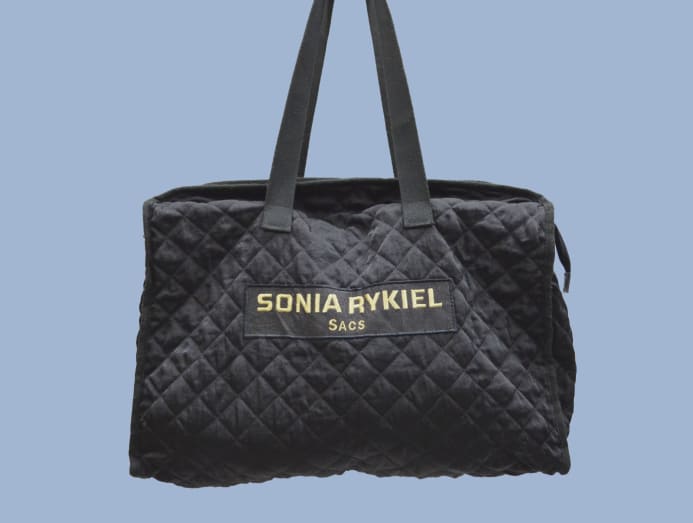 Back in the day, this was the badge of honour for every fashion-forward neighbourhood school style maven (better known as the Singaporean "ah lian"). These soft, candy-coloured quilted totes were bonafide school bags in the day and after-school activities locker by night. They were the "it" bags to hold all the teenage girl essentials such as the pager (no smart phones back then!), makeup and an after-school change of clothes.
The Sonia Rykiel bag came in loud strong colours and was seen hanging on the forearms of countless Singaporean teenage girls and, sometimes, even on their helpful bag-carrying boyfriends' too.
TOMMY HILFIGER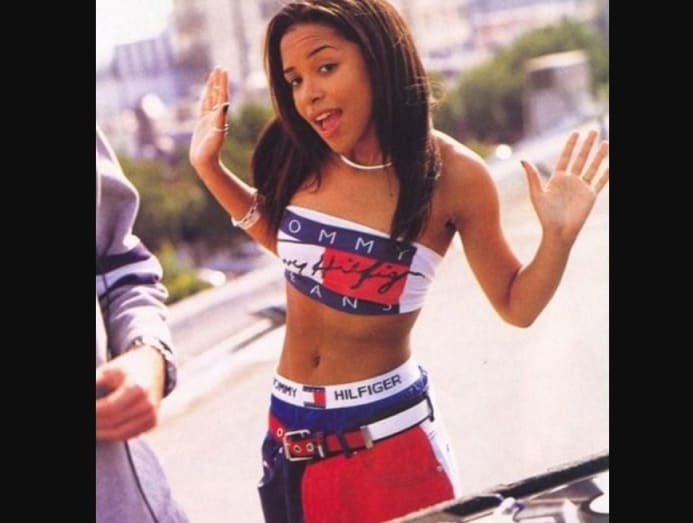 Who can forget the visible underwear band trend of the 90s, when everyone from your classmate to your older sister desperately tried to recreate that iconic photo of Aaliyah in low-slung jeans and a bandeau top, complete with a peekaboo Tommy Hilfiger–emblazoned waistband?
Thanks to the support of the late singer helping to redefine the brand's relationship with hip-hop in a major endorsement campaign, somehow Tommy Hilfiger's classic preppy Americana style managed to cement itself in 1990s streetwear history.
When legendary rapper Snoop Dogg performed on Saturday Night Live in 1994 wearing a "TOMMY" red white and blue rugby tee, Hilfiger officially entered the zeitgeist. 
Overnight, the brand sky-rocketed and everyone, from TLC and Destiny's Child to Wall Street suits, hip-hop honchos and teenagers were all seen donning at least something from Tommy Hilfiger.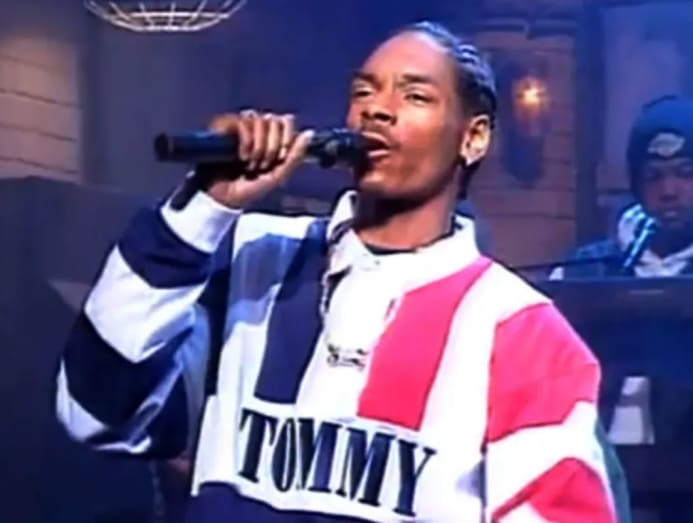 The Tommy hype was real throughout the 90s – the golden age of hip-hop – with not only R&Bs biggest stars, but also pop stars like Gwen Stefani and Britney Spears, all wearing the clothes, taking part in their shows, playing a leading role in Hilfiger's advertising campaigns.